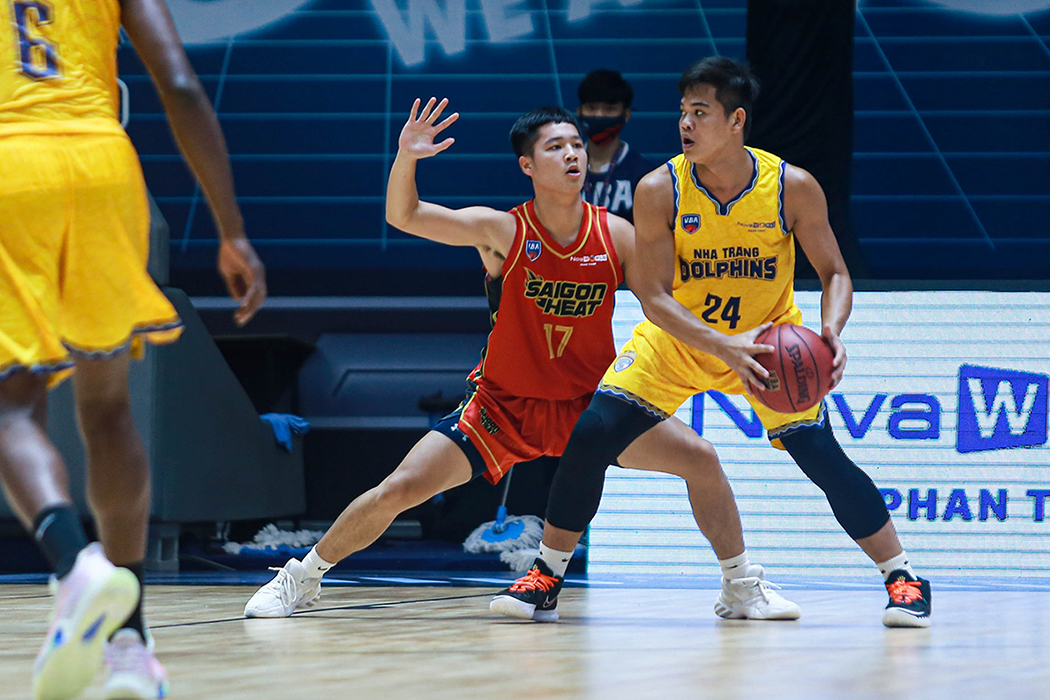 SWISH helps basketball player realize dream of playing pro
September 20, 2021 —
Binh Nguyen went from shooting hoops in parking lot E of the Bannatyne campus to playing professional basketball in Vietnam.
Nguyen, 21, says he wouldn't be playing pro if it weren't for the Rady Faculty of Health Sciences' Summer Weekend Inner-city Supervised Hoops (SWISH) program.
He joined the SWISH program when he was 15 years old and spent five summers honing his skills on the Bannatyne campus. At the start of September he wrapped up his first season playing guard with the Saigon Heat in the Vietnam Basketball Association (VBA).
"The SWISH program played a major role in getting me to where I am today," Nguyen said. "All the staff members at SWISH were all university basketball players, and some were also professional basketball players. They inspired me to have a passion for basketball and to take it as far as I could in my life."
SWISH provides Winnipeg's inner-city kids with the opportunity to play basketball in a supervised setting on Saturdays during the summer (the program hasn't run the past two years because of the COVID-19 pandemic.) The program is staffed by University of Manitoba Bisons and community basketball players, and former SWISH participants.
After graduating from Daniel McIntyre Collegiate Institute, Nguyen played two seasons with the Canadian Mennonite University (CMU) Blazers. When the 2020-21 season was cancelled because of the pandemic, he started looking for opportunities around the world to continue playing the game he loves.
Nguyen, who immigrated to Canada from Vietnam when he was nine years old, found out that the VBA was looking for players with a Vietnamese background. He was eager to join the Saigon Heat because they had won back-to-back VBA championships.
"Having an opportunity to play professional basketball is every player's dream, and I enjoyed every second of it," Nguyen said. "Especially since I was also born and raised in Vietnam. It was a super cool thing to reconnect with my family there, as well as represent my hometown team."
However, his team wasn't able to defend its championship title. The season was cancelled during the first-round of playoffs because of the number of COVID-19 cases in Vietnam, Nguyen said. But he plans on returning to Vietnam for the 2022 season.
SWISH organizers are proud of what Nguyen has accomplished.
Karen Cook, co-lead, Office of Community Engagement, Rady Faculty of Health Sciences, said she was thrilled when she heard he was going to be playing pro.
"I'm hopeful that our SWISH program had a small part in nurturing Binh's love of the sport and honing his basketball skills," Cook said. "We have always tried to recruit basketball mentors that are representative of the youth using the drop-in summer program and we hope Binh found SWISH staff and mentors valuable contributors to his basketball journey."
Xavier Smith, coordinator of the SWISH program and a former Bison men's basketball player (from 2011 to 2013), said he is happy he had the chance to watch Nguyen grow and develop, not only as a basketball player, but as a person too.
"What Binh has accomplished is something that everyone dreams about," Smith said. "The opportunity to play a game that you love is a dream come true."
Prior to the pandemic in 2019, Nguyen became a SWISH staff member because he wanted to give back to his community and the program that helped him achieve his goal of playing university basketball.
"As a basketball player, being a SWISH staff member encouraged me to love the game even more, and it also helped me realize how basketball can bring the entire community together."
Nguyen also wanted to help other kids fulfill their dreams too.