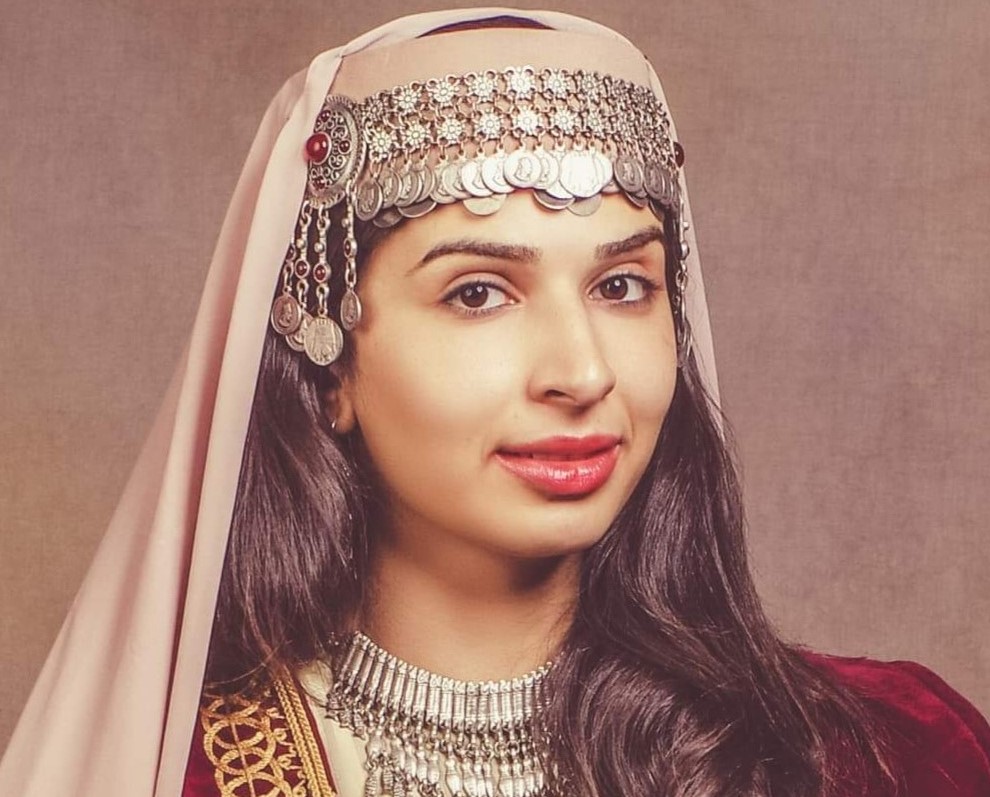 No challenge is too big for Svetlana Gharagyozyan
2020 DFOM graduate Svetlana Gharagyozyan's educational journey began with a single step that spanned 9,230 kilometres
June 3, 2020 —
NOTE: We in the Desautels Faculty of Music are incredibly proud of our students. While COVID-19 is sidelining in-person commencement ceremonies around the globe, we want to find alternate ways to celebrate our graduates and give them the recognition due to them. Until we can gather together to properly applaud the years of study and practice that have led to this milestone, please join us in congratulating our 2020 Desautels Faculty of Music graduates.
Today we celebrate Svetlana Gharagyozyan!
Beginning university can be a nerve-wrecking experience. Navigating new spaces, people, courses, and ideas can make one's head spin.
For Svetlana Gharagyozyan, arriving at university was déjà vu, but in an entirely new language and country.
After deciding at age 17 that she wanted to pursue music as a career, the lyric soprano originally began her university studies at a conservatory in her home country of Armenia. However, several years later, in 2014, she immigrated to Canada with her family, leaving her hometown of Gyumri behind, and her degree unfinished.
"I had a period of culture shock for around two years," she says of her experience as a new Canadian.
However, as challenging as the act of immigration was, she was happy that her family landed in Manitoba.
"I consider myself to be very lucky, simply because Winnipeg was the perfect place for my cultural adaptation," Gharagyozyan says.
"The community is super understanding and considerate," she says of her adopted home.
Two years after she had settled into her new home, Gharagyozyan felt ready to return to her musical studies, and successfully auditioned for the Desautels Faculty of Music, where she received a Marcel A. Desautels Faculty of Music scholarship, and also the Don Wright Entrance Scholarship, and where she dove into her education with enthusiasm.
"I haven't missed a single opportunity given to me to learn and perform new things," she says of exploring new pieces, and finding favourite pieces.
"I would point out the performance of the orchestral concert work Les Noces to be one the most memorable," she says of the piece by Igor Stravinsky written for percussion, chorus, soloists and four pianos, which she performed "under the baton of the amazing Elroy Friesen."
There are always challenges in studying in a language other than the one we were raised to speak, but for Gharagyozyan her native languages became a true asset for everyone in the faculty!
Language bridges, not barriers
Gharagyozyan, who performed with the University Singers, Cantata Singers, and the UM Opera Theatre during her time in the faculty, has sung in many languages, and, in UM Opera Theatre, had the opportunity to become a language teacher to her peers.
"Svetlana's fluency in Russian meant we called on her to coach all the singers in their use of the Russian language in our scene from Tchaikovsky's Iolanta, says Mel Braun, voice professor and area head of the voice program, who, along with Opera director Katherine Twaddle, oversees opera ensemble productions.
Gharagyozyan's strong and emotive soprano voice earned her the title role of Iolanta, a woman grappling with the feeling that there must be more to life than she is experiencing. Her father, the King, has forbidden Iolanta's servants from revealing to her that she is blind and a princess. Gharagyozyan played the role with both heartbreaking emotion, and a clear and strong voice.
"Not only did she sing the title role beautifully, she made sure that the entire ensemble cast were correct and idiomatic in their Russian pronunciation," says Braun.
"Svetlana's grandmother, visiting from Moscow, was delighted with their Russian and with the beauty of the ensemble performance," he adds gratefully.
Faculty mentors
Gharagyozyan is clearly a great teacher in her own right, but she is thankful for the Desautels faculty members who helped her in her educational journey.
"My teachers were and still are my mentors, but I would like to specifically mention Monica Huisman and Mel Braun as people without who I wouldn't be where and who I am right now," Gharagyozyan says.
"No words can describe how grateful I am for everything they have done for me," she adds.
"Working with Svetlana has been such a gift. She possesses such a beautiful instrument, that to have that in your studio for 4 years was a real treat," says Desautels voice instructor Monica Huisman.
"English being a second language for Svetlana made for some very interesting and fun explorations in studio. We learned how to communicate and I learned how to use a different skill set initially, to teach her!" she says.
"Her work ethic and absolute love of opera made a lot of my job very easy. Most of all, it was her spirit and genuine kindness that made her a real joy. I wish her nothing but success and know this is the beginning of something very special for her!" says Huisman.
Credit Recital
Due to the disruption caused by COVID-19, the Desautels Faculty of Music had to cancel all of its remaining events for the 2019-2020 season. In addition to final ensemble performances, about 40 student credit recitals were cancelled, including those of graduating students, whose final credit recitals serve as a sort of capstone project showcasing what they have learned throughout their studies. Unfortunately, Gharagyozyan's recital was among the cancelled.
"I had prepared a repertoire including George Handel's "Da tempeste" from Giulio Cesare followed by several Lieder by Richard Strauss and Robert Schumann, and selected songs from Hector Berlioz's Les nuits d'été," she says.
"The second half of my recital would have been filled with Bel Canto compositions by Rossini, Donizetti, Bellini followed by a contemporary composition by Ned Rorem, selected songs from Antonin Dvořák's Love Songs, and I would have end my graduation recital with Tatiana's letter scene aria from Eugene Onegin by Tchaikovsky," Gharagyozyan adds.
Next steps
Like many graduates, Gharagyozyan is being mindful of the uncertainties that lie ahead. While she now has a home base with her family in Winnipeg, she is looking forward to exploring the world, and spreading her love of music to audiences worldwide.
"I am planning to take a break until the whole pandemic is over and only then start travelling, performing, auditioning and applying for graduate programs out there," she says.
She also has advice for the Desautels music students who come after her.
"Do one thing at a time! You've got this!" she says.
Acknowledgements
"Besides all of my teachers, I would like to acknowledge the enormous support of my family and friends," says Gharagyozyan.
"I am celebrating this day with you all in my heart!"
Congratulations, Svetlana! Wherever your travels and your immense talents ultimately take you, the Desautels Faculty of Music is proud that you chose to make your home with us. Canada is incredibly lucky to have you!