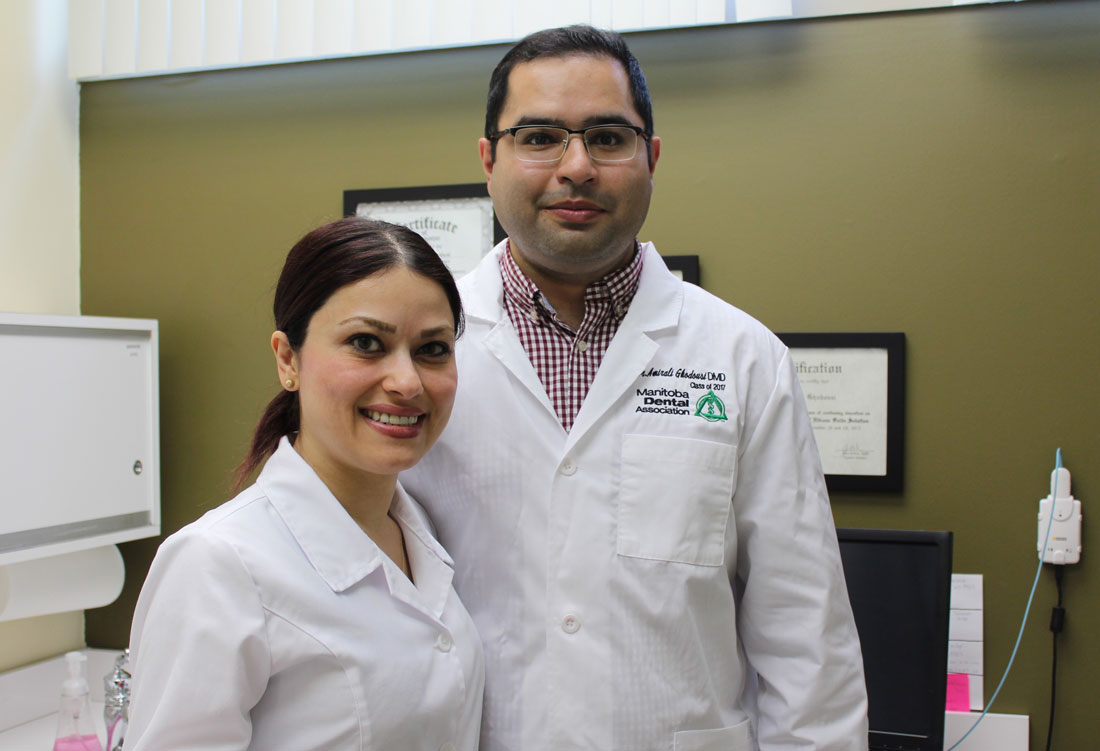 Sunny siblings
January 11, 2018 —
When Dr. Sharaheh (Sherry) Ghodousi was a dental student at U of M, she was known for her ability to work with patients who had troubled backgrounds or behaved in challenging ways.
"I was famous for managing patients who needed understanding," says the gregarious dentist.
The Iranian-born Ghodousi is a 2015 graduate of the College of Dentistry's International Dentist Degree Program (IDDP). It prepares foreign-trained dentists for accreditation in Canada by adding them to an existing dental class for the final two years of the four-year degree program.
Dr. Anthony Iacopino, dean of dentistry, Rady Faculty of Health Sciences remembers Ghodousi's warm, engaging chairside manner at the college. He confirms that she won the trust of the most challenging patients.
"It takes a special kind of student – often a mature student – to deal with difficult people," Iacopino says. Students in the IDDP often bring an extra degree of empathy, he says, because of their life experiences and practice in other countries.
Now the Winnipeg dental community has gained another sunny-natured colleague: Sherry's younger brother, Dr. Amirali (Amir) Ghodousi. He completed the IDDP in 2017, after practising for seven years in Iran. "If the clinic was burning down around him, he'd still be smiling," Iacopino says about Amir.
The siblings hope their 33-year-old sister, dentist Parisa Ghodousi, will be next to qualify for her Canadian licence via the IDDP. Each year, more than 270 applicants compete for six to nine spots in the program.
Yet another Ghodousi dentist sister lives in Ottawa, but is so far not seeking Canadian accreditation.
Sherry and her husband, fellow Iranian dentist Dr. Arash Foroughi, came to Winnipeg in 2012 because they had heard good things about the IDDP. The cosmopolitan couple had owned five clinics in Tehran and Dubai, but wanted to immigrate to a safer, more stable country. They initially planned to settle in Vancouver after Sherry's studies, but fell in love with Winnipeg.
Foroughi took the direct path to licensure by passing the required exams and started practising, while Sherry took the university route, encouraging Amir to follow her. Both she and her brother praise the College of Dentistry for giving them vital knowledge of how to practise in Canada.
"When you go to a new country, you need to learn their attitudes, their laws, their systems, their paperwork," Sherry says. "Dentistry is dentistry, but you need to understand the customs, beliefs and habits of the people."
When Sherry graduated in 2015, she and Foroughi bought Redwood Dental Centre, a longstanding clinic in Winnipeg's North End. The neighbourhood has high rates of poverty and crime, but that doesn't faze the outgoing Sherry. The clientele and staff are growing.
"We've had some challenges, but my idea is everybody deserves to have good health and a good dentist," she says. The area is ethnically diverse and the clinic welcomes refugees, adds the multilingual Sherry.
Amir has joined Matheson Dental Centre, located nearby on the same street. He's also at ease with patients of all circumstances and backgrounds. "Most of the patients are lovely," he says. "It's a matter of communication."
Sherry has become a part-time U of M instructor in pediatric dentistry. Amir would like to teach as well. "The university did lots of things for us," he says. "Now it's our turn to support the university."
They say they've made valuable connections with their U of M instructors and classmates, as well as the Manitoba Dental Association (Sherry sang and danced in last year's MDA-sponsored All-Dentist Musical).
They've convinced their parents to move to Winnipeg. They've also persuaded several international dentists to relocate here. "Everybody jokes with me, 'You should be the mayor!'" says Sherry.
The family's long-term vision is to co-own a chain of Winnipeg clinics. "We're very happy here," Amir says. "The most important thing is to be in a friendly community."