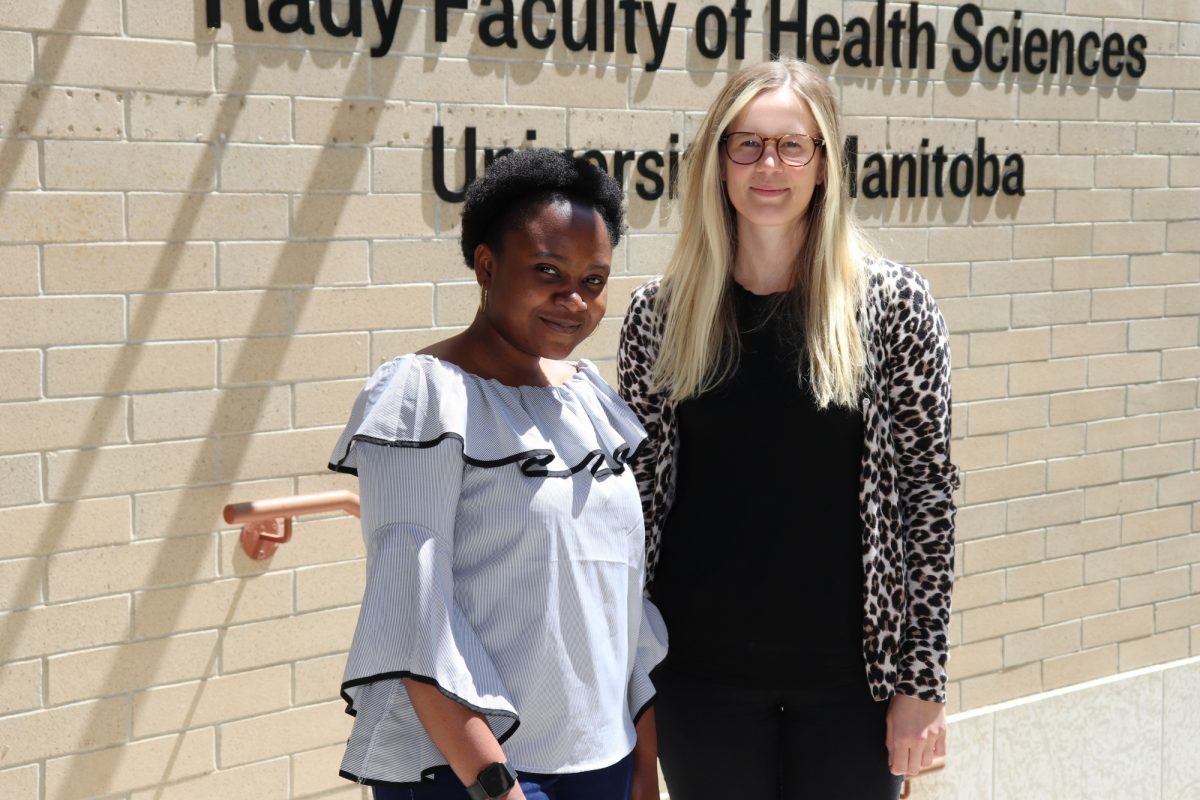 Summer research program builds nursing students' confidence, experience
July 12, 2019 —
More nursing students are taking part in the Summer Research Internship Program than ever before, thanks to over $2.5 million in research grants over the last year for the College of Nursing.
The College of Nursing, Rady Faculty of Health Sciences has been running the program through its Manitoba Centre for Nursing Health Research (MCNHR) since 2010. This year, 23 student interns are taking part, compared to an average of five and a previous high of 15.
The interns are working with 15 research mentors, performing a wide variety of research duties, including maintaining records, collecting data and recruiting and interviewing research study participants.
Aderinsola Obafisoye, a fourth-year student who moved to Winnipeg from Nigeria in 2015 to study nursing, discovered the program two summers ago by taking part in a colleague's research into the struggles and challenges facing international nursing students.
"I saw all the behind-the-scenes knowledge she gained and what a big impact our voices as nurses can have," she said. "I told myself that I wanted to do the same for other populations and other people who had experiences that needed to be heard."
Obafisoye is working with Dr. Nicole Harder, a professor who leads the human simulation learning program, on a scoping review of the psychological outcomes of simulation learning.
She praised MCNHR for finding projects and mentors that are suited to her, and for building her confidence.
"When I started I was very reserved, but it became easy for me to talk to other people about research projects and to ask burning questions that I previously kept to myself. It has kindled the little Sherlock Holmes in me," she said. "I no longer go into clinical settings merely to gain experience, but also to identify problems in health care and find ways to resolve them, either directly or indirectly."
Veronika Zot, a second-year master's student, is back for a third summer in the program, this time as a graduate student. Her previous internships were in 2014 and 2015, working on projects related to community-based mental health crisis services and the development of an end-of-life chart auditing tool for personal care home residents.
She decided to return to the program at the graduate level to get a better understanding of research methods, including quantitative and qualitative studies, to foster relationships within the Rady Faculty and to gain more experience as she prepares for her master's thesis.
"I was first attracted to the program because I was curious about research," she said. "I came back because I felt it would help me in my goals to be a researcher and I could also help other interns."
Currently, she is working with Dr. Benita Cohen, interviewing leaders of all colleges in the Rady Faculty of Health Sciences to get their thoughts on heath equity. Zot, whose main area of expertise is workplace bullying, said the project will give her a better grasp of how to create studies aimed at young professionals in health care.
"At my workplace, I've noticed too many young and accomplished people leaving because of disruptive behaviours," she said. "I think this project will help me understand the perspectives of our academic leaders and their vision for a teaching and learning environment that promotes social justice and health equity."
Diane Cepanec, coordinator of the MCNHR research internship program, said having students like Obafisoye and Zot return to the program is something she strives for regularly.
"We try to have a balance of new and returning students, and to match them so that both groups are positioned to have a rewarding and meaningful hands-on experience," she said.