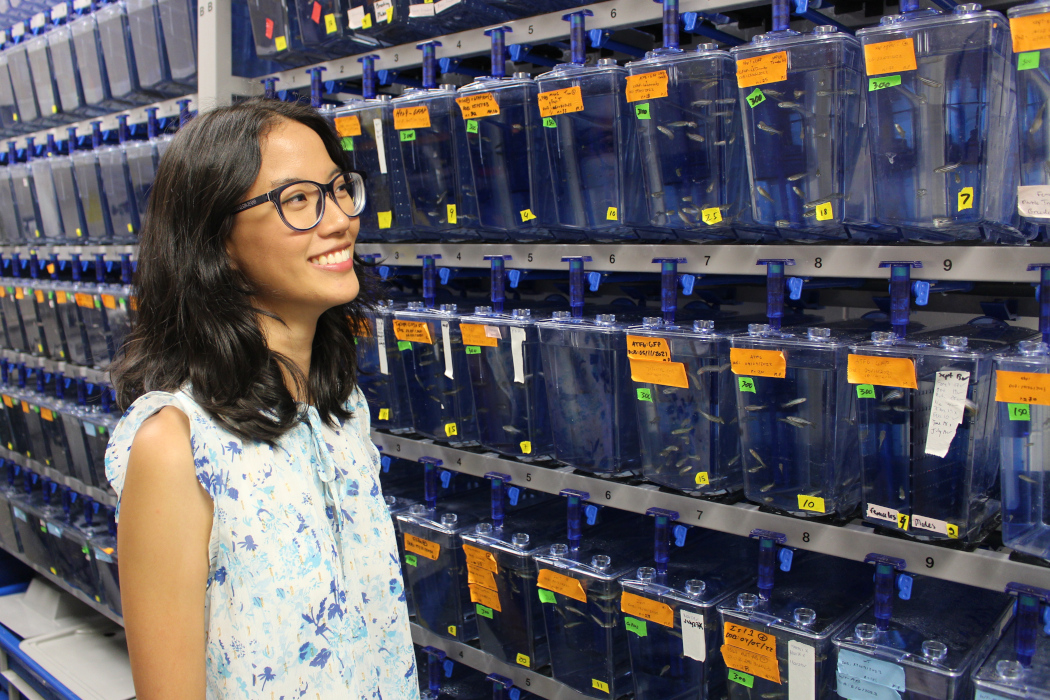 Summer research program a learning experience for dental students
September 18, 2023 —
Sophie Chen is only halfway through the bachelor of science in dentistry (B.Sc. (Dent.) program and she's already gained valuable skills and experience that will help her when she's a practicing dentist.
The B.Sc. (Dent.) program, which gives dental students from the Dr. Gerald Niznick College of Dentistry the opportunity to conduct full-time research over the course of two summers, has helped her develop critical thinking and time management skills.
"I've also learned to take responsibility and ownership of my research project, and I think that's important in dentistry as well when you're looking after patients," said Chen, who just completed her first summer of the B.Sc. (Dent.) program and is currently in her second year of dental school.
Chen's research uses zebrafish as an animal model to look at changes in developing teeth associated with alcohol exposure during embryo development, and she is relating it to fetal alcohol spectrum disorder in humans. Chen said that zebrafish share fundamental similarities with humans when it comes to craniofacial and tooth development.
"Not a lot of research has gone into tooth development in fetal alcohol syndrome, so anything we find is pretty significant. Being able to do something so new in the field is really exciting," said Chen, whose supervisor is Dr. Devi Atukorallaya, assistant professor of oral biology at UM's dental school.
Dental students can enroll in the B.Sc. (Dent.) program at the end of their first or second year of dental school, and they receive a $5,000 stipend each summer.
"Research is the engine that drives innovation and curiosity," said Dr. Raj Bhullar, associate dean (research) at UM's doctor of dental medicine (DMD) program in the Rady Faculty of Health Sciences. "It is important that to be a life-long learner students are involved in research as part of their education."
Bhullar said the B.Sc. (Dent.) program develops students' analytical skills that will be crucial in their future work as dentists. To incorporate new techniques and procedures in their practice, he said the students must posses the skills to analyze new information and assess its importance in improving human health.
For Winnica Beltrano, the program has helped her appraise research in dentistry and form a systematic approach when looking for more information. It has also motivated her to continue pursuing research opportunities in the future.
"The B.Sc. (Dent.) program has given me a sense of confidence that I can contribute research that could hopefully have a translational impact on patients' lives," said Beltrano, who just finished her second summer of the program and is currently in her third year of the DMD program. "Previously I was doing research in other fields, and now, to be able to do research in my chosen field, and my future career, feels incredibly gratifying."
As part of Beltrano's research project, she is assessing patient charts from the dental school's clinic to see if there's an association between recreational cannabis use and decayed, missing and filled teeth, and reported psychiatric health conditions. She has completed the data collection and is currently analyzing the information.
"The research we are doing is very timely because cannabis is becoming more and more popular for recreational use, so if we can get some more information about how it can affect our oral health, then dental professionals can better inform patients and have those risk-benefit discussions," Beltrano said. "I am really grateful for the support and guidance from my research supervisors, and the time they have dedicated to this project on top of their clinical and teaching activities."
Beltrano's supervisors are Dr. Noriko Boorberg, associate professor, and Dr. Vanessa Hunzinger, assistant professor, both in the department of restorative dentistry in the college.
Hunzinger said that Beltrano is very hard working and industrious and the B.Sc. (Dent.) experience will make her a better dentist in the future.
"At the University of Manitoba, we have a strong belief in making sure that we practice evidence-based dentistry," Hunzinger said. "I think that the more experience that students have in participating in research or reading research studies, the better clinical practice they can offer to their patients."