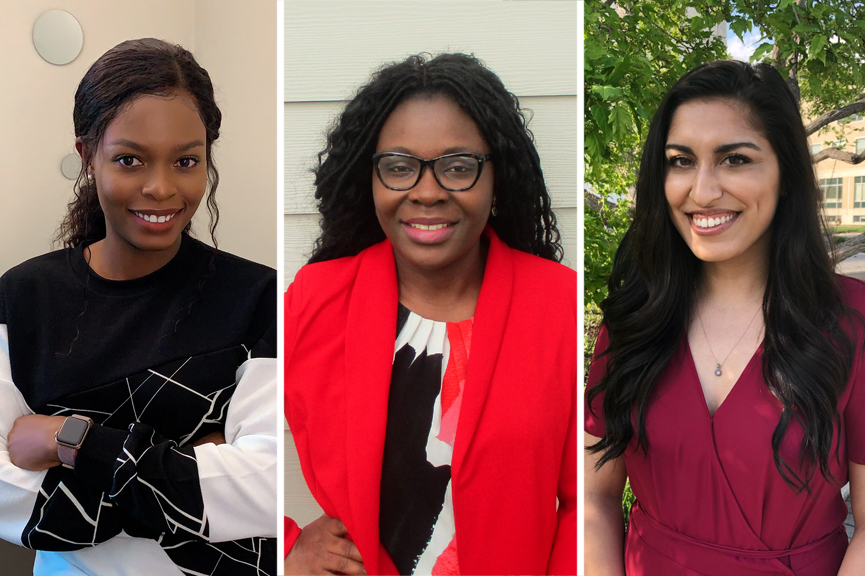 Summer nursing researchers distanced but connected
June 1, 2020 —
The Manitoba Centre for Nursing Health Research (MCNHR) Summer Research Internship Program kicked-off its 10th year on May 11, with summer student research assistants working from home for the first time in the program's history.
"Some adjustments had to be made to support students and mentors working remotely, but we are officially underway with a full summer program," said Diane Cepanec, director of the program, which brings together 16 student researchers and 14 mentors from the College of Nursing, Rady Faculty of Health Sciences.
To begin the program in its virtual form, Cepanec facilitated a video conferencing orientation session for all participants that focused on a discussion of roles and expectations setting up an online office and opportunities for training and networking and emphasized the importance of keeping a work routine and maintaining a positive and healthy life-work balance.
"We also discussed connecting as people beyond our formal titles, which is so important and makes a difference in the kind of experience and learning that students have," she said.
Sidrah Khawaja, a research assistant for her third consecutive summer, said that being connected to her colleagues has been a key part of her success with the program.
"Research is about teamwork and now we've been forced into an uncomfortable situation of having to be isolated, but having the support from the MCNHR team and my mentors has made the transition so much easier" she said.
Khawaja, who also has a UM bachelor's degree in genetics, noted the program has been very important to her since she entered the College of Nursing.
"In my first year, one of my professors noticed I had an interest in research and told me about the program," she said. "I wouldn't have known this opportunity existed for students prior to that, and I thought it would be an interesting way to learn more about nursing research. It's become such a big part of my life now."
This summer, Khawaja is working with Dr. Donna Martin, associate dean of graduate programs, and assistant professor Dr. Marnie Kramer on an international project led by Dr. Amanda Kenny from LaTrobe University in Australia that focuses on a review of research in nursing education and the impact of how nursing education is constructed.
Khawaja and Naomi Armah, another returning research assistant, gave an online presentation on May 19, welcoming participants and highlighting methods for success while taking part in the program remotely. They said this was especially important for students new to the program.
"We highlighted the need for excellent communication and establishing relationships with your mentors, support staff and colleagues," Armah said. "Resilience begins in the mind, and once you have that intrinsic motivation, you will be better able to learn, adapt to changes and explore other contextual factors that can support you through the journey."
Armah, a PhD student in the College of Nursing, is in the program for the fourth time. Over the last few years, she has been involved in multiple projects, including one that led to a published article in the International Journal of Public Health in 2019. This summer, she's working with Dr. Nicole Harder, Mindermar Professor in Human Simulation, Rady Faculty of Health Sciences, on a scoping review of psychological and moral distress in healthcare providers who are involved in the withdrawal of treatments of patients in intensive care settings.
"I have had the opportunity to work on literature reviews, engage in data collection and data analysis, and work on grant and ethics applications. So many opportunities have come my way from working at the MCNHR as a summer intern," Armah said.
First-time intern Sandra Aboh said she appreciated the online introductory sessions and they helped her feel welcome.
"We got to meet our team and learn about the resources we have. We also had an opportunity to work on schedules and have some coffee time, since we can't meet on campus anymore," she said.
A bachelor of nursing student set to enter her fourth year, Aboh moved to Winnipeg from Nigeria in 2017 to study nursing. She previously earned a degree in microbiology from Bowen University in Nigeria.
"I've always been interested in research, and as I went through the program I found topics that were of interest, like youth and marginalized populations," she said.
Aboh received an undergraduate research award to take part in the seminars and work with Dr. Roberta Woodgate, Canada Research Chair in Child and Family Engagement in Health Research and Healthcare, and her team on a project looking into culturally-sensitive services for youth.
"I know this time is different because I can't just walk up to my mentor, but she is very accessible through video conferencing apps, email and phone, and will answer any question I have," Aboh said.