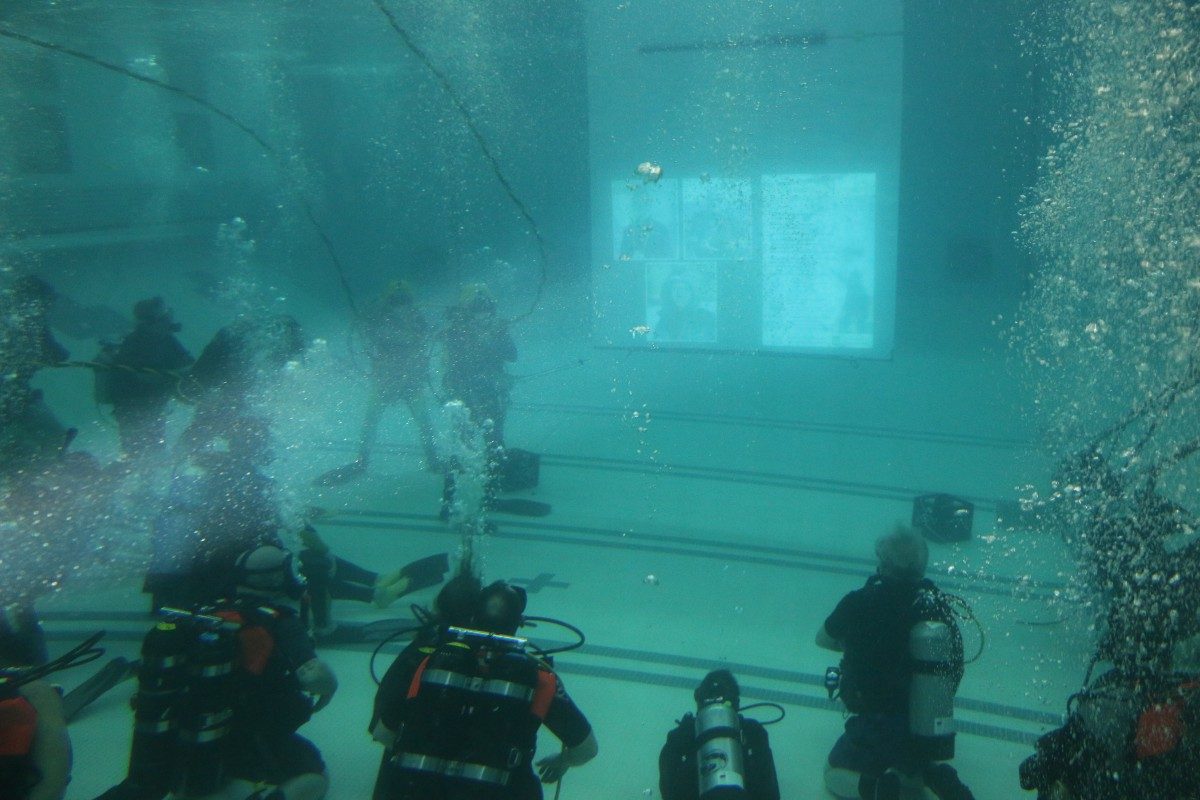 Underwater seminar on drowning prevention a splashing success
March 1, 2018 —
With a turnout of more than 100 people (including 35 SCUBA divers), the first-ever underwater seminar on drowning prevention, hosted by the Faculty of Kinesiology and Recreation Management and the Health, Leisure and Human Performance Research Institute (HLHPRI), was a resounding success.
The seminar was the brainchild of Professor Gordon Giesbrecht, better known to many as Professor Popsicle, who has spent his career researching and educating people on cold water survival as well as escaping from submerged vehicles.
Held at the Joyce Fromson Pool, the seminar featured three speakers, who all gave their presentations from the bottom of the pool. An underwater screen along with special audio and video systems allowed participants, both below and above water, to hear and see the presentations.
Giesbrecht spoke on submerged vehicle escapes, while local diving expert Dave Aldersen spoke on adventure diving, and U of Laval/Diver Alert Network's Dr. Neil Pollock spoke about shallow water blackouts.
The divers who watched from the bottom of the pool included members of the Winnipeg Police Service and RCMP dive teams, as well as other members from the diving and pool communities in Manitoba.
Said Giesbrecht about the large turn-out, "The great thing about holding such a unique event is that we brought a lot of people to the university campus who may not have otherwise come here. And they got to hear some incredibly important information about drowning prevention, which of course was the goal of the symposium. We're all very pleased with how this event turned out."
Faculty of Kinesiology and Recreation Management Dean Dr Douglas Brown opened the seminar by saying, "Being here tonight, it's obvious to see that in the Faculty of Kinesiology and Recreation Management, we take experiential learning to the next level, or to the greatest depths in this instance."
The seminar was part of the HLHPRI Research Seminar Series, which features a wide variety of interesting speakers from Manitoba and across North America on a monthly basis throughout the school year.