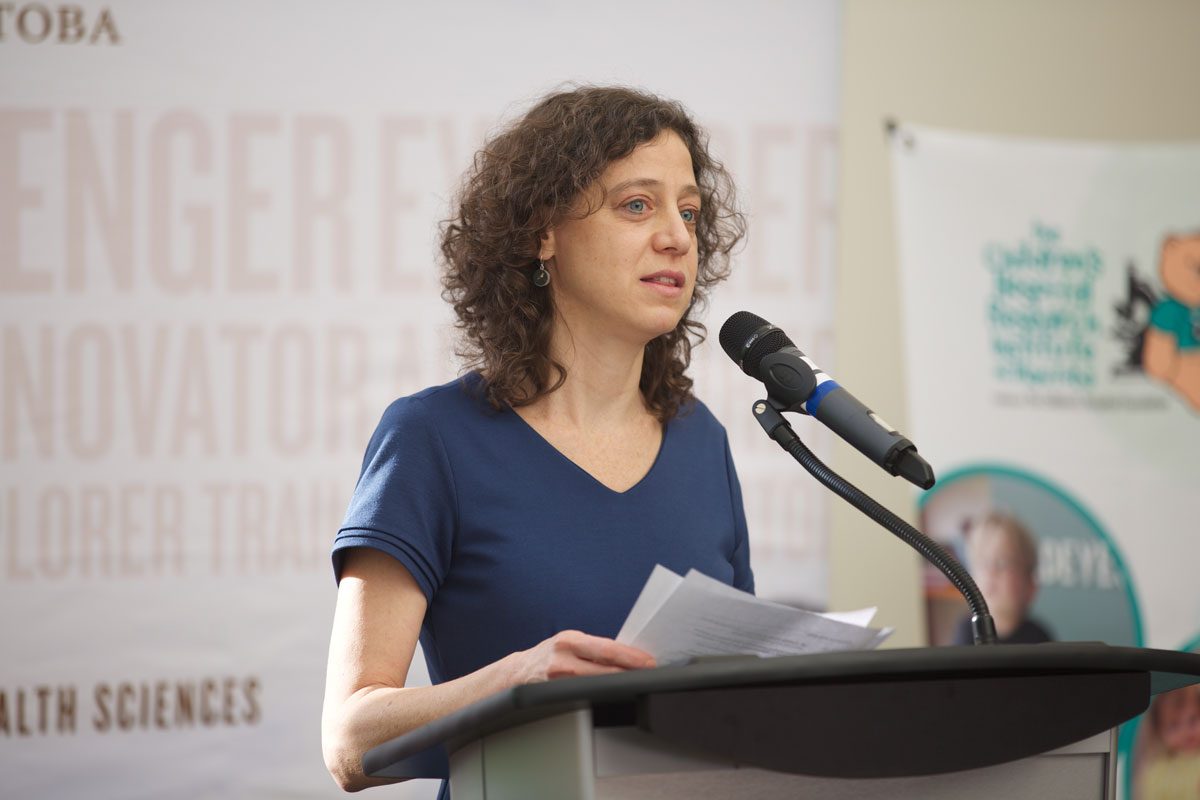 Study looks at sex work in conflict zone
January 12, 2017 —
Marissa Becker [MD/99] was conducting a study in eastern Ukraine when a conversation with a female sex worker suddenly got her thinking about her next research project.
Becker learned that this highly educated woman – a trained mechanical engineer – had left her life in Donetsk, a city at the centre of violent political conflict. She had relocated to Dnipropetrovsk, a city just outside the conflict zone. The woman had entered into sex work because conflict had forced her from her home.
The basis for a new study was set in motion. Becker, an associate professor in community health sciences at the University of Manitoba with cross-appointments to internal medicine and medical microbiology, has been awarded a project grant of $1.5M from the Canadian Institutes of Health Research (CIHR) for a five-year study.
The project is designed to understand how the consequences of conflict, migration and disrupted health services affect risk in the context of HIV, sexually transmitted infections (STIs) and hepatitis C virus (HCV). The study is being conducted by an international, inter-disciplinary team in order to understand this complex public health issue.
According to the World Health Organization, Ukraine has the second-highest rate of HIV in the entire region of eastern Europe and central Asia. Becker's previous study in Ukraine was concerned in part with how HIV prevention programs could reach women who had recently transitioned into sex work.
"When we were doing the Transitions study in Dnipropetrovsk, the conflict broke out in eastern Europe," Becker recalls. "We felt it was really important to understand how the conflict was impacting the organization of sex work and individual women's risk. It was important to be able to inform HIV prevention programs for female sex workers."
Becker is affiliated with the Rady Faculty's Centre for Global Public Health (CGPH), which has done previous work addressing programs' response to violence. In a conflict zone like eastern Ukraine, Becker says, public health programs must respond rapidly and effectively.
"If you've got women moving in from new areas and entering into sex work, you need to very quickly, as a program, identify where they're coming from, where you can provide them with services, what their risks are, and how that might change. You need to adapt very quickly in order to meet their needs and minimize their risks."
Becker notes that there is very little literature on the impact of conflict on the dynamics of sex work and HIV exposure. Her project will study how conflict affects the daily lives of female sex workers and their HIV/STI/HCV risks. It will also research the extent to which conflict alters the spread of HIV and HCV among female sex workers and clients.
The study will generate important information for its Ukrainian partners, who provide HIV prevention programs in Dnipropetrovsk, and address an important knowledge gap globally.
"We're working with local program partners, researchers and policy makers," Becker says. "We've been doing work in Ukraine for a number of years now. It's important to us to sustain and further develop those partnerships for impactful work."