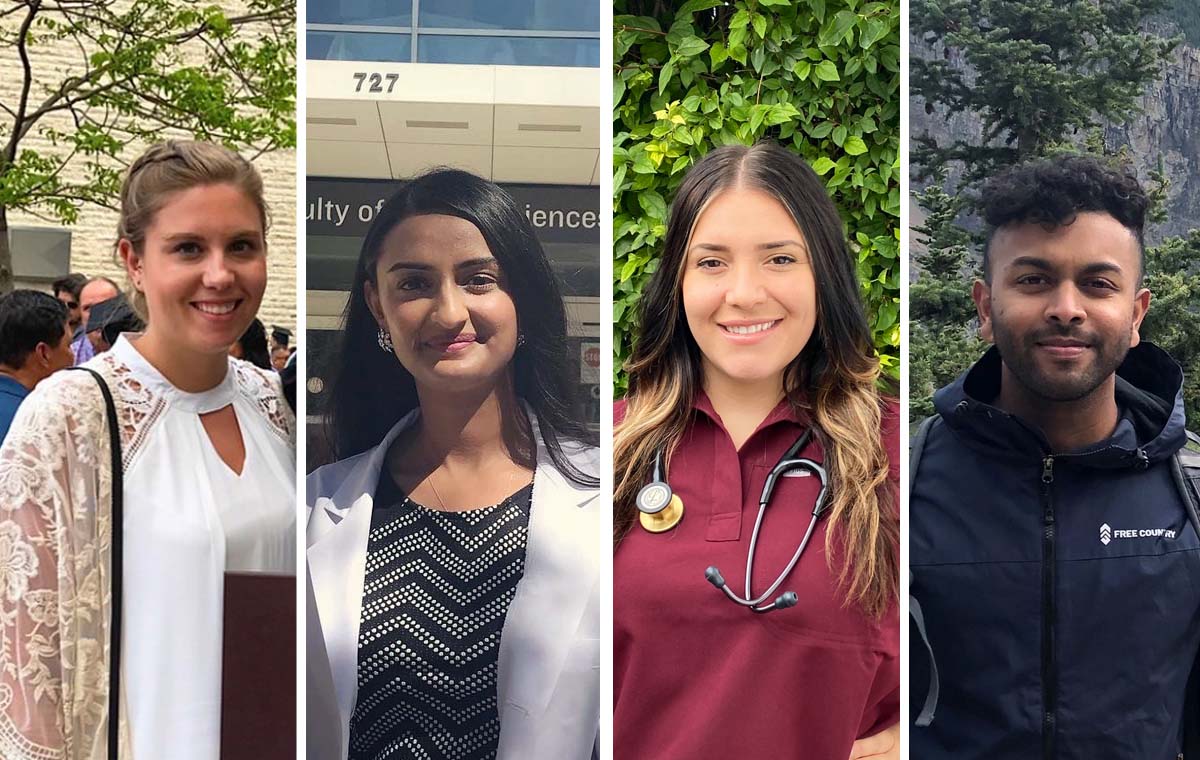 Students to play major role in interprofessional community health project
October 4, 2021 —
A group of students from three different Rady Faculty of Health Sciences colleges took part this summer in an ongoing interprofessional initiative to create a student-infused community health centre in Manitoba.
The summer work was led by College of Nursing assistant professors Dr. Dan Nagel and Jamie Penner, along with Dr. Gayle Halas, Rady Chair in Interprofessional Collaborative Practice.
Nagel noted the centre is based around three foundational "pillars": community-based health programs; family caregiver initiatives; and interprofessional education and practice. The idea is to create an environment where students work interprofessionally under the supervision of licensed professionals and clinical instructors to develop competencies and learn more about community health.
Nagel, Penner and Halas believe that many of the competencies that nursing students and other pre-licensure health professional students need can be learned in a community setting, such as establishing therapeutic relationships, assessments, chronic disease management, interprofessional practice and understanding research.
Nagel said the centre may become a physical entity within five or so years.
"It's the same idea where we put students into clinical placements in hospitals, surgical units and long-term care facilities, except that they're working in the community," Nagel said.
He said the first program for the centre is being planned in collaboration with Southern Health-Santé Sud health region and will be an assessment, exercise and health education program for clients with mild to moderate respiratory disease.
"There are a lot of people in rural areas who have to come to Winnipeg for services, but if it's for a duration of several weeks, that can be a huge burden for clients. And we know from chronic disease that we need to have ongoing contact with people in order to help support the, understand and manage their illness," he said. "And family caregivers of these clients need support, too."
Eleven students were involved in the initiative over the summer, working on several different projects related to each of the pillars. Five students will continue on into the fall term.
Taylor Naccarato, a third-year nursing student, was involved in research into how student-led initiatives have been run in other North American jurisdictions. This fall she'll be continuing to reach out to individuals involved in those projects to see how they work.
"What we want to learn is: Are they free services? Are they part of a curriculum or a partnership? Was it started by students?" she said.
Naccarato said she was drawn to the project because of the family caregiving aspect, something she has experience with in her own family.
"It's interesting to see that there isn't a lot of support out there for family caregivers," she said. "There are a lot of programs that say they're going to teach the caregivers skills to support the patient, but they never look at the caregiver's mental health and well-being, which I think is really important to address to prevent caregiver burnout."
Prabhnoor Osahan, a second-year medical student in the Max Rady College of Medicine, also has a personal interest in family caregiving. She was involved in a project to identify evidence-based resources and interventions that exist for family caregivers in rural communities. Another explored interventions that exist to train health-care providers how to assess and support family caregivers.
"As someone who's been on both sides of the coin – as a family caregiver and now as a student in a professional health-care field – I can appreciate that there are not a lot of interventions that are currently in place for family caregivers," she said.
Victoria Ploszay, a third-year respiratory therapy student in the College of Rehabilitation Sciences, led an epidemiology survey of the Southern Health-Santé Sud health region, comparing community health programming to other health regions in Manitoba.
"We came up with a list of potential programming that we think would be beneficial to the region," she said.
Ploszay noted the inter-disciplinary aspect of the project removes the "hierarchical status" she's seen on some of the teams she's worked on.
"All the students had an appreciation of one another, so it was nice to actually engage in dialogue and suggest opinions or recommendations without worrying about crossing some kind of barrier," she said.
Third-year nursing student Mark Philip agreed that working on the project reinforced how important teamwork is to patient care.
"It's not just doctors and nurses, it's everyone on the health-care team – pharmacists, occupational therapists, respiratory therapists, physiotherapists. I feel like this has really hit home for me. It's a collective effort," he said.