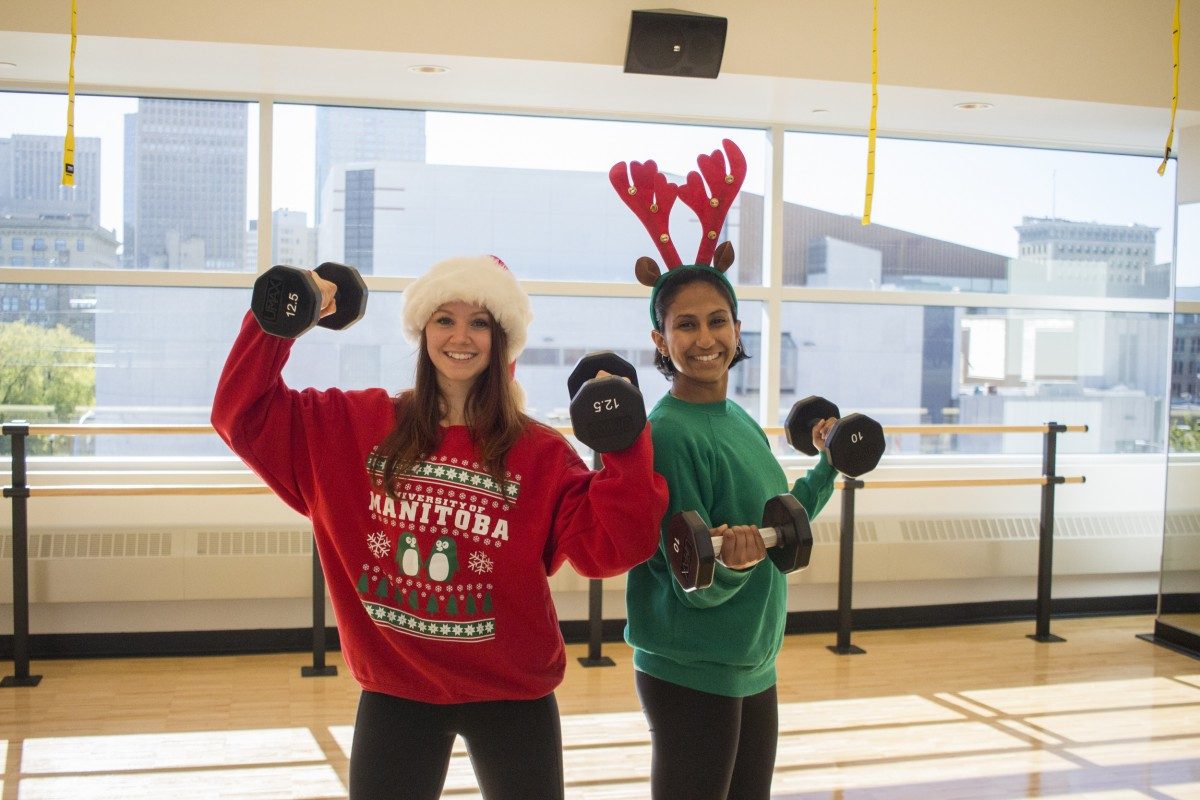 Students the brain behind the brawn of holiday fitness program
November 29, 2017 —
Two Faculty of Kinesiology and Recreation Management students are giving the gift of fitness this holiday season.
'12 Days of FITmas' is a new and novel Sport Manitoba specialty fitness program designed in part by U of M kinesiology majors Orvana Sungeelee and Mercedes Wyenberg.
The program is about getting people active during the holidays through fun and easy-to-do activities, and rewarding them with incentives, such as tickets to a Manitoba Moose game.
The two fourth-year FKRM students are currently on supervised fieldwork experience (from Sept. to Dec.) with the Canada Games Sport For Life Centre.
In early September, Sungeelee and Wyenberg were tasked with creating a project during their fieldwork experience. The holiday fitness project came to them after a few staff brainstorming sessions.
"People tend to stop working out or stop taking time for themselves during the holidays," says Wyenberg, 22. "We wanted to create something easy to follow that was fun and helped people keep on top of their physical fitness."
The Faculty of Kinesiology and Recreation Management provides a supervised fieldwork experience as an opportunity to enhance students' education and professional growth. Fieldwork is a professionally supervised placement during the fall university term of full-time (35 hours per week) experiential learning within a recreation, fitness, health or sport-related organization/agency. Fieldwork provides eligible students with an opportunity to apply knowledge gained in academic courses and exposure to new concepts of professional practice.
Canada Games Fitness Centre manager, Giulia De Leo [B.Kin/08], has supervised the students during the placement, and says she's impressed with their creativity and drive to help in all areas.
"Mercedes and Orvana are energetic and passionate about helping people achieve their goals. They've been a huge help in developing the 12 Days of FITmas and making it inclusive and fun," says De Leo.
Designing the program has involved more than developing different exercises and classes for people to participate in. Sungeelee and Wyenberg have forged everything from the ground up. That includes marketing, networking, developing incentives, and soliciting sponsorship. All things, Wyenberg says, they learned how to do while in school.
"It's pretty great to see how we can take things we've been learning and apply them to real life scenarios. It's our education in action," she adds.
'12 Days of FITmas' runs from Dec. 3- 16. You can find more information on the program's website.
Also be sure to check out the variety of fitness and wellness options at the U of M this winter.