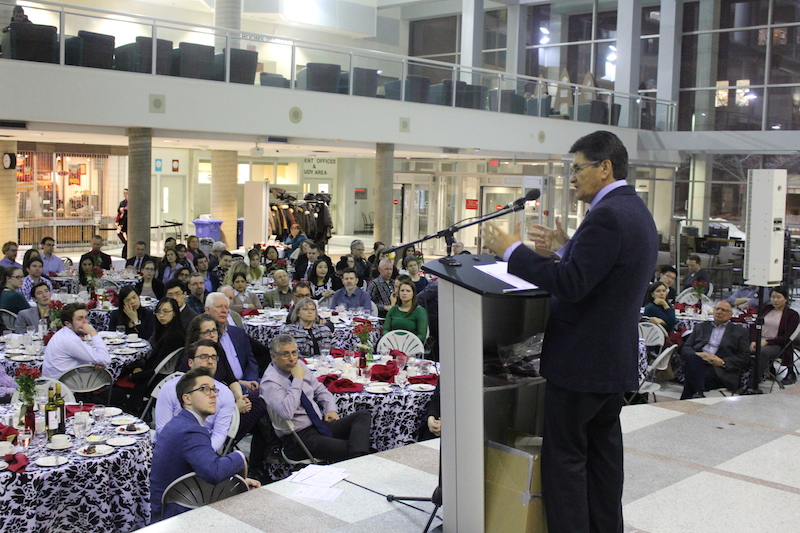 Students thank College of Med faculty members for giving back
February 24, 2016 —
Teachers, leaders, healers.
These are the individuals who can make an impact on a student and on a community according to Ovide Mercredi, the keynote speaker at this year's Teacher Recognition and Manitoba Medical Students' Association (MMSA) Teaching Awards Dinner.
Now in its sixth year, this annual event, hosted by the College of Medicine and the MMSA, gives University of Manitoba students the opportunity to recognize the outstanding teachers who have made important contributions to their education.
Addressing 160 faculty members, medical students and residents on hand for the dinner and reception, Mercredi, a highly respected lawyer, activist and former National Chief of the Assembly of First Nations, also spoke of the importance of Indigenous culture and how these teachings can benefit all members of society.
"There is a place for our knowledge and our thinking and I'm sure that combining western knowledge of healing and our own cultural understanding of what will help and heal a person would greatly enhance the quality of health your patients would be getting," he said.
Mercredi noted a demographic shift in Manitoba that has seen a dramatic increase in the number of Aboriginal students attending university and how these students will contribute to our province.
"When I was an undergraduate student at the U of M in the 1970s there were only 11 Aboriginal students. Now, there are over 6,000 in post-secondary education in this province," he said. "This is a change that will alter the way we live together in a positive way, one that's going to uplift the Indigenous people from inside our own ranks. When our young people become leaders in our society they will make a transformation that will make our people strong again."
Dr. Brian Postl, Dean, College of Medicine and Vice-Provost (Health Sciences) thanked all of the faculty members, teams and College leadership for their dedication to the College of Medicine by educating and training learners to become the next generation of competent, caring physicians.
Samantha Klassen, an awards presenter and Med III student, was also quick to recognize the important role of leaders and teachers at the University of Manitoba.
"We are here tonight to acknowledge the enormous amount of effort and commitment it takes to teach a class of students. For this we want to thank the wonderful teachers here at the University of Manitoba," Klassen said. "We believe it is the inspiration, innovation and mentorship incorporated into each interaction between the students, teachers and mentors that is the real indication of the quality of education here at the university. Without you guys there would be no foundation upon which we can base our education and ultimately our future career in medicine."
This year the MMSA presented the following awards:
Class of 2018
Innovation: Dr. Adrian Gooi
Inspiration: Dr. Dave McCrea
Mentorship: Dr. Merril Pauls
Best Small Group: Sari Hannila
Best Course: Cardiovascular – Dr. Anita Soni
Class of 2017
Innovation: Dr. John Embil
Inspiration: Dr. Debbie Robinson
Mentorship: Dr. Jillian Horton
Best Small Group: Dr. Jenisa Naidoo
Class of 2016
Resident – Clinical Teaching: Dr. Justin Penner
Resident – Mentorship: Dr. Justin Cloutier
Resident- Patient advocacy: Dr. Amir Shamlou
Resident – Professionalism: Dr. Ben Fultz
Attending – Clinical Teaching: Dr. Carmen Hurd
Attending – Mentorship: Dr. Claudio Rigatto
Attending – Patient Advocacy: Dr. Chris Hohl
Attending – Professionalism: Dr. Devon Ambrose
Click here to see a photo gallery from the event.