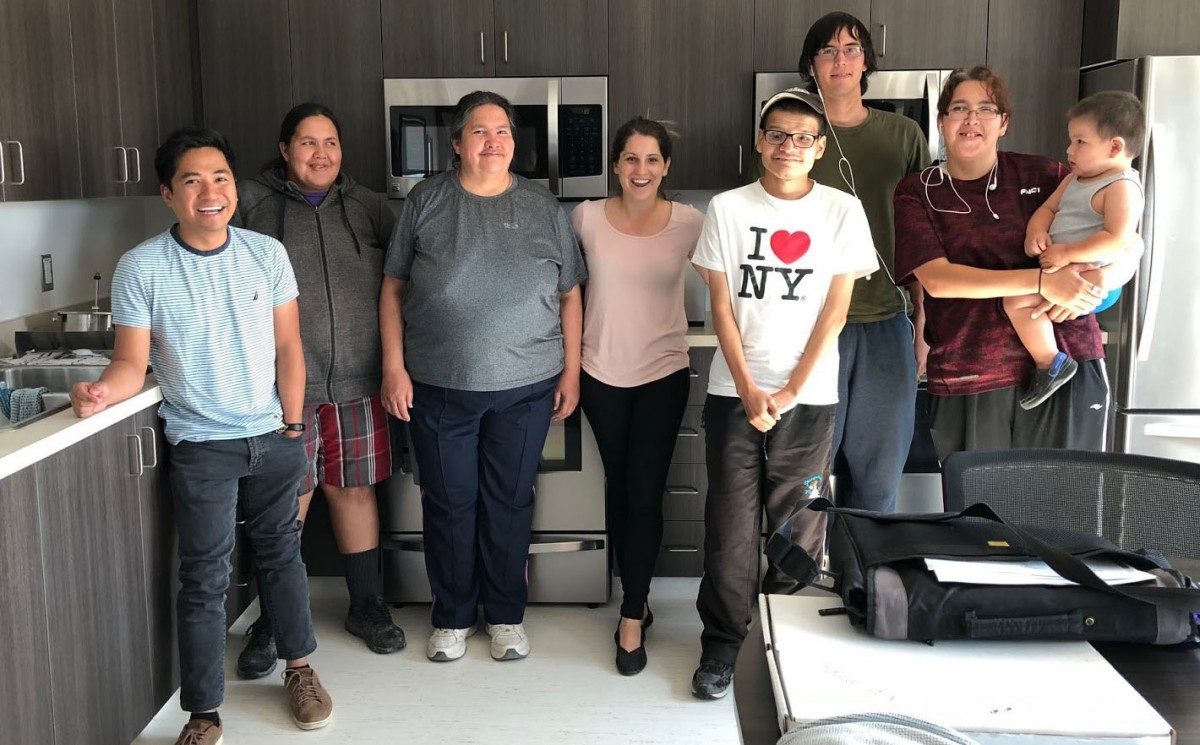 Students support underrepresented adults in First Nations community
October 24, 2018 —
For Taya Palmeruk, her five-week work placement at Pinaymootang First Nation was an "eye-opening experience."
Located in Fairford, Man., about 220 km northwest of Winnipeg, Pinaymootang First Nation Health Centre is a small facility with a staff of about 30 that serves Pinaymootang and surrounding communities.
While the centre runs a support program for children with complex needs and their families under the Jordan's Principle initiative, there is nothing in the community for adults with similar needs, Palmeruk says.
"For anyone age 21 and up who is facing any kind of barrier at all, there is no support out there really," she notes.
The fieldwork was the last of four work placements for Palmeruk and fellow occupational therapy student Francis Diaz.
Earlier this year, Diaz worked on research for an independent study class that focused on the gap that Indigenous youth with disabilities face when they reach the age where they transition out of the school system. He says this underrepresentation is fairly common in First Nations communities.
"The research was specific to Pinaymootang but we tried to have it as generalizable as possible so it could be adaptable for other communities," he says.
The pair worked four days a week out of the centre, which doesn't have an occupational therapist onsite. The closest option for occupational therapy is a 45-minute drive away in Ashern, Man.
They completed mobility and home assessments and worked with clients who were being fitted for wheelchairs. But a large focus of their work involved programming physical activities, life skills education and socialization for up to 12 young adults with developmental disabilities.
One of the accomplishments the students are most proud of is helping two of their clients get part-time jobs in the community, one in a restaurant and another at the local band office.
"The job idea came from the clients themselves," says Palmeruk. "One of them approached us and said, 'I'm tired of welfare. I want to work like most people my age do.'"
Palmeruk and Diaz were supervised remotely by instructor Lisa Diamond-Burchuk, with onsite support from April Sanderson, a Jordan's Principle case coordinator, and Gwen Traverse, the centre's director of health.
Both students graduate Oct. 26 with master's degrees in occupational therapy from the College of Rehabilitation Sciences, Rady Faculty of Health Sciences.
Palmeruk recently started a position at Maples Personal Care Home. She says she always knew she wanted a career helping people, noting she has two close cousins who have Friedreich's ataxia, a progressive neurological disorder that had them both in wheelchairs by the time they reached adulthood.
"I grew up with them and we would run around and they could function totally fine, but now their cognition is affected and they're in wheelchairs full time," she says. "That really drew me to working with people and helping people."
Diaz currently works part-time at Heritage Lodge, another long-term care facility. This summer he entered medical school at the Max Rady College of Medicine.
"With the OT background, I want to work somewhere with a lot of inter-professional collaboration," he says.