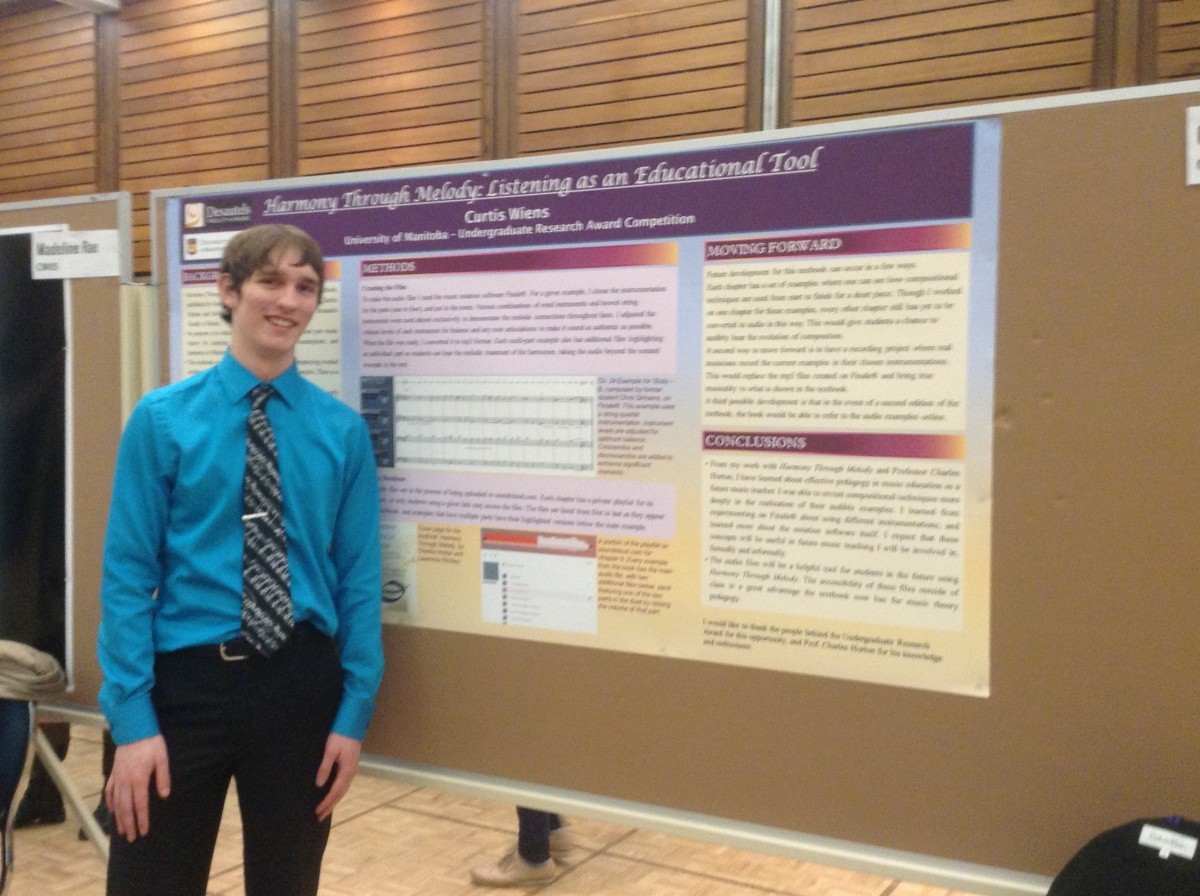 Student's poster on audio files places third in poster competition
Integrated music/education student worked on music theory textbook over the summer
November 13, 2015 —
Curtis Wiens put his summertime research on music theory to good use this fall—picking up third place in the 2015 Undergraduate Research Poster Competition.
Wiens, who is in the fifth year of the Integrated Bachelor of Education/Bachelor of Music program, was one of this year's Undergraduate Research Award Winners in education and had been discussing ways to use his research with his supervisor, Charles Horton, a professor in the Faculty of Music.
"Me and my prof were brainstorming some things I could work on putting into the competition. I kind of knew what I was going to do."
Wiens placed third in the Creative Works category for his poster, entitled, "Harmony through melody: Listening as an educational tool."
His project was based on the work he did last summer to update to Horton's textbook on music theory. It was Wiens's job to create audio files on musical notation software, which are included at the beginning of each chapter "to help students' learning with music theoretical strategies." In the new textbook, once it is published, students will be able to go onto musical program Sound Cloud, enter a password and access the files Wiens created to get examples of the theory that each chapter discusses.
The textbook chapters start with very basic melodies and move to more complex pieces.
"That was a big part of it, I was using different instruments for different examples and different combinations. Some of them being perhaps standard—a string quartet or brass groups. And some of them were not so standard and I got to have fun and bring out different elements and examples."
The textbook is aimed at students who are taking music or music education.
His poster talks about helping create audio files for chapters in the book, as well as moving forward beyond the book. Pieces in the book can be added to and changed, for example, Wiens said. Or, in the future another version of the book could have real musicians to record the pieces rather than have them played by an audio file of different instruments.