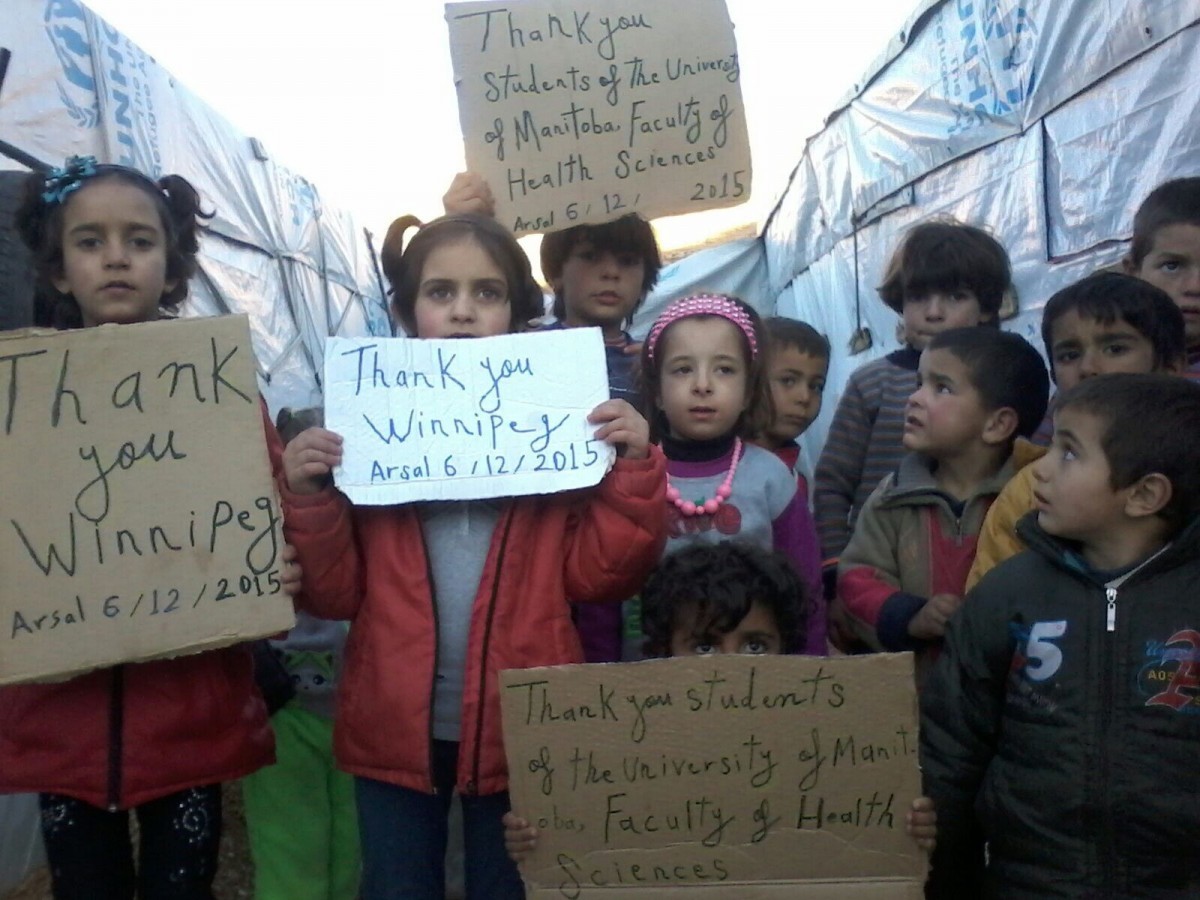 Students, Faculty Respond to Syrian Refugee Crisis
January 5, 2016 —
Health-care providers are trained to offer medical and health care, but reaching out to those in need on the other side of the world? For University of Manitoba first-year medical students Rami Elzayat and Zeenib Kohja – as well as for Faculty of Health Sciences faculty members- that's just second nature.
The pair of students spearheaded a fundraising effort to aid Syrian refugees last fall with a Bannatyne campus pay-to-play dodgeball tournament, raising $2,800 that was delivered to a refugee camp in Lebanon. "Players donated $10 each to get on a team," explained Kohja. "But then we raised the stakes. If you were out, you could pay $5 to get back in!"
Pitting Colleges of Dentistry, Pharmacy and Medicine students against one another made competitors fight even harder to stay in the game, a profitable strategy. "We had people running to the ATM to get more cash!" said Kohja.
Elzayat recalled he had a great time playing and cheering on his classmates, even though they were out of the running early. "There were a lot of big guys on our team and they're easy targets!" But with ties to Syria, it was always about more than just winning or losing. For Elzayat, it's personal.
"I used to visit every year to Syria – I have family there," explained Elzayat. "It's heartbreaking to see. You try to do what you can to help."
On the Faculty of Health Sciences front, Dean Brian Postl has convened a working group, with representatives from across all FHS colleges, to respond to the Syrian refugee crisis in a comprehensive way: through education, service (helping address the integration of refugees into the health care system in partnership with the health regions) and sponsorship of a family.
Dr. Alan Katz, director of the Manitoba Centre for Health Policy, is leading the sponsorship fundraising effort to raise $35,000 through a collaboration with the Mennonite Central Committee. MCC will administer the funds raised and help with the settlement process; all contributions will be eligible for income tax receipts from MCC. For more information about contributing, or helping to fund raise, please contact Alan Katz.
"We're hoping to engage faculty members from across the Colleges to step up and assist with our fund-raising activities to sponsor a family. We believe it is our social responsibility as a Faculty of Health Sciences to respond to the Syrian refugee crisis in this tangible way and anticipate we will be able to make this positive contribution if we all work together," said Katz.
As for the students, Elzayat and Kohja decided they couldn't stop after just one fundraiser, knowing that more than 25,000 Syrians would be arriving in Canada by the end of February, with as many as 2,000 coming to Manitoba.
Last time, the money went to help Syrian refugees in a refugee camp in Lebanon; but this time, they want to do something a little closer to home.
"We wanted it to be health related," said Kohja. "We came up with the idea of health packs." The idea is to assemble kits with a variety of items to help newly arrived families get a healthy start in their new country. That means basic personal care items like Band-Aids and toothbrushes, but also information about how to access the health-care system.
The students are planning a bake sale for the new year to help raise money for supplies that will be in the packs, but they're also offering a more personal opportunity. "People can sponsor a pack," explained Kohja, which means they'll be able to personalize a card to go with it. The cards feature the Canadian Museum for Human Rights and message in English, French and Arabic that reads: 'Welcome to Manitoba.' Watch for posters throughout Bannatyne campus for updates on when and where you can support these efforts.