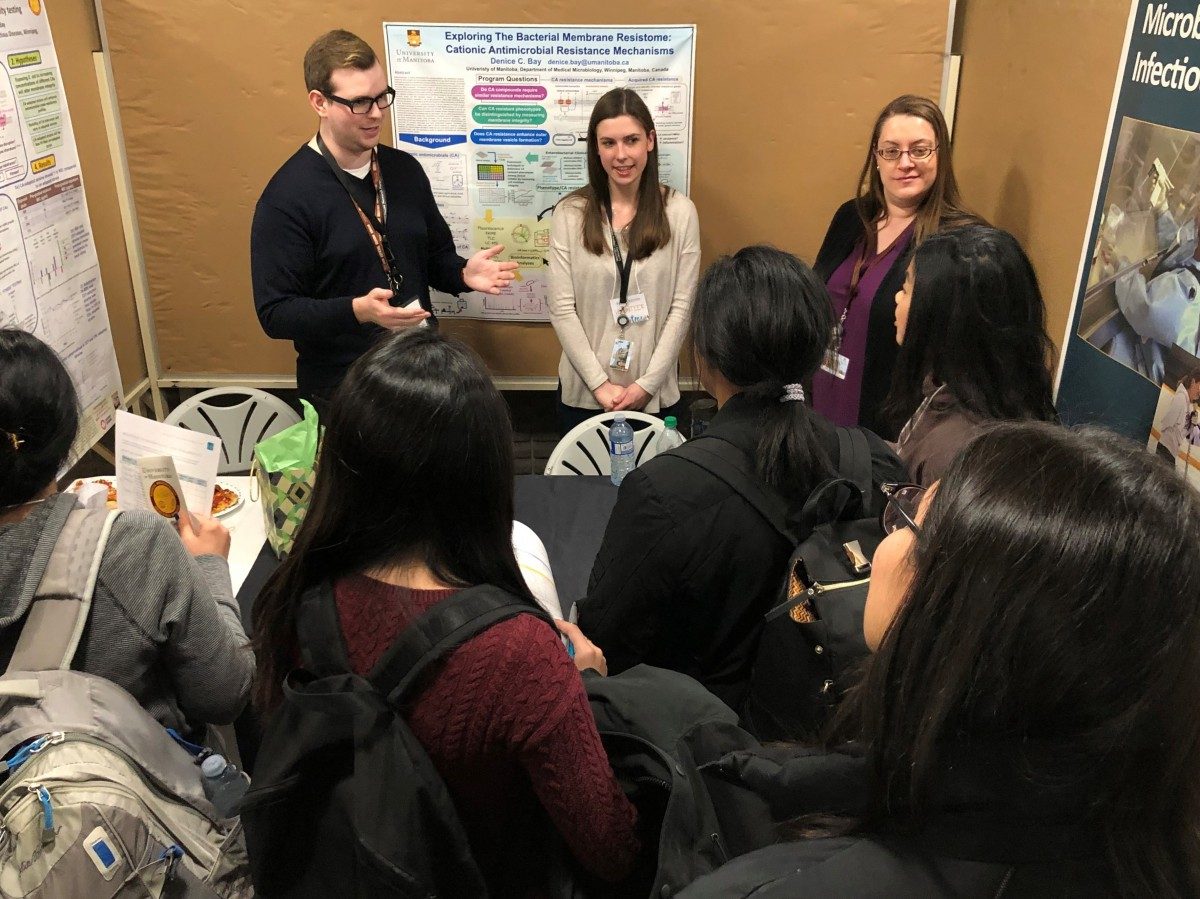 Students eye opportunities at Grad Studies Open House
February 25, 2019 —
Emma Simmons stood at a booth listening intently to the explanation of what a pathologist's assistant does. The second-year bachelor of health sciences student in the Rady Faculty of Health Sciences had never heard of the department of pathology before, and it sparked her interest. She is now considering it as a career.
Simmons was one of the more than 125 students who attended the Graduate Studies Open House on February 20 on the Bannatyne campus.
"I'm really interested in the physician assistant program now, and the department of pathology is super interesting," Simmons said. "This is a fantastic opportunity to figure out what you don't know."
The Open House was a chance for students to learn more about the graduate programs offered in the colleges and departments across the health sciences, find out what opportunities exist and have their questions answered. The all-day event, hosted by the Rady Faculty of Health Sciences and the Faculty of Graduate Studies, included campus tours, 13 program presentations and 15 information booths set up.
"We organized this event because we believe that it is so important for students to know their career options," said Dr. Hope Anderson, vice-dean, graduate studies, Rady Faculty of Health Sciences. "I can speak confidently on behalf of the professors, student volunteers and staff; we sincerely enjoyed interacting with all Open House participants."
Sitting on the other side of the department of pathology's booth was Lance Fuczek. The instructor in the pathologists' assistant program said the Open House is a great way to spread the word about his department.
"Today's event is a really important venue to give exposure to potential students," he said. "It gives them a good chance to visit all the different grad programs so they get a really good idea of what they would like to do."
Kirstin Maharajh was another student whose horizons were broadened by interacting with members of various programs. The second-year bachelor of health sciences student's options are wide open.
"I didn't realize how many different things you can do in health care," she said.
Booths set up ranged from graduate studies in the College of Pharmacy to the department of immunology to the College of Nursing. The booth that attracted the largest crowd was from the department of medical microbiology and infectious diseases in the Max Rady College of Medicine.
"We're a very popular graduate program," said Shelby Reimer, a master's student in the department. "I've heard that ours is a kind of 'sexy science'. So everybody is looking at infectious diseases and working with things like Ebola or Zika virus or HIV. I think that's really what draws people in and makes them curious about our program."
The main questions Reimer was answering from students was how to find a master's supervisor and how to find co-op positions for summer work as an undergraduate student.
Bayasgalan Bayaraa was attracted to the department of medical microbiology and infectious diseases booth because she has friends who work in that field. The Bachelor of Science graduate was collecting pamphlets and any information she could get her hands on.
"I'm pretty much looking at every single area," she said. "I'm trying to figure out what I want to go for."