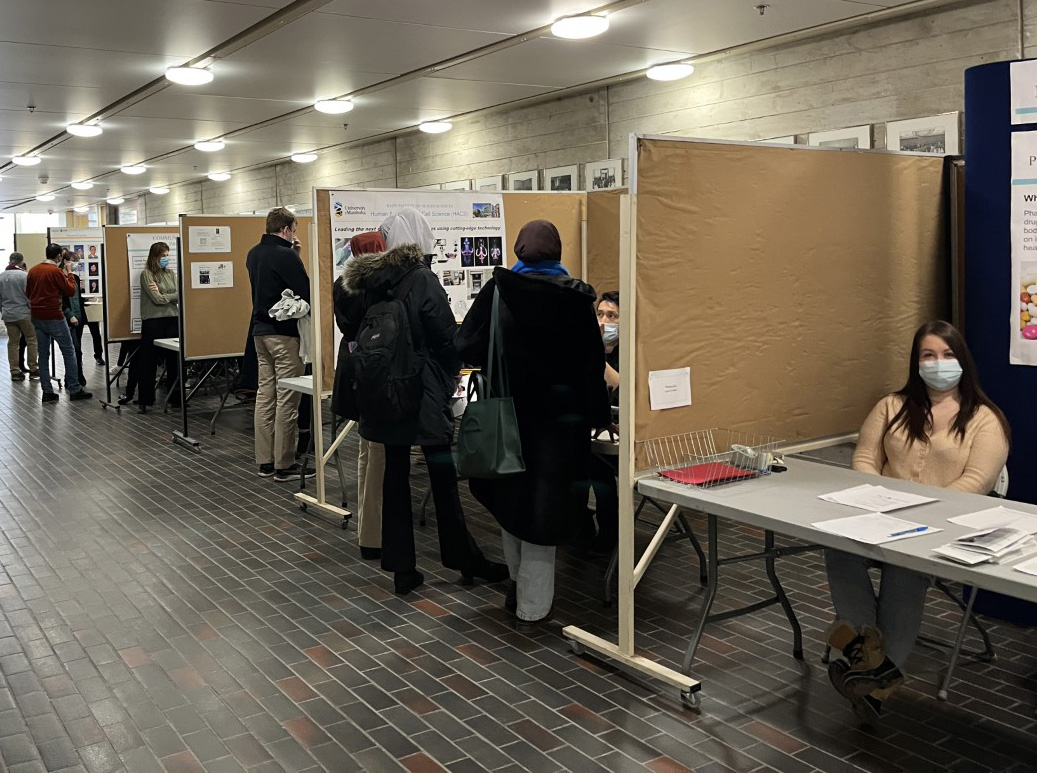 Students explore graduate programs in health sciences at open house
March 7, 2023 —
Interested students attended presentations on 12 health science graduate programs and spoke with current grad students and faculty members at the Rady Faculty of Health Sciences' Graduate Studies Open House on Feb. 23 on the Bannatyne campus.
The annual open house offers students an in-depth look at master's and PhD options to help them plan their potential educational and career paths.
Representatives of graduate studies programs from the Dr. Gerald Niznick College of Dentistry, Max Rady College of Medicine and College of Pharmacy gave presentations.
"I wanted to see what my options were in medicine," said Brett Torres, a first-year UM student. "I saw lots of opportunity, especially in research. Lots of presentations spoke to me on what my future could be."
After the morning of presentations, student attendees browsed through the Information Village, where departments had display booths describing their programs.
The booths also gave students the chance to ask questions in one-on-one interactions with graduate students and instructors directly involved in these programs.
"Beyond learning about graduate education options within the Rady Faculty of Health Sciences, learners also gain insight into how enjoyable and supportive the programs and learning environments can be," said Dr. Hope Anderson, vice-dean, graduate and post-doctoral studies, Rady Faculty of Health Sciences. "All of our participants enjoy the opportunity to connect."
Torres said the chance to speak with current graduate students was particularly helpful. "It was very interesting to see a perspective from those who are ahead of me at the graduate level," he said.
"I feel more prepared for my future and I'm happy I got the information I wanted about research. I'm not sure if I'm going to use research as a bridge to medical school or if I'm going to become a full-time researcher. I'm exploring my options and this open house did a really good job of doing that."
The 2023 Graduate Studies Open House marked the first time the event has been held in person since 2019.
"The opportunity to connect personally, and in real time, is of great benefit," Anderson said.