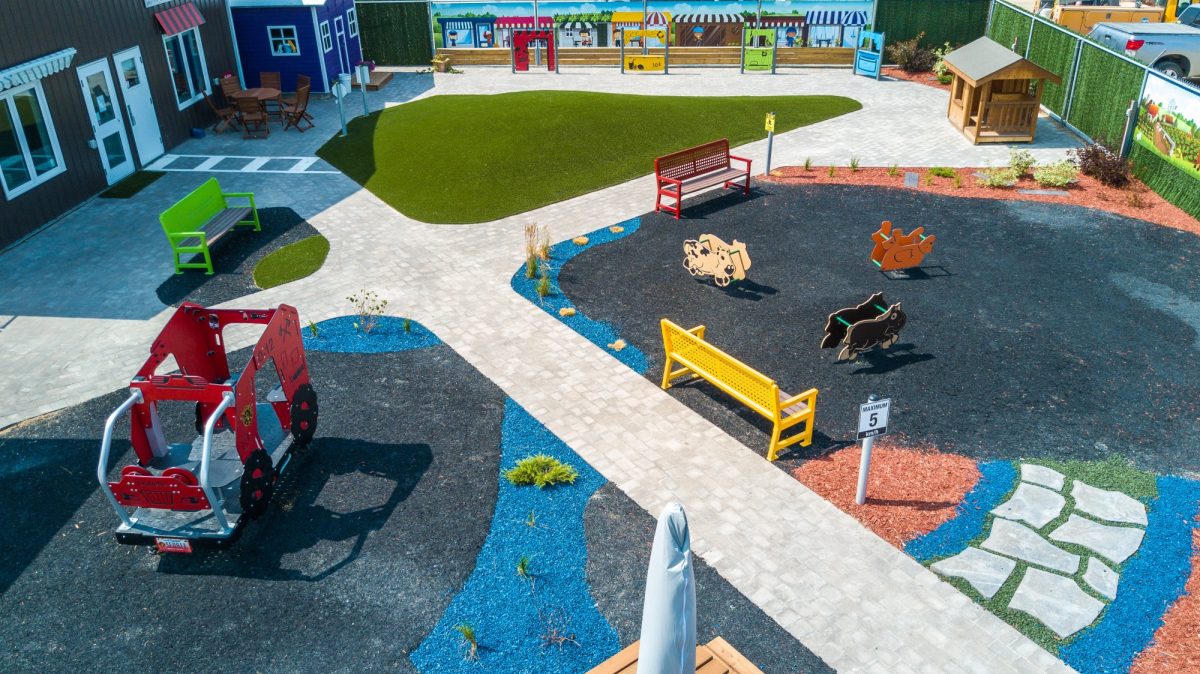 Students develop road safety program for preschoolers
September 8, 2021 —
A resource centre in Steinbach, Man. aims to educate preschool children on road safety using a program developed by occupational therapy students at the College of Rehabilitation Sciences, Rady Faculty of Health Sciences.
Moneca Dunsford and Alyssa Timlick, who both graduate with master's degrees this fall, began working on the project in October 2020 as part of a six-week placement at the Steinbach Family Resource Centre (SFRC).
The project was part of the centre's vision for a program that would teach preschool-age children how to remain safe on the streets and develop key safety concepts would become lifelong skills.
Last year, the centre received funding from the province's Building Sustainable Communities Program to run a pilot program that would use the "road safety play park" constructed at the site in 2017.
"They created this really great space behind the centre that has crosswalks, road signs and even a mini gas station and drive-thru – all these elements to simulate the real world, but sized down to a child's level," Dunsford said.
The program would be run as a half-day field trip option for daycares and preschools in the area.
Based on conversations with SFRC, Dunsford and Timlick developed a manual for what the program would look like on a day-to-day basis, using games, songs and activities suited to a three- to five-year-old's attention span.
"The centre had an idea about what they wanted to do, and really just needed us to get it going," Timlick said. "As occupational therapists, we provide a unique mindset where we are able to break down the activities and how they will fit kids in that age range while they are learning."
Because of COVID restrictions, Dunsford and Timlick were unable to work onsite for most of their placement, so research and consultations with the facility and offsite educator Susan Hales were held virtually.
"We kept in contact with them and gave them updates to keep them in the loop and make sure that we were going in the right direction," Dunsford said. "The centre had an overall vision of what the program should look like, so we had to make sure our vision matched theirs."
COVID restrictions continued after Dunsford and Timlick's placement ended, when second-year students Micaela Mandelbaum and Jordan Beer began their eight-week placement with the centre in May. They had hopes of implementing some of the ideas developed by Dunsford and Timlick onsite, but their entire placement also had to be done virtually.
"Our goal was to try it out ourselves in the environment, teach the educators to use it and do an evaluation to see if anything needed to be added or changed. But because of COVID, we never got a chance to do that," Mandelbaum said.
One of the things they did instead was develop a prototype board game that could also be used to further teach road safety after kids take the in-person program.
"It's a cross between I Spy and a Candyland-style board game. The idea was that the kids' learning would be reinforced through playing the game at home, and that they could have conversations about what they learned with their families," Mandelbaum said.
She and Beer also looked at how the program could work for children with cognitive impairments.
"How do you navigate a real-world environment if a child has difficulty walking, or can't understand at a certain level and can't communicate that they're having trouble learning?" Mandelbaum said.
The centre said it is now taking the materials developed by the students to potential sponsors in the area to get additional funding for the program, which they plan to have up and running in 2022.
"Expanding the program to include adaptations for children with mobility issues went above and beyond our expectations," said Andrea Reimer, early childhood educator at SFRC. She noted the road safety project was in addition to other initiatives the students were involved in at the centre, including an autism information package and a presentation on ergonomics of breastfeeding and baby car seat carrying.
"I was impressed by their ability to create these items quickly, professionally and with careful sensitivity to the needs of our community," Reimer said.