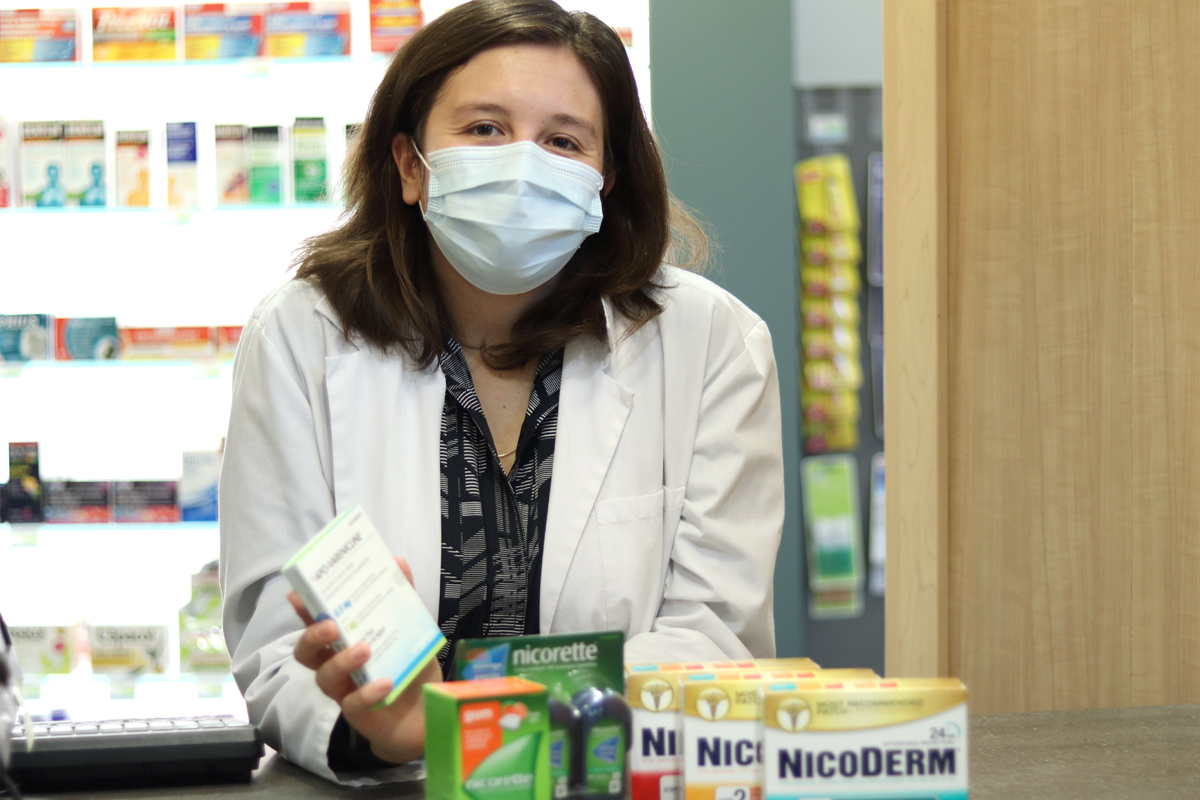 Student's research contributes to quit-smoking program planned for Manitoba pharmacies
Program to provide counselling and $100 in products for every Manitoban who wants to quit
October 26, 2021 —
A research study by a UM pharmacy student is playing a role in a globally unique program to help Manitobans quit smoking.
Christine Vaccaro, who will graduate as a pharmacist in 2023, recently conducted a study of pharmacists' needs as they prepare to offer the Quit Smoking with Your Manitoba Pharmacist program.
"The insights from Christine's research have helped Pharmacists Manitoba understand the supports pharmacists need to make the program successful," says Dr. Brenna Shearer, former CEO of Pharmacists Manitoba, clinical assistant professor at the College of Pharmacy and supervisor of the study.
The program, to be launched in January 2022, will pay pharmacies for assessment, prescribing, counselling and follow-up sessions that pharmacists do with patients. It will be managed by Pharmacists Manitoba, the non-profit advocacy body for pharmacists in the province.
Every patient who participates in Quit Smoking with Your Manitoba Pharmacist is eligible to receive up to $100 in nicotine-based therapies, such as patches, or in the prescription drug varenicline.
The program marks the first time Manitoba pharmacies will be compensated for assessing and counselling patients. It's a significant step for the profession in Manitoba, Vaccaro says.
"This is huge. It recognizes pharmacists for their expertise in smoking cessation and the time they'll spend meeting with patients," she says.
Participating pharmacies will be compensated for an initial one-hour assessment and up to nine follow-up sessions per patient, per 12-month period.
The compensation recognizes that in order for a pharmacist to spend uninterrupted time with a patient, another pharmacist or assistant will often need to be called in to work, Vaccaro notes.
The program is being funded through what is believed to be the world's first social impact bond for smoking cessation. A social impact bond is a partnership in which, generally, a private investor funds a new government program delivered by a service provider. The private investor for this bond is Shoppers Drug Mart, which will invest $2 million.
If the program meets its targets, the Manitoba government will pay Shoppers Drug Mart back with interest. If the targets are not met, Shoppers will lose some or all of its investment.
The key goals are to enrol 4,500 adult smokers over a three-year period and to ensure that at least 12 per cent remain smoke-free after one year.
The program is not exclusive to Shoppers locations. Many pharmacists throughout Manitoba have training in smoking cessation and will offer it.
Since 2017, graduates of the UM College of Pharmacy have received the training as part of their education. "We're trained to support patients with things like handling cravings," Vaccaro says. "This program will be very flexible. If someone can't quit on the first try, that's OK. They can restart."
Vaccaro's research was funded by a College of Pharmacy undergraduate research award. She has previously worked on quantitative studies of data, but this was her first experience with qualitative research, gathering opinions and insights.
"It was a great opportunity," she says. "I did phone interviews with 22 pharmacists representing 25 pharmacies all over the province. I got to hear really unique perspectives. You don't get that from a data set."
Every pharmacist in the study identified the cost of smoking cessation products or drugs as a significant barrier for patients.
Vaccaro's other key findings were that in order for the program to meet its targets, pharmacists need supports such as smoking-cessation pamphlets or websites to provide to patients; a straightforward online billing system for compensation; advertising of the program to the public and health-care providers, such as hospitals and clinics; and training sessions to help them prepare.
Pharmacists said launching the program in January will be key to its success because that's the peak time when smokers resolve to quit. "People come in and ask about quitting right after the holidays," Vaccaro says.
Vaccaro, a member of the first UM class that will graduate with the PharmD (doctor of pharmacy) degree that has replaced the bachelor's in pharmacy, says she hopes to be able to integrate scientific inquiry into her career.
"I want to incorporate research in whatever way I can after I graduate," she says. "I love it."
Quit Smoking with Your Manitoba Pharmacist will start on Jan. 1 in the Interlake-Eastern, Northern Health and Prairie Mountain Health regions. Launch dates for the Winnipeg and Southern Health-Santé Sud regions will also be in 2022, but have not been confirmed.