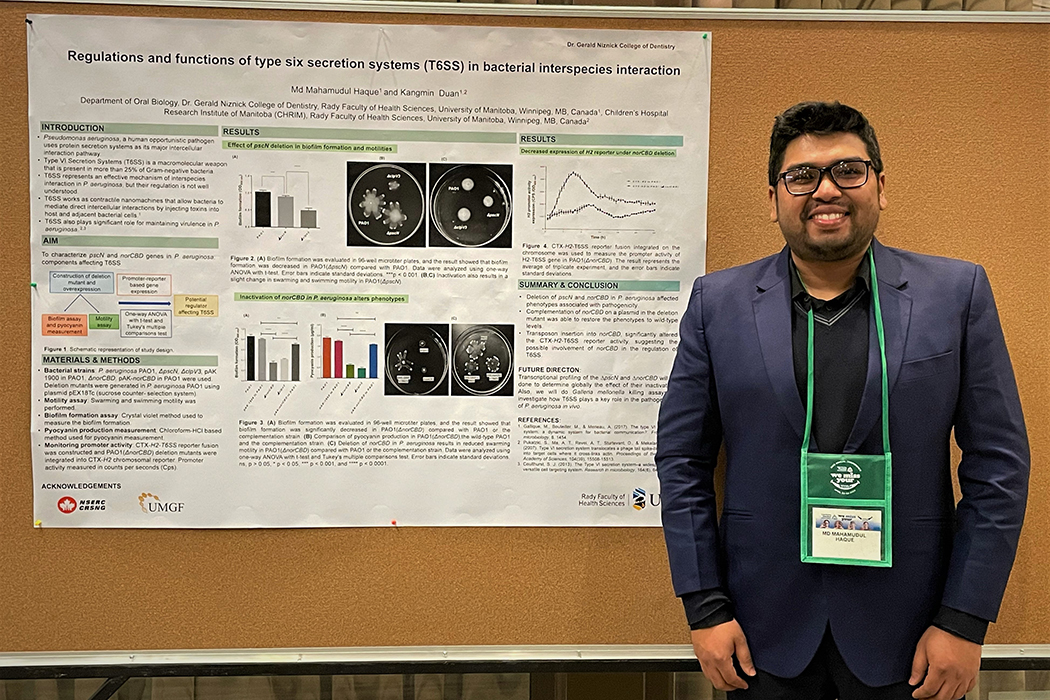 Student research excellence lauded at dentistry Research Day
June 22, 2022 —
Students focusing on infection, workflow and dental implants were recently announced as winners of the Dr. Gerald Niznick College of Dentistry's annual Research Day.
The 2022 competition was held in conjunction with the Manitoba Dental Association's annual convention in April. Fifteen participants proudly presented their research findings including 10 students who took part in the oral presentation category and five in the poster presentation category.
"All the presenters did a fantastic job at explaining their research in a fashion that was understood by everyone in the audience," said Dr. Raj Bhullar, professor and associate dean (research), Dr. Gerald Niznick College of Dentistry. "The winners distinguished themselves, both in terms of the presentation and the quality of the research project."
The basic science research poster winner was Mahamud Haque, a PhD student in oral biology.
"I'm truly grateful to be recognized for my achievements and contributions at this point in my academic career, and it further motivates me to do basic science research," Haque said.
His research examined pseudomonas aeruginosa, a multidrug-resistant bacterium that causes serious infections like those in the lungs of people with cystic fibrosis. He found that the deletion of genes in pseudomonas aeruginosa affected phenotypes associated with pathogenicity and the type six secretion system which contributes to the antibiotic resistance.
"It's time to confront the pandemic of antibiotic resistance," said Haque, whose supervisor is professor of oral biology Dr. Kangmin Duan. "To save lives and economies, we must make progress by drawing on lessons from COVID-19."
The best clinical research poster was awarded to Dr. Max Li, a prosthodontics resident.
"Winning made me feel that the work put into the poster was appreciated by those in the profession who attended the conference and hopefully they learned something which could be applied in their day-to-day practice," Li said.
His poster was a case presentation where he used a combination of both a digital workflow and a normal analogue workflow to have accurate dental implant placement while following the rules of fabricating a removable partial denture to help replace a patient's missing teeth. Li said the findings of his research prove that one can use both workflows, as well as going back and forth between analogue and digital to use the benefits of each to provide a satisfactory prosthesis.
"Digital dentistry is still developing, and as clinicians, we need to push the boundaries and take advantages of its uses in creative clinical scenarios which can help our patients," Li said.
Dr. Setareh Enghiad, a periodontics graduate student, was named the oral presentation winner.
"I am very happy that my presentation was interesting to the audience and attracted so much attention," Enghiad said.
Her research looked at peri-implantitis, a destructive inflammatory process affecting the soft and hard tissues surrounding dental implants that causes bone loss, and if left untreated, results in dental implant loosening and loss. Enghiad's research compared the secretory protein, bacterial and fungal concentrations in the peri-implant pockets, the narrow space between the implant and the gum, of healthy and diseased implants. She found that the concentrations of specific inflammatory proteins, bacteria and fungi change in pockets of diseased implants compared to the healthy ones. Also, for the first time, she reported that two specific fungi are found in higher concentrations around dental implants with peri-implantitis.
"You cannot expect to win a fight if you do not know what you are fighting with," said Enghiad, whose supervisor is Dr. Chrysi Stavropoulou, an assistant professor of periodontology. "Our research shed some light on the root causes of peri-implantitis, so dental implant treatment as a whole can be improved."