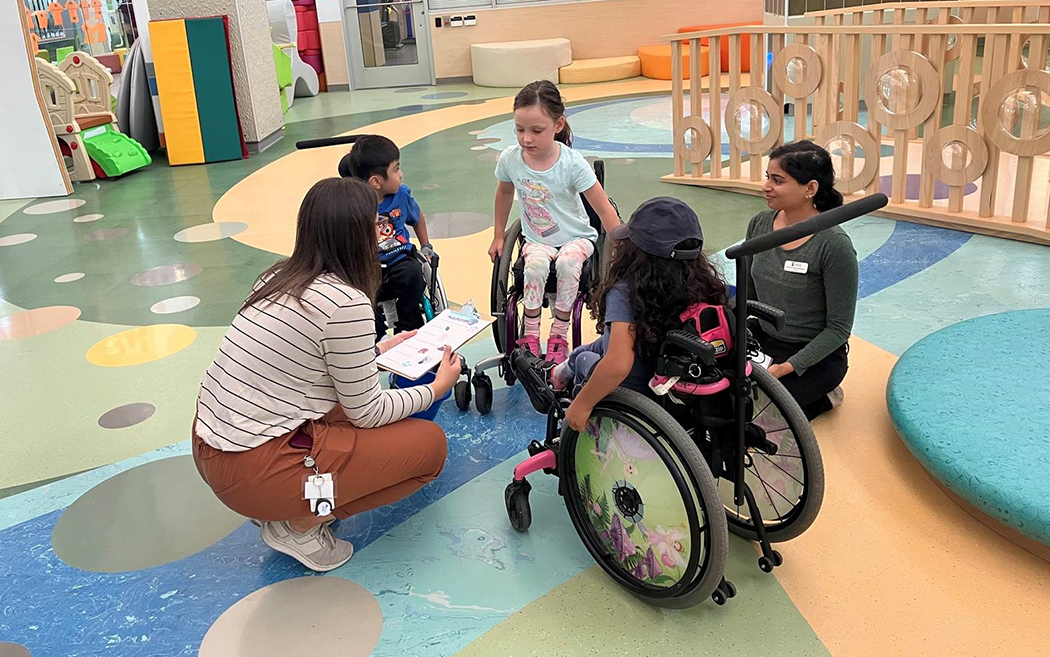 Student-led wheelchair program boosts kids' confidence, builds community
August 31, 2023 —
Two occupational therapy (OT) students from the College of Rehabilitation Sciences, Rady Faculty of Health Sciences have developed a training camp that promotes confidence and a sense of community for children who use wheelchairs.
The assistive technology program at the Rehabilitation Centre for Children, housed at Specialized Services for Children and Youth in Winnipeg, has not had a formal wheelchair skills training program in place until now.
Second-year OT students Keerthana Kalliat and Lexie Rea developed the day camp, dubbed "Wicked Wheels," as part of their final advanced fieldwork placement before graduating this fall.
Kalliat, who has a previous degree in rehabilitation science and technology from the University of Pittsburgh, said the camp allows kids a chance to get to know their wheelchairs in a safe and controlled environment.
"Usually when kids are prescribed wheelchairs, they may receive some basic training on how to use it, but more advanced skills such as getting up a ramp or getting over obstacles are harder to teach during wheelchair appointments. The kids usually must figure this out themselves over time," she says.
The program was divided into two two-week blocks, where children aged five to 11 would attend day camps at RCC twice a week, led by Kalliat, Rea and two teenage mentors who are also wheelchair users.
The camps included games and activities, including obstacle courses, that would incorporate the skills they learned in fun ways.
"We ended a lot of our sessions with a game of tag, which the kids loved playing," said Rea, who has a bachelor of health sciences from UM.
"It's a fun way to use some of the skills they've been working on – whether that is propelling their wheelchairs forward, backward or stopping on command. If another kid is coming to tag them, they need to stop and turn quickly."
Dena Stitz, a senior occupational therapist at RCC, said the program is something she was interested in starting since she started at the centre five years ago.
"We've been able to fit wheelchairs and teach kids some basic things, but these kids are all getting eight hours of intensive wheelchair training, which is something we didn't have time to facilitate," she said.
Stitz, a UM occupational therapy graduate from 2018, contacted one of her former professors, Dr. Ed Giesbrecht, about six months ago to get the project started.
"This is really quite cutting edge," Giesbrecht said. "There are a couple of university hospitals in the U.S., some work in Belgium and the Netherlands and a program going on in Quebec City, but that's really about it in terms of using camps to teach skills to kids."
As the students wrap up their placement, they are preparing a proposal for RRC to use the program going forward.
Stitz said she's excited to have the program continue.
"Watching the camps has been amazing. The kids are happy, the caregivers are happy. The skills they are learning are crucial, but the sense of community has been amazing to see," she said.
Kalliat and Rea both said the sense of community between the kids and the peer mentors was one of the highlights of the program. They said the other big takeaway was the confidence the kids were building in their wheelchair skills.
"A lot of times they were hesitant in the beginning, and by the end they wanted to be the ones to demonstrate those skills," said Rea. "They were really proud of what they could do, and that was cool to see."