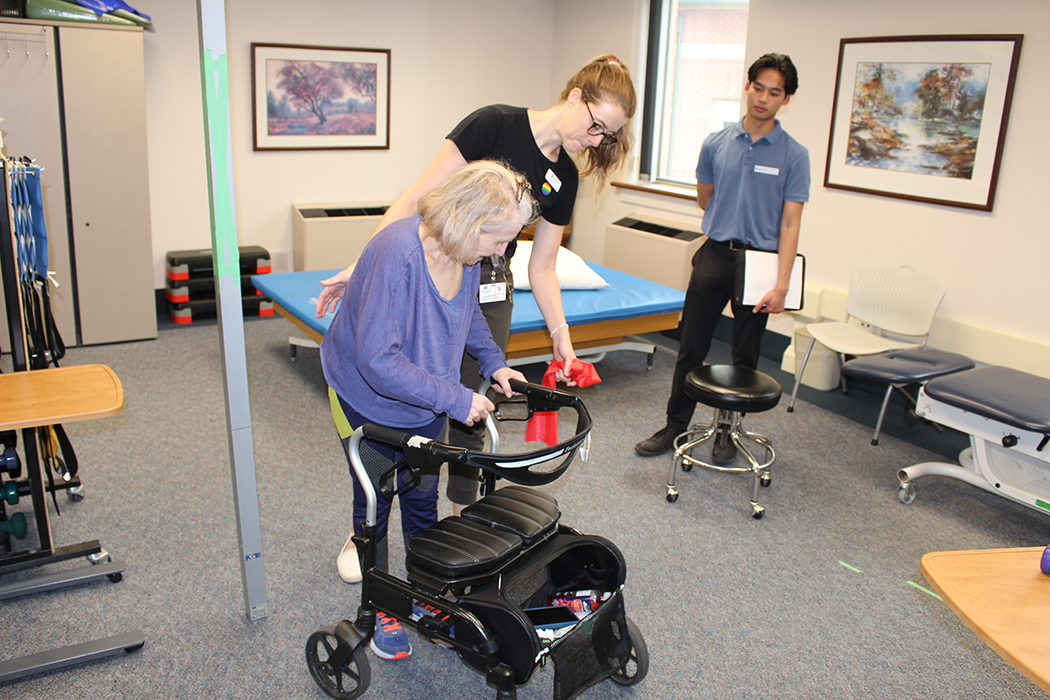 Student-led physio clinic offers interprofessional approach
July 10, 2023 —
This spring, for the first time in 20 years, the College of Rehabilitation Sciences' student-led Physical Therapy Neuro Rehab Clinic brought in students from three additional health disciplines for a trial run of a more holistic approach to patient care.
The clinic was founded in 2003 at UM's Bannatyne Campus and moved to Riverview Health Centre last year. For 12 weeks a year, physical therapy students run the clinic under supervision as part of their fieldwork experience. This year, pharmacy, nursing and occupational therapy students also joined for various lengths of time.
"At the clinic, we are helping real people do real things in real environments," said Sarah Conci, physiotherapist, clinic coordinator and program instructor. "Physical therapy has a certain scope of practice, and it alone can't meet the needs of everything that clients have going on in their lives. Bringing in other disciplines is helpful to address health gaps and needs for the whole person."
This year's clinic ran from April 3 to June 23. As in other years, two groups of eight physical therapy students in their final year of the program ran the clinic for two six-week blocks, this time joined by six pharmacy students, two occupational therapy students and two nursing students.
"We had some students who are about to graduate and others who are still going to be in university for a few years. So, the knowledge level is different, but we were able to tailor the clinic to make it a good learning experience," Conci said.
Conci, who has been working at the clinic for five years, said she hopes the interprofessional approach will continue next year.
"Overall, I'd say the trial was successful. The students benefitted and the patients did, too."
Physical therapy student Braden Dyck worked at the clinic for his final clinical placement in the program. He said this was his first experience working with other health disciplines.
"I didn't know what to expect, but I think it really extended the care that the patients were able to receive," he said.
"I sat in on a couple of the assessments the pharmacy students did with patients that I was working with, which gave me a better understanding of challenges they were facing as a result of side effects of certain medications. Overall, I got a better picture of what some of my clients were facing."
Students from the College of Pharmacy came to the clinic twice – first to interview patients about their medication history while observing the physical therapy students, and then returning to make recommendations.
"It was interesting to observe the physio students and learn more regarding their scope of practice. I was surprised by how many questions and concerns patients had regarding their medications," said fourth-year pharmacy student Rachel Hyrsak.
College of Nursing students were onsite mostly to observe and determine how their role could be applied to the clinic in the future, said fourth-year nursing student Kyla Atchison.
"Our focus is on how the clinic can address any health care gaps or needs the clients have, how nursing can be incorporated into addressing those gaps, and what recommendations can be made at the clinic to build beyond the scope of it being just a physiotherapy clinic, as a way to more holistically serve the broader needs of the community."
First-year occupational therapy student Elsa Gurney said the experience was much different from her previous work placement in a hospital. She appreciated learning about the other health occupations, as well as the trust given by the onsite supervisors.
"Our clinical instructors provided guidance instead of supervision. This approach encouraged student leadership and provided opportunities for us to develop our own clinical reasoning and interprofessional relationships," she said. "Overall, I left the clinic with more confidence and pride in my skills and professional identity, as well as a deeper understanding of how each profession can work together to provide the best client care."