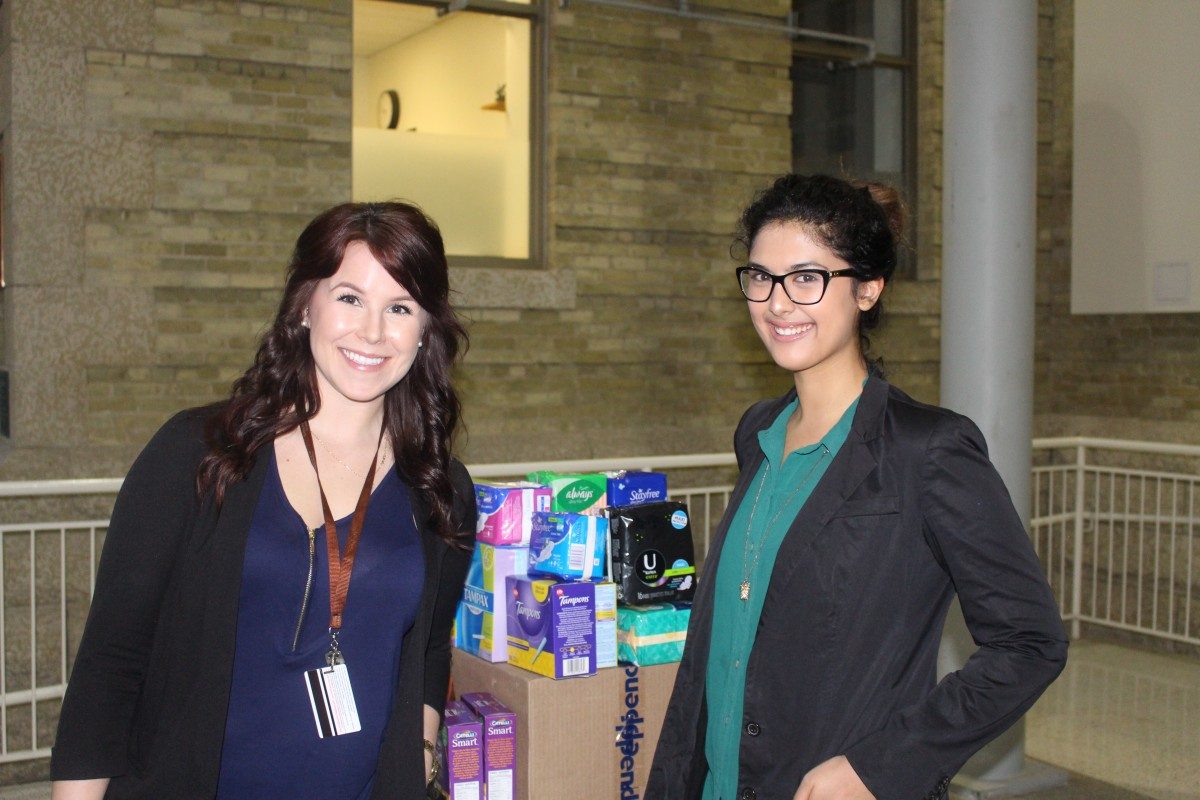 Student dinner supports Agape Table
February 3, 2017 —
There was a food fight on Bannatyne campus last night.
The good news is there was no mess to clean up. Instead the Feud for Food challenge – organized by Max Rady College of Medicine students in the Rady Faculty of Health Sciences– raised donations for Agape Table as part of this year's Rich Man Poor Man dinner.
Organized by the Global Health Interest Group of the Manitoba Medical Students' Association, the Rich Man Poor Man dinner raises funds for local charitable organizations while also raising awareness about food security inequities, poverty and the ongoing need for affordable nutritious options.
Every year, as part of the Rich Man Poor Man experience, students from the Med I and II classes engage in a friendly rivalry to support a local charity. This year representatives from both classes – Izabella Supel and Vanessa Camaclang – decided to change things up and ask for other donations besides the traditional food drive items. They also devised a point system that assigned a higher point value to items that are the most needed.
"We looked at Agape Table's most wanted list and found that items like feminine hygiene products and toiletries were at the top," Supel said. "Feminine hygiene products are really hard to come by, especially for women who are less fortunate and we decided to make those worth the most points."
Both classes collectively brought in 4,000 pieces of feminine hygiene products and over 500 items of toiletries.
"I'm really impressed by the generosity," Supel said. "Within the first day of announcing the challenge we had a huge outpouring of people messaging me. Everyone was so keen and gung-ho, especially with feminine hygiene products, which was really amazing and interesting."
More than 140 students, physicians and others attended this year's Rich Man Poor Man dinner. The theme was food security, a topic addressed by Russ Mason, volunteer coordinator at Agape Table and keynote speaker Joyce Slater, a nutritionist and associate professor in the Faculty of Agricultural and Food Sciences.
Slater challenged the students to treat food security as an important health issue.
"What you can do is ensure that food security is taken as seriously as MRIs to ensure the health of Manitobans," Slater said. "You are opinion leaders and change agents. As future health professionals you have an incredible gift and responsibility, and enormous influence in our society."
Ruth Habte, one of the dinner organizers, agreed with Slater about the role students will play in the health of patients.
"There is an undeniable link between nutritious foods and health, as future physicians we felt it necessary to highlight the issue of food insecurity," Habte said. "By highlighting the imbalance of resources seen in our own city and by illustrating the challenges that individuals in poverty face, we hope to inspire dialogue, a new way of thinking, and hopefully some dialogue."