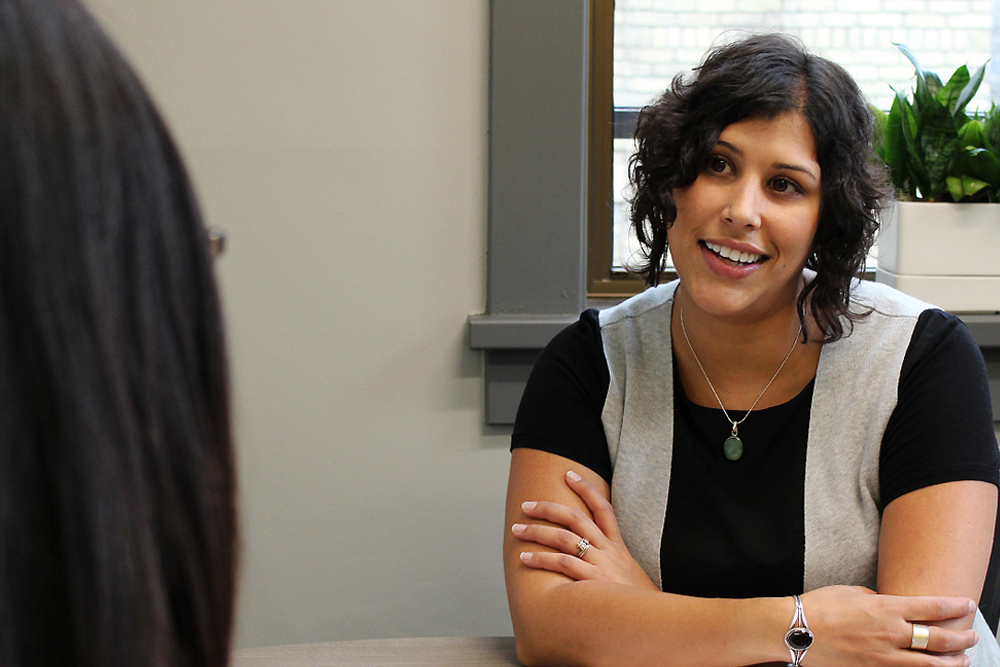 Stressed? Overwhelmed?
Services for Students at Bannatyne campus offers free, confidential support
November 28, 2017 —
Students in health-care fields – dentistry, medicine, nursing, pharmacy, rehabilitation sciences – often appear to be self-assured go-getters.
But sometimes on the inside, they're hurting.
One student in a demanding program on the Bannatyne campus remembers feeling disconnected as he struggled with anxiety and self-doubt.
"I was stressed, confused and I felt out of place," he says. "I was dealing with academic factors that were connected to personal factors. I was always in a sense of dread, like, 'Am I going to mess up again?'"
Finally, he says, "I decided I needed to get some of these things sorted out." Although he felt apprehensive, he walked into the Services for Students office at S211 in the Medical Services Building and asked to talk to someone. The services are free and confidential for all Rady Faculty of Health Sciences students.
"The office was very welcoming," he says. "They really listened. They helped me find strategies to work through my anxiety."
The student was relieved that the staff could provide ongoing counselling, refer him to mental-health services and speak to his program on his behalf (something Services for Students will only do with a student's permission).
Leah Deane, a social worker who is the student support coordinator at Services for Students at Bannatyne Campus (SS@BC), describes the office as a safe, caring space. It's a one-stop service hub staffed by an interdisciplinary team of professionals.
In addition to counselling and mental health services and referrals, the office provides student advocacy (help with resolving conflicts or complaints), accessibility services, career advising, learning skills development and financial aid. The staff can connect students with other supports as needed.
SS@BC has launched an awareness campaign to encourage students to come in proactively. Don't wait until your concerns escalate into a crisis, Deane says.
"We're happy to meet with you to develop a wellness plan that will support your academic success. A plan could involve something as simple as check-in meetings to monitor how you're feeling, or something more intensive, if that's what you need."
Some health-sciences students, Deane notes, are such high achievers that if they experience difficulty in one area, such as time management, they worry about it as a serious deficit. "Talking about it can help," she says.
Deane emphasizes that Services for Students at Bannatyne Campus is administratively separate from any academic program. Any services that a student uses are confidential and won't appear on his or her academic record.
"You don't have to know what services or resources you need when you come and see us," Deane says. "We'll help you figure that out. You might be feeling distress about relationships, substance use, cultural adjustment, housing issues – it all affects your well-being.
"Our approach is to sit down and listen to your story. You're not alone. We'll find resources to support you and we'll help you build on your own strength and resilience."
The staff at SS@BC understand the intense demands of Rady Faculty programs, says the student mentioned above. He's now feeling healthy and coping well.
"This place knows your situation," he says. "They really see it from a student's perspective."
To learn more about Services for Students at Bannatyne Campus (SS@BC), visit umanitoba.ca/student/bannatyne