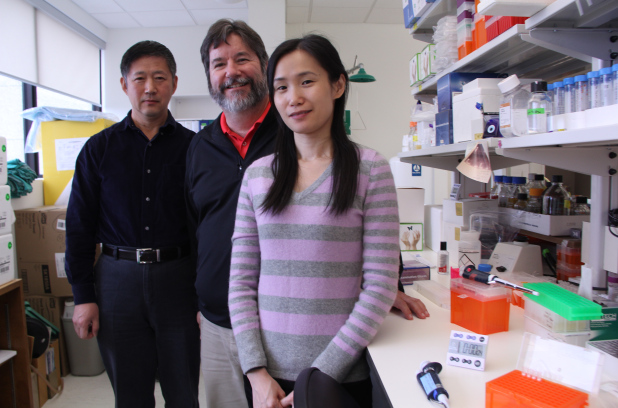 Strategic research plan launched
March 5, 2015 —
The University of Manitoba has identified key research areas in a new Strategic Research Plan (SRP), which was approved by Senate in late 2014. The 16-month process to create the plan was launched in September 2013 by the Office of the Vice-President (Research and International).
UM Today spoke with Digvir Jayas, vice-president (research and international), about the areas that have been identified and the process of arriving at the plan. Both broader thematic areas and key signature areas were identified through the process. Vice-President Jayas indicated that SRP was developed through extensive consultations with the university's faculties and schools and the research community. The intent of the plan is to provide focus to the university's overall research strategy in the next five years and to ensure that our university meets the requirement of many major funding initiatives.
For example, strategic research plans are integral to the Canada Research Chair nomination process. Each university must prepare an SRP and SRP summary, which demonstrate how they will use funding from the chairs to attract and retain world-class experts. Members of the College of Reviewers consult the SRP Summary when reviewing a nomination.
"U of M's identified thematic and signature areas will be prioritized for future major funding initiatives such as Canada Research Chairs, along with Canada Excellence Research Chairs, Canada Foundation for Innovation, Canada First Research Excellence Fund, large team grants and multi-institutional programs," he said.
U of M's SRP: Identified research themes and signature areas
According to the SRP document, "While the Strategic Research Plan recognizes and supports the importance of a full spectrum of impactful research, scholarly activities and creative works, it also reflects a number of core thematic and signature areas for enhancement."
Within the core strategic research areas of the SRP, three research themes have been identified as cross-cutting themes:
understanding and communicating information;
Indigenous research; and
sustainable systems.
Research themes identified are:
Arctic system science and technology;
culture and creative works;
fundamental research;
high performance materials, structures and processes;
human rights and social justice;
integrative research in health and well-being;
safe, healthy, just and sustainable food systems; and
sustainable water management systems.
Identified signature areas, or established areas of excellence, are:
Arctic system science and climate change;
immunity, inflammation and infectious disease; and
population and global health.
The importance of strategic research areas
Vice-President Jayas drew attention to the importance of developing strategic investment in signature areas for global competitive advantage. Strategic investment in signature areas will allow the university to compete on an international scale, he said.
"The goal of the SRP is to help the university build a competitive advantage in areas in which it has identified strengths as an established global leader or has the potential to emerge as a global leader," he said.
Strategic key research areas are also a growing trend at Canadian universities, and the U of M's consultation process was broadly adopted from what was conducted at the University of Saskatchewan to identify signature areas for research excellence.
"There is growing recognition for the need to focus on strategic areas in order to remain competitive for national and other funding, and align our university with other peer institutions in identifying key research priorities," he explained.
At the U of M, faculties and schools were asked to nominate thematic areas for consideration, and to identify their own research strengths. Development of the plan also included open forums on both campuses to gather feedback from the academic community and meetings with key research leaders, including holders of Canada Research Chairs, Industrial Research Chairs, endowed chairs, distinguished professors and Rh award recipients.
Reaffirming the importance of all areas of research
The signature areas don't eliminate the need for — or overshadow the significance of — research in all areas.
"It is important to reaffirm that all areas of research, scholarship, and creative activity at the university are critical in the university achieving its mission," said Jayas. "Our researchers continue to have access to and are encouraged to make use of all internal supports for research to develop their vibrant research programs — including start-up funding, internal grant funding, graduate enhancement of tri-council stipends (GETS) and bridge funding.
"The SRP is not intended to limit access to these internal programs."
See more on the consultation process, including recommendations from faculties and schools, and the plan in its entirety here.
Research at the University of Manitoba is partially supported by funding from the Government of Canada Research Support Fund.