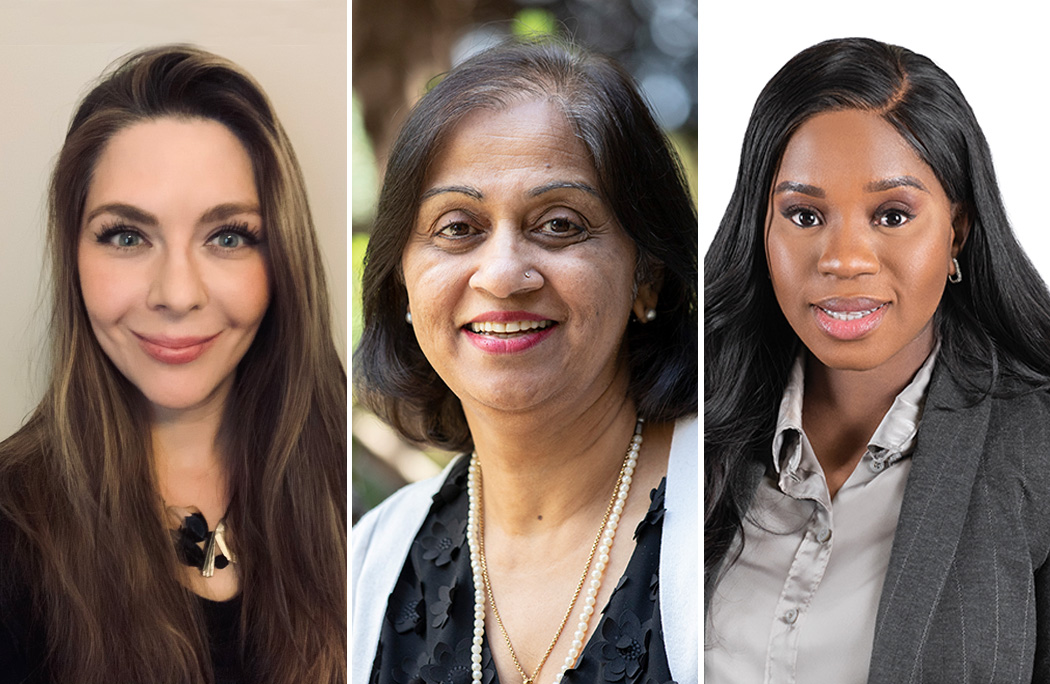 Storytelling a powerful part of EDI, UM prof says
April 21, 2023 —
Equity, diversity and inclusion (EDI) was the theme at the 13th annual Advanced Practice Nursing conference hosted by the Graduate Nursing Students' Association (GNSA) on April 5.
An advanced practice nurse (APN) is someone who has a master's degree or doctorate level education in nursing, said Ariel Wilcox, who co-chaired the event with fellow GNSA member Abbie Kawadza. "With this expanded knowledge, APNs are seen in the nurse practitioner, researcher, administrator and educator roles, among many others."
The event, held virtually, included three speakers – two educators and a nurse practitioner – who each brought a unique perspective on EDI.
Dr. Vanessa Van Bewer, assistant professor at the College of Nursing, Rady Faculty of Health Sciences, spoke about the role of storytelling in EDI.
"Stories are really powerful. They help us make sense of the world," she said. "We all tell stories and carry stories within ourselves."
Van Bewer has a PhD in nursing from UM. She joined the faculty in 2021 and her work is focused on exploring the inclusion of Indigenous perspectives, methodologies and approaches in nursing education, practice and research. She also uses her background as a Métis spoken word artist and storyteller in her career as a scholar.
Van Bewer shared three spoken word pieces in her presentation, including one that she wrote while in the PhD program, called On the Back of a Raven, which she presented at the Helen Glass Research Symposium in 2019.
She also discussed how storytelling can be used in health-care research to learn more about patients, clients, families and communities.
"Stories help us make connections within cultures, groups and communities. They can help us challenge stereotypes, generalization and prejudice by helping people engage in meaningful dialogue," she said.
Dr. Rani Hajela Srivastava, dean of nursing at Thompson Rivers University in Kamloops, B.C., gave a presentation on integrating culture with care.
"I'm from India and moved to Canada as an adolescent. My background is that of an immigrant, so very much tied into the culture, and since then the health-care culture," she said.
Srivastava is recognized for her leadership in cultural competence and bridging academia and practice environments. She has written several book chapters and articles on topics of cultural identity, religion, ethics and family-centred care. As well, she is author and editor for The Health Care Professional's Guide to Cultural Competence, which had its 2nd edition published last year.
Srivastava offered strategies for nurses to integrate culture into their care, such as being an active witness and ally and "unlearning."
As an example of unlearning, she shared how she used to struggle with pronouns.
"In school I learned that correct grammar meant 'they' were plural. It took me a long time to unlearn that and learn that it was more important to acknowledge people as they see themselves, not as I saw them or what I thought was correct," she said.
The third speaker, Ann Nzeruem, is a family nurse practitioner who founded Mara Home and Health Services, a Winnipeg-based organization that provides home and community-based health care services in Manitoba.
Nzeruem discussed diversity in Canada's health workforce, noting a disparity at all levels, including leadership roles.
She noted that in a 2022 study of more than 3,000 health-care leaders in Canada, five of 12 deputy ministers and 61 of 118 hospital presidents or CEOs were identified as women. However, individuals perceived as racialized held only seven of the 118 highest level hospital leadership roles in the country, and those that were both racialized and women held only five of these roles.
"When patients see their race represented in their health-care providers, they are more likely to have a positive care experience," she said.
She also discussed health inequities for groups including Indigenous people, those with a lower socioeconomic status and anyone in the 2SLGBTQ+ community.
The conference raised funds for N.E.E.D.S. Inc., a Winnipeg-based group that offers supports to newcomer children, youth, and their families.