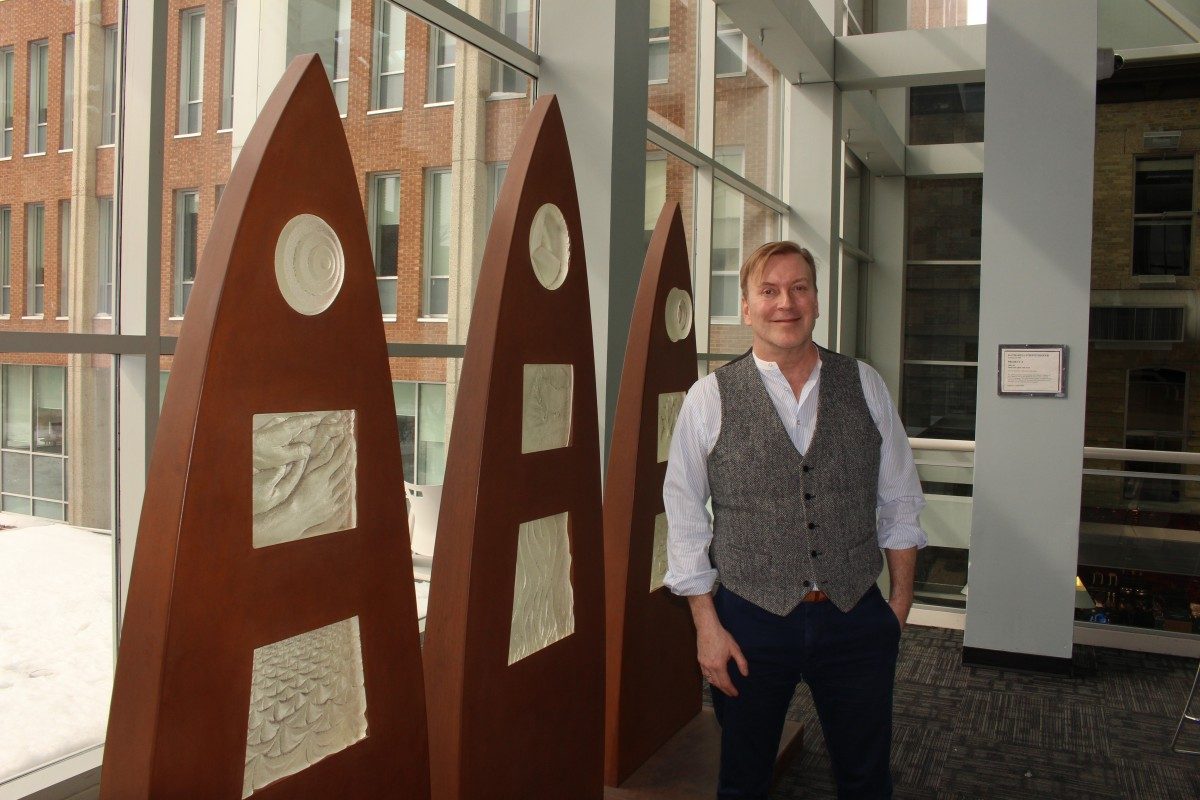 'Stories can humanize us'
March 20, 2019 —
When it came time to choose a career path, Dr. Allan Peterkin struggled with his decision.
Should he choose medicine? Or become a writer?
His father was a physician so he was fairly certain what his dad would say, but he was dead wrong.
"He told me, 'I don't think you should be a doctor. I think you should be a poet.'"
His father knew that writing was close to Peterkin's heart – Peterkin had studied English and French literature while earning his BA at the U of M – and that he'd be miserable without it. But, as it turns out, a medical career doesn't preclude a vibrant life as a writer.
"I always think of reading and writing as the centre of my wheel and that the spokes were the various parts of medicine," said Peterkin, who graduated with his MD and B.Sc. (Med.) in 1985 from the University of Manitoba and went on to complete residencies in family medicine and psychiatry at McGill University. "Whatever creative spark you have, think of it in a way that informs your work as a healer."
On March 12 and 13, Peterkin, professor of psychiatry and family medicine at the University of Toronto and a senior fellow at Massey College, visited the Rady Faculty of Health Sciences to offer workshops sponsored by the Alan Klass Medical Humanities Program, Department of Internal Medicine and Office of Educational and Faculty Development.
Participants from all five colleges took part in lectures and hands-on writing to gain deeper insight into the intersections between the humanities and the sciences. For Peterkin, founding editor of the literary journal ARS MEDICA who has published widely on physician well-being, narrative medicine and the importance of humanities in medical education, the connection is clear.
"In the work we do as clinicians and educators, there is a teller and a listener. The plot may be an illness or a disease. There is a reason the story is being told. And there may be a denouement or a resolution."
Combined, Peterkin says all these elements become a narrative – the patient and the physician are making meaning of the situation together. The better the communication, the greater the opportunity for successful care.
He points out that word choice plays a vital role in our conversations with patients, too. "So often today, we talk about conquering your illness," he said. "Cancer is a battle, a war. You have to be courageous. You have to win, to beat it." A lot of the language comes from military culture, says Peterkin. "But the implication is that you're going to get better – that there is something you can do, that you have control of the situation."
Unfortunately, not all diseases can be cured. "And that puts a lot of pressure on patients," he said.
Whether health-care professionals decide to pursue their own writing or not, Peterkin recommends that at the very least they should strive to become regular readers. "Why would I bother reading fine fiction," asks Peterkin. "What does that have to do with anything?" It's a question he's asked a lot by busy professionals already overloaded with the business of providing care.
The answer is simple, he says. "Stories can humanize us and get us to think about situations different from our own," said Peterkin. "You're stretching your world view – there's evidence that shows reading literature can actually influence and increase levels of empathy, a vital skill for all of us."