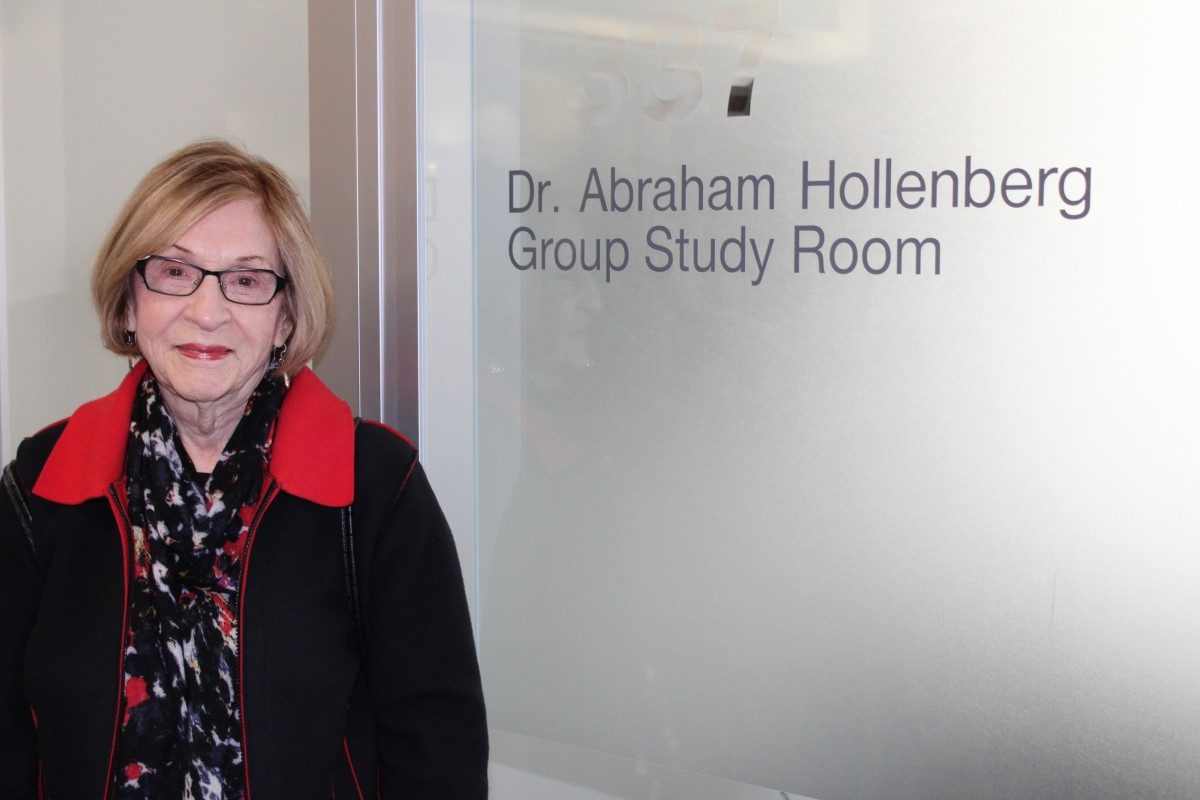 'So much memory': Member of medical dynasty revisits campus
August 15, 2017 —
When Dr. Barbara Kaufman requested a tour of the Max Rady College of Medicine during a recent family reunion, she had no idea she'd find a place on the Rady Faculty of Health Sciences campus that honours her father's legacy.
Kaufman, an 89-year-old retired physician who lives in Cleveland, graduated in 1950. She hadn't been back to Winnipeg in many years and hadn't been to the Bannatyne campus since her student days, when she was known as Barbara Hollenberg.
As the remarkably youthful alumna toured the Neil John Maclean Health Sciences Library with family members, her son suddenly spotted the Dr. Abraham Hollenberg Group Study Room – a surprise to Kaufman.
She was nearly overcome with emotion when she saw the light-filled study space dedicated to her father, which was funded by donations from family members. Abraham Hollenberg was a 1924 University of Manitoba medicine grad who became a faculty member, known for his kindness toward students. He died suddenly in his 50s in 1957.
The study room is an ideal tribute to him, Kaufman said. "I think it really represents everything he invested his life in," she said. "It's just perfect."
Kaufman is a living link to Abraham and his four brothers – all prominent U of M medicine grads – who spawned an extended family renowned for medical achievement.
About a decade ago, the Canadian Medical Association News noted that Kaufman's generation of the Hollenberg family and their spouses held nine medical degrees; that the dynasty continued in the following generation (Kaufman's sons, both professors, are a pediatric neurosurgeon and a plastic surgeon); and that the family boasts a Rhodes Scholar (Dr. Morley Hollenberg), as well as medical academics, deans, authors and researchers.
Dr. Charles H. Hollenberg, Kaufman's brother, was a highly distinguished U of M-trained physician who is a laureate of the Canadian Medical Hall of Fame. He died in 2003. Kaufman's other brother, Dr. Martin Hollenberg – also a U of M medicine grad – is dean emeritus of medicine at the University of British Columbia.
The dynasty's beginnings go back to 1904, when Kaufman's Jewish grandfather, Moses Hollenberg, emigrated from Austria. His wife Sarah and their three eldest sons followed, and they settled in Winnipeg's North End.
They had seven children in all. The five who studied medicine in the 1920s and '30s were Abraham, Michael, Joseph, Charles and Jacob – most of whom Kaufman was delighted to find in class portraits displayed on the Joe Doupe Concourse.
"I think education was highly, highly valued by my grandparents," said Kaufman, who grew up in River Heights. "There were many professions that Jews found it difficult to gain entrance to. Medicine was a profession that was open to them."
Kaufman said no one tried to steer her toward a more "feminine" career when she chose to become a doctor.
"My father's philosophy was that you should have a profession that is rewarding and satisfying, and contribute to society. I admired him so much. I thought, 'Well, if I can do it, why not?'"
The Medicine Class of 1950 included 10 women – very unusual in that era, Kaufman said. Their graduation ceremony had to be cancelled because of the 1950 Flood.
Kaufman moved to Cleveland for a residency in pediatrics at Case Western Reserve University School of Medicine, where she met her late husband, a neuroradiologist. She practised as a pediatrician for almost 30 years, then retrained as a psychiatrist and worked for another 25 years, retiring at the age of 80.
Walking the hallways of her alma mater 67 years on, seeing the names and faces of long-ago friends and family members, Kaufman spoke of a moving sense of reconnection to the university.
"You know, it evokes so many feelings – so much memory," she said. "Wonderful times and wonderful experiences. The institution is so vastly changed. It's incredible to see the progress."