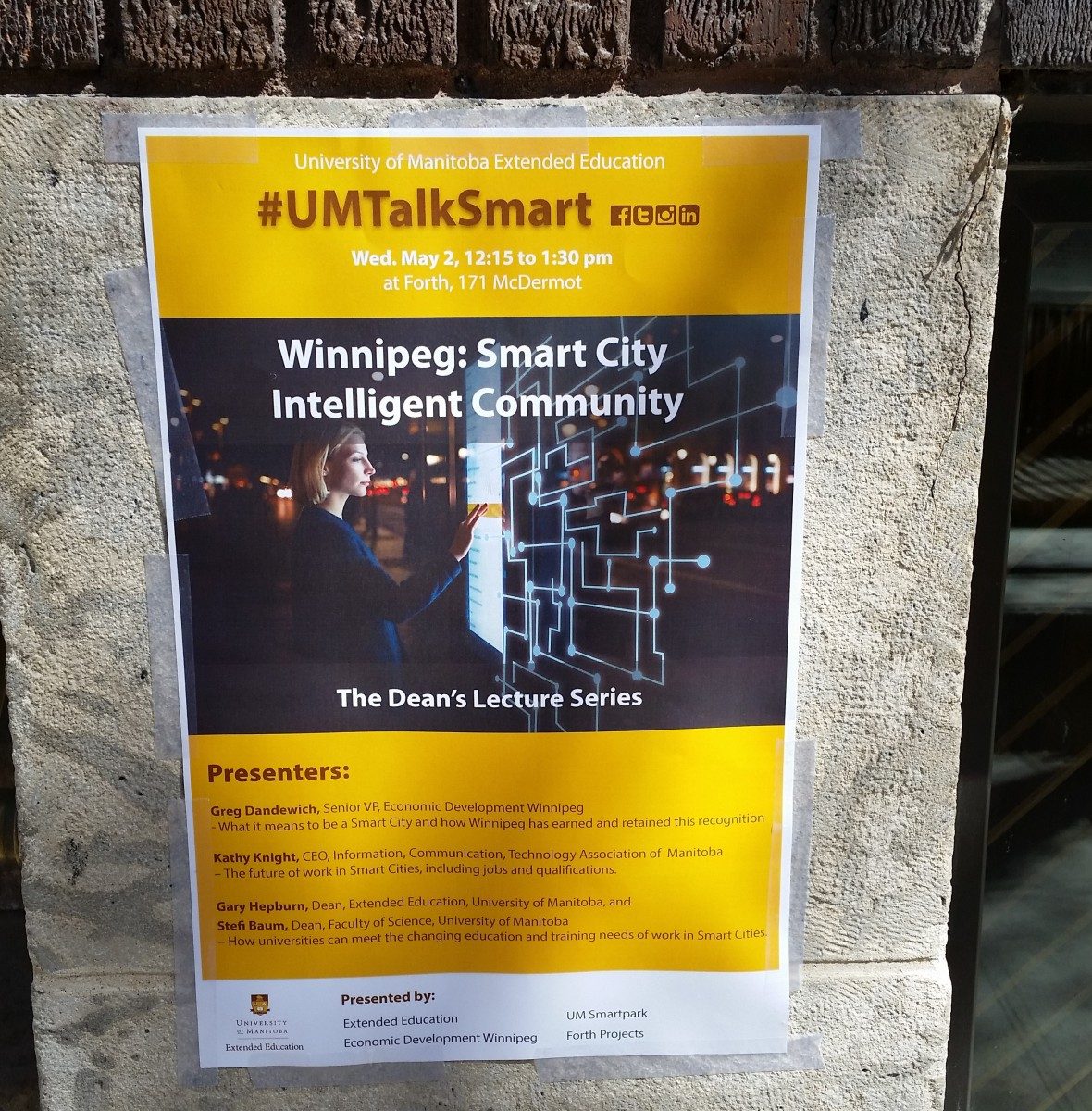 Smart City – Intelligent Ideas
First session of The Dean's Lecture Series
May 9, 2018 —
On May 2, a crowd of about 30 enthusiastic people gathered at Forth for the first session of the Dean's Lecture Series.
Winnipeg: Smart City-Intelligent Community was a chance to start, and continue, the conversation about how we will make our community not only Smart with its adaptation of technology, but also Intelligent in using that technology to improve people's lives.
An interesting conversation
"This was a really interesting conversation," says Ian Frank, consulting services, MNP. "I liked hearing all the perspectives. Our schools are not preparing students for training and high technology. How do we continue to tweak things to meet our future needs and provide us with what we need to be happy? There is more than one thing we have to do."
As a former urban planner and U of M alumni, Frank is especially interested in the physical structures required in an intelligent city. For example, he sees public libraries playing an important role, because education should be accessible and not hidden away.
Jonathan Foord, transport management centre, City of Winnipeg, was also enthusiastic. "I have started similar conversations on my own. There is a need for collaboration."
The four speakers shared their insights.
Smart and Intelligent Cities
Greg Dandewich, Senior Vice President, Economic Development Winnipeg, tells us Smart Cities must have broadband, a knowledge workforce, innovation, digital inclusion, sustainability, advocacy and marketing.
"It's about innovation in many forms, leadership and collaboration. We must continue to keep the dialogue open, says Dandewich, noting the Intelligent Community Forum, a think-tank in New York, has named Winnipeg as one of its top seven Intelligent Cities several times in the past few years.
"It's not about the big and shiny. It's about the successful use of innovation and technology, to make life better for our citizens. The City of Winnipeg's proposal is a great one," says Dandewich.
Digital fluency
Kathy Knight, CEO Information Communication Technology Association of Manitoba (ICTAM), says digital fluency will be required in an Intelligent city. "A higher level of education will be required, but not everyone has to be a coder."
Gary Hepburn, Dean, Extended Education, U of M, noted that "our workplace will be fundamentally changed by technology. Machines are developed by people, people who will need very specialized knowledge."
Response to needs
Hepburn says billions per year will need to be invested in order to support the education of working adults. "Everyone will need to invest in lifelong learning. Our education system will have to adapt as new needs are identified. We must respond to needs of adults. For them, life must go on around education. Focused, shorter programs will be required to meet the need."
Education
Stefi Baum, Dean, Faculty of Science, U of M, says education now has to be about learning to learn. The role of the university and teacher is not to provide information. "Information is now everywhere and accessible… faculty have expertise, experience, connections and passion to share."
She quotes Dr. Seuss: "It is better to know how to learn than to know," and adds that "Too much knowledge is an innovation killer."
According to Baum, "Building intelligent communities is ultimately about lowering the barriers between university, community, government, and industry. It involves some risk and letting go, with much to be gained."
Let the discussion continue.