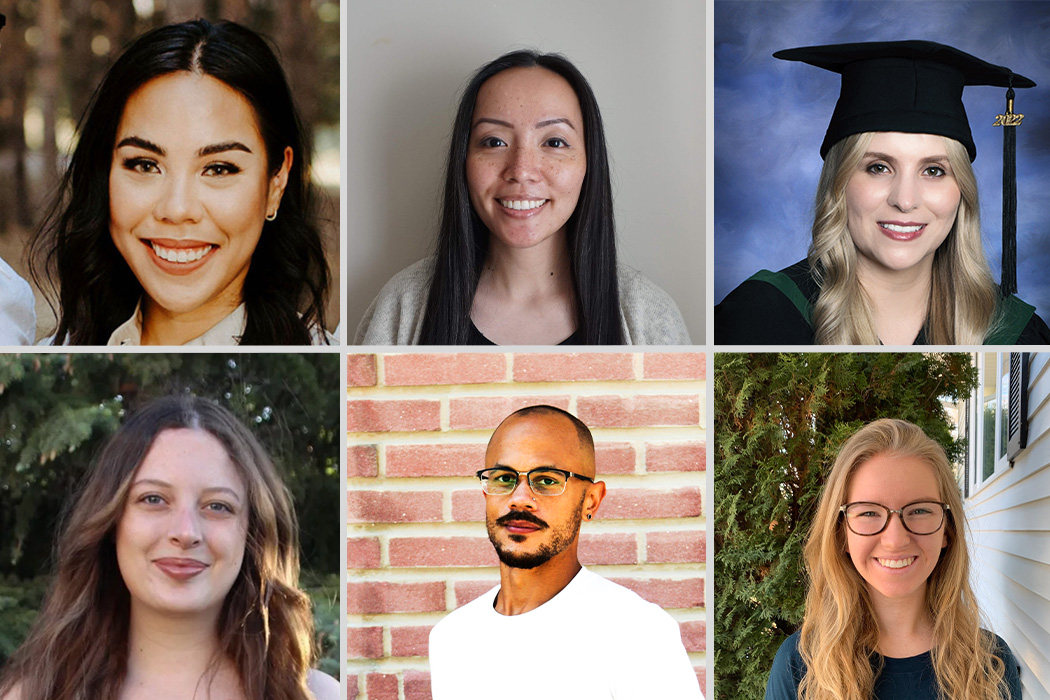 Six grad students receive Rady Dean's Prize
December 6, 2022 —
The Dean of the Rady Faculty of Health Sciences Graduate Student Achievement Prize was awarded to six exceptional graduate students in 2022.
The award recognizes exceptional academic achievement, strong leadership skills and notable personal service of graduate students in the Dr. Gerald Niznick College of Dentistry, Max Rady College of Medicine, College of Nursing, College of Pharmacy and College of Rehabilitation Sciences.
"I would like to congratulate the recipients of this year's prize," said Dr. Peter Nickerson, vice-provost (health sciences), and dean, Rady Faculty of Health Sciences. "These extraordinary students have excelled in the classroom, lab or clinic, and their hard work is being recognized. They are the future leaders in their respective fields."
Each college could nominate one master's student and one doctoral student. Colleges without a doctoral program could nominate two master's students.
"The Dean of the RFHS Graduate Student Achievement Prize is a token of the faculty's recognition of these talented graduate students," said Dr. Hope Anderson, vice-dean, graduate and postdoctoral studies, Rady Faculty of Health Sciences. "We look forward with great enthusiasm to following their future endeavours."
PRIZE WINNERS
Vanessa Bailon, a master's student in the nurse practitioner stream in the College of Nursing, is currently researching the nurse practitioner's role in the management of hormonal replacement therapy for transgender and non-binary adolescents. She said she's grateful to be chosen as one of the recipients and believes that her volunteer and leadership experience helped her win the prize.
"Winning this award has given me the opportunity to appreciate all the hard work it has taken to get me where I am today in both my academic and professional life as a nurse," Bailon said. "It is a constant reminder that I can reach my full potential and overcome adversity. I hope that this becomes a foundation for empowering those around me."
Dr. Katie Chung, a master of dentistry in periodontics resident at the Dr. Gerald Niznick College of Dentistry, has worked 630 hours as an immunizer at Shared Health COVID-19 supersites on top of her studies. She said she is honoured to be nominated and recognized for her hard work and leadership.
"Winning this prestigious award is like receiving a beautiful stamp in my career passport, and I have a lifelong journey ahead of me to provide the best for my patients," Chung said.
Melissa Gunn, who received her master of occupational therapy from the College of Rehabilitation Sciences, worked on a study to inform the delivery of supervision for newly graduated occupational therapists transitioning to practice in Manitoba. She said her professors contributed to her success by offering support and encouragement.
"The prize helped reaffirm my hard work and efforts, reassuring me that I'm on the right path and motivating me to continue to work hard so I can be successful in my chosen career," Gunn said.
Kayla Kostal, a master's student in community health sciences at the Max Rady College of Medicine, will be researching mental illness and dementia in persons with and without intellectual and developmental disabilities using population-based data housed and maintained by the Manitoba Centre for Health Policy. She said the support around her has contributed to her winning the prize.
"Dr. Shahin Shooshtari has given me the most valuable training and insight which has strongly influenced my academic career," Kostal said. "All together, my current and past mentors and advisors, my committee members, the Community Transitions research team, family and friends have all tremendously supported me through my academic endeavours, for which I'm most grateful."
Darrien Morton, a PhD student in community health sciences at the Max Rady College of Medicine, is focused on understanding how Indigenous kids in foster care fare based on various placement types and their effects on mental health. He said he feels honoured and privileged to be recognized by this prize.
"I believe the success of me achieving this award has not only been a result of the incredible training and mentorship of a few great people at the university, but it reflects the mentorship I have equally received working in Winnipeg's community with youth, advocates and Elders – and just all-around amazing people doing amazing things," Morton said.
Jen Schreibmaier, who received her master of physical therapy from the College of Rehabilitation Sciences, is working towards establishing a non-profit physiotherapy clinic to help increase accessibility and services to persons in need. She said the award acknowledges that philanthropy is an important contribution to the community by recognizing her history of volunteering, which began in elementary school.
"This award acknowledges that my efforts make a difference," Schreibmaier said. "This increases my self-confidence and determination to have a positive impact within my profession. I will continue to support and speak out for persons who need some extra support, whether they be a paying client or a client attending a community clinic."