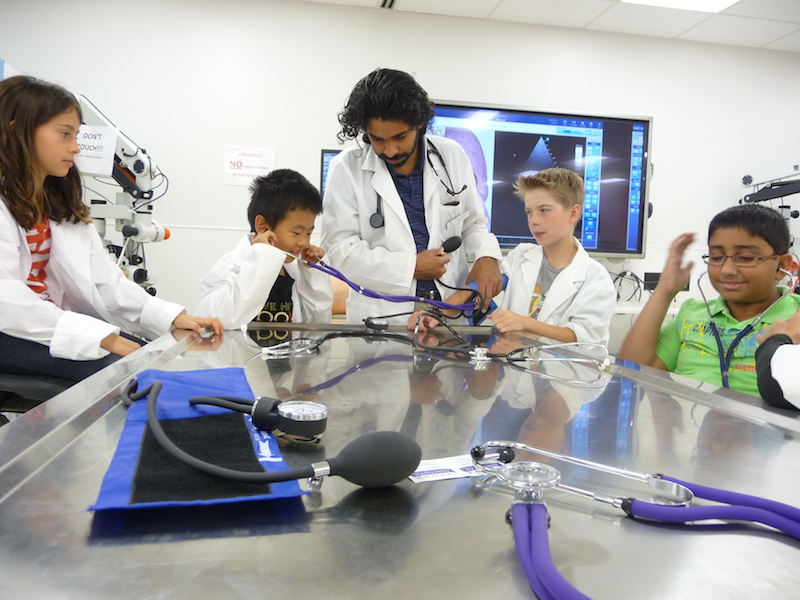 Showcasing our future leaders in research
April 14, 2015 —
On April 15 the U of M's Bannatyne campus will be abuzz when over 400 students in Grades 4-12, from more than 30 different Winnipeg schools, are set to showcase their research at the 45th Annual Winnipeg Schools' Science Fair.
This marks the fourth consecutive year the day-long event (organized by the Winnipeg School Division) will be hosted at the Bannatyne campus.
Since its inception almost a decade ago, the Biomedical Youth Program (BYP) – a program designed to work closely with and engage inner-city and disadvantaged youth – has worked in partnership with the Winnipeg School Division to both establish the Inner City Science Centre and run other biomedical science mentoring programs workshops, explains professor James Gilchrist, director of the Biomedical Youth Program & Inner-City Science Centre.
"The Biomedical Youth Program is very excited to be involved in once again supporting this year's Winnipeg School Division Science Fair which is celebrating its 45th Anniversary following a remarkable run of sustained success," says Gilchrist. "The long term goal of this collaboration is to enhance community engagement by facilitating greater exposure and access of inner city youth from diverse communities to a range of biomedical and health science activities, experiences and training opportunities at the University of Manitoba."
In addition to providing a space and the opportunity for students to visit a university campus, members of the Faculty of Health Sciences also volunteer as judges. The young scientists are encouraged to identify, plan and solve a problem – or sets of problems – using science inquiry from one of the nine project categories, which include: automotive and engineering, biology, chemistry, computer and information technology, consumer science, earth and environmental science, physics and mathematics, social science, and sustainable development, and innovation.
When: Wednesday, April 15, 2015 from 10:00 a.m. – 3:00 p.m.
What: 45th Annual Winnipeg Schools' Science Fair
Where: Brodie Centre Atrium, 727 McDermot Ave., University of Manitoba Bannatyne Campus
The Sisler Science Squad, along with members of the BYP will offer afternoon science activities for students. An official awards ceremony will be held on campus over the weekend, where the University of Manitoba Faculty of Health Sciences will present the "Science Innovator Award" to recognize students who demonstrate originality, creativity, effective presentation skills and display of scientific knowledge. A monetary award will be presented to each age category for the best displays relevance to current scientific issues.