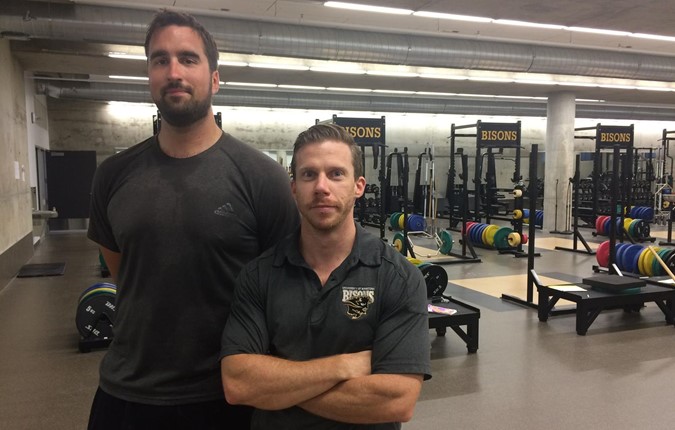 Shawn Preston named new Bison Sports Head Strength & Conditioning Coach
July 22, 2016 —
The University of Manitoba Bison Sports Athletic Department is pleased to announce Shawn Preston as Bison Sports Head Strength and Conditioning Coach. In addition, Cole Schiller is the full time assistant head strength and conditioning coach. Preston will oversee the delivery of strength and conditioning development programs to all Bison student-athletes.
Preston, 33, has extensive experience in this field as he has over ten years of experience dealing with the Long Term Athlete Development process and preparation of Elite International athletes. Preston directs the High Performance Training Centre and works directly with Bison varsity hockey, volleyball, basketball and swim teams. This list includes athletes that have competed in the 2010 and 2014 Winter Olympics as members of the Canadian Snowboard team, Canadian Alpine Ski team, 2011 Rugby World Cup, 2014 Youth Olympics and Rugby Junior World Cup, as well preparing athletes with LTAD principles or for their professional competitive seasons in the NFL, NHL, NBA, MLB, UFC, International combative sports seasons, and numerous NCAA Division 1 and CIS scholarship athletes.
"We are thrilled to have Head Strength and Conditioning Coach Shawn Preston leading our strength and conditioning program. Along with full time assistant Cole Scheller, he has assembled a terrific staff, which includes speed and power expert Alex Gardner as well as graduate and undergraduate student assistants. Our varsity teams as well as our community programs will benefit from the best coaches in the CIS," said Bison Sports Athletic Director, Coleen Dufresne.
Preston has also been contracted with several National level organizations including the Canadian Sport Institute in Calgary, Tae Kwon Do, Boxing, and Judo for Chinese Olympic Committee, Snowboard Canada, Rugby Canada, Alberta Alpine, and the Hockey Canada Development Program.
In addition, Preston received his Bachelors of Science in Athletic Training at the University of Maine-Presque Isle and a Masters in Science Education with a focus of Athletic Training at Old Dominion University (ODU). At ODU, his research emphasis was focused on the use of functional movement and strength performance testing within Sports Medicine assessment. Preston is also a Certified Strength and Conditioning Specialist with the National Strength and Conditioning Association and a Certified Athletic Trainer with the National Athletic Trainers Association.
Scheller, 27, began his involvement with Bison Sports as Strength and Conditioning Coach through the Fieldwork Program offered by the Faculty of Kinesiology and Recreation Management in Fall Semester 2014. Starting with an internship as an Assistant Strength and Conditioning Coach with Bison Football, Scheller was able to expand his role to include involvement with Bison women's soccer team and the Bison Athletic Development Program. Upon completion of his Undergraduate degree in 2015, Scheller accepted a full-time position as Assistant Strength and Conditioning Coach with Bison Sports.
Scheller currently holds a Bachelor of Kinesiology from the University of Manitoba. As a recipient of a University of Manitoba Graduate Fellowship award, he will continue to study at the University of Manitoba while pursuing a Graduate degree with the assistance of Dr. Steven Cornish. His primary responsibilities with Bison Sports include working with the varsity football and women's soccer teams, as well as the Bison Athletic Development Football Program.