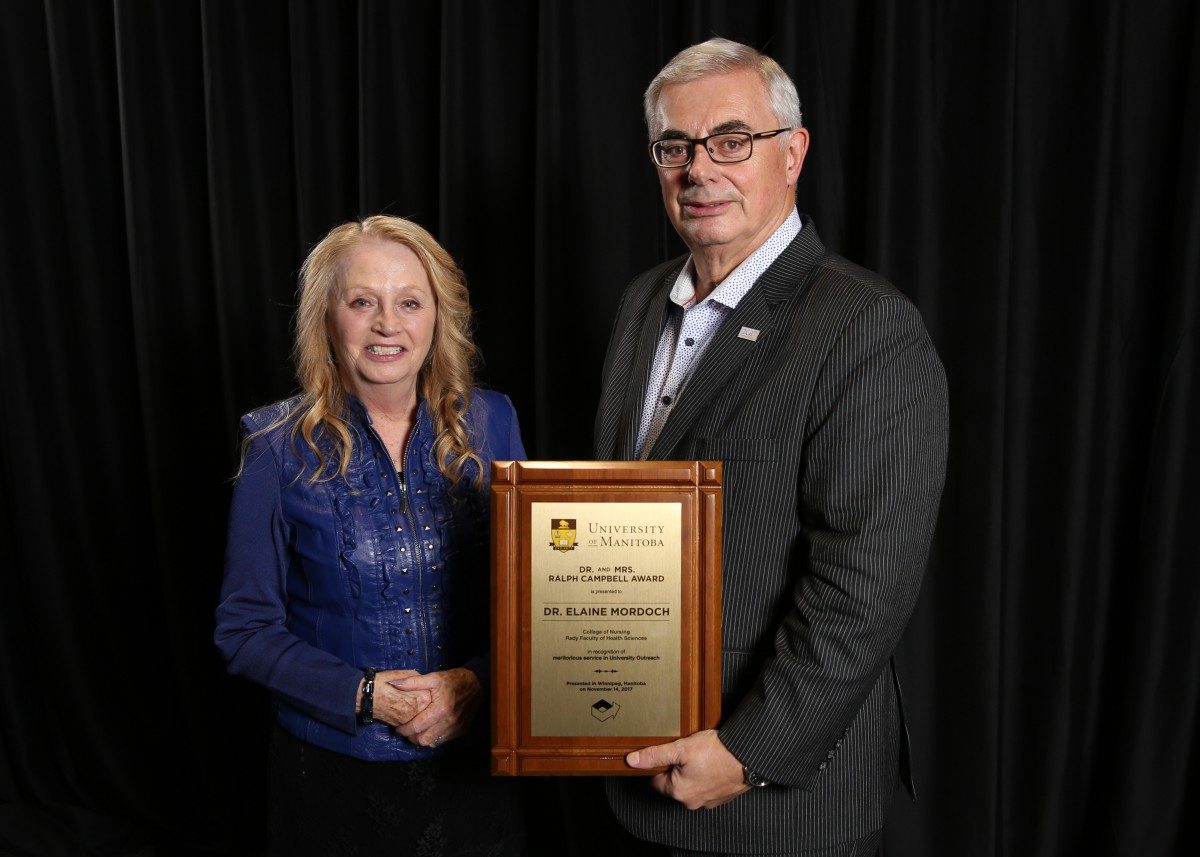 Sharing their passion
Three Rady faculty honoured for community outreach
November 20, 2017 —
Three Rady Faculty of Health Sciences faculty members were recognized for connecting to community through their passion for science, research and health equity. Dr. Elaine Mordoch received the Dr. and Mrs. D.R. Campbell Outreach Award and Dr. Jean-Eric Ghia and Dr. James Gilchrist each received a University of Manitoba Outreach Award at a special reception Nov. 13.
"Congratulations to this year's well-deserved recipients," said Dr. Brian Postl, dean, Rady Faculty of Health Sciences and vice-provost (health sciences). "Your engagement with diverse communities – including Indigenous, francophone and under-represented populations – demonstrates your leadership and commitment to social accountability and our role as a university to extend our reach."
Dr. Elaine Mordoch, College of Nursing, Rady Faculty of Health Sciences
Elaine Mordoch received the Dr. and Mrs. D.R. Campbell Outreach Award. This award has a special distinction, recognizing community service that combines professional and scholarly experience to the community around them.
Mordoch is a passionate advocate for equality of health-care access and has worked tirelessly to support initiatives and programs both within the university and the community at large that remedy this disparity.
She has been involved the last two years in organizing Every Child Matters – Orange Shirt Day, hosted by the College of Nursing, which promotes awareness of the experiences of First Nations survivors of residential schools and helps in the healing process.
As part of the Winnipeg Suicide Prevention Network, Dr. Mordoch spearheaded in 2017 a suicide prevention workshop with members of the Pimicikamak community with a goal to raise awareness of the issues facing Indigenous youth and to acknowledge the expertise, knowledge and insights by Indigenous community members to create solutions that address issues within their communities.
In 2016, she organized a clothing drive for men living with severe long-term mental health issues. Dr. Mordoch currently serves on numerous community and international boards including the Suicide Prevention Working Network, the Manitoba Trauma Collaborative, the Advisory Committee for Youth Violence Intervention and the International Working Group of Children of Parents with Mental Illness.
Why does she do the community outreach she does?
"I think it goes back to my nursing education and mental health practice which was always formulated by a holistic approach to health. This led me to always try to be aware of, and consider, the context of people's lives and how this impacts their health situations," she said.
"Receiving this award is validating and uplifting. I am honoured to join that wonderful line of previous award winners who have contributed to community outreach. It also makes me pause and appreciate a work environment that affords me the opportunity to do this work."
Dr. Jean-Eric Ghia, Max Rady College of Medicine, Rady Faculty of Health Sciences
In addition to being a successful scientist in the departments of immunology and internal medicine, Jean-Eric Ghia has become a major voice on Radio-Canada promoting science to make it accessible, especially to French-speaking audiences. Dr. Ghia has mastered the art of presenting the rigours of science in an easily understandable and entertaining format on various media platforms.
As a regular contributor on CBC'S Radio-Canada in his bi-weekly show and monthly TV segment on ICI-Manitoba, Dr. Ghia showcases leading researchers from across the University of Manitoba to French communities in the province and beyond. He is passionate about sharing the excellence of U of M researchers and has brought additional prestige to the University of Manitoba locally and nationally. His interviews and media appearances ensure that the science is interpreted in a meaningful way and helps to advocate for, and promote, the work and research conducted here in Manitoba.
"I hope my work in the media will inspire young students to follow a career path in science," Ghia said. "I am also hopeful the research I share provides comfort to those affected by the diseases we study, and reassures them that solutions are being explored right here at the University of Manitoba."
Dr. James Gilchrist, College of Dentistry, Rady Faculty of Health Sciences
Volunteering his time to improve science literacy among inner-city youth, James Gilchrist has elevated the profile of the university through a variety of science enrichment programs including the enhancement of the inner-city Biomedical Youth Program, BYP summer camp and BYP North. Dr. Gilchrist, Director of the Biomedical Youth Program, has worked with curriculum advisors, science teachers and U of M Rady Faculty of Health Sciences graduate students to support new programs and increase access to the existing programs.
Dr. Gilchrist believes the University of Manitoba is a rich resource which can be employed by community youth for scientific curiosity in the same way that recreation facilities are employed by community clubs.
He contributes to the teach-the-teacher program which matches faculty to teachers to share new techniques in laboratory sciences. From summer camp and weekend programs to a six-week program for junior high school students, all provide exposure to the biomedical sciences and health professions education programs offered at U of M.
"When you are working with kids you have an opportunity to imprint, impress and inspire them," Gilchrist said. "It really helps give you a snap shot of what the future could look like."