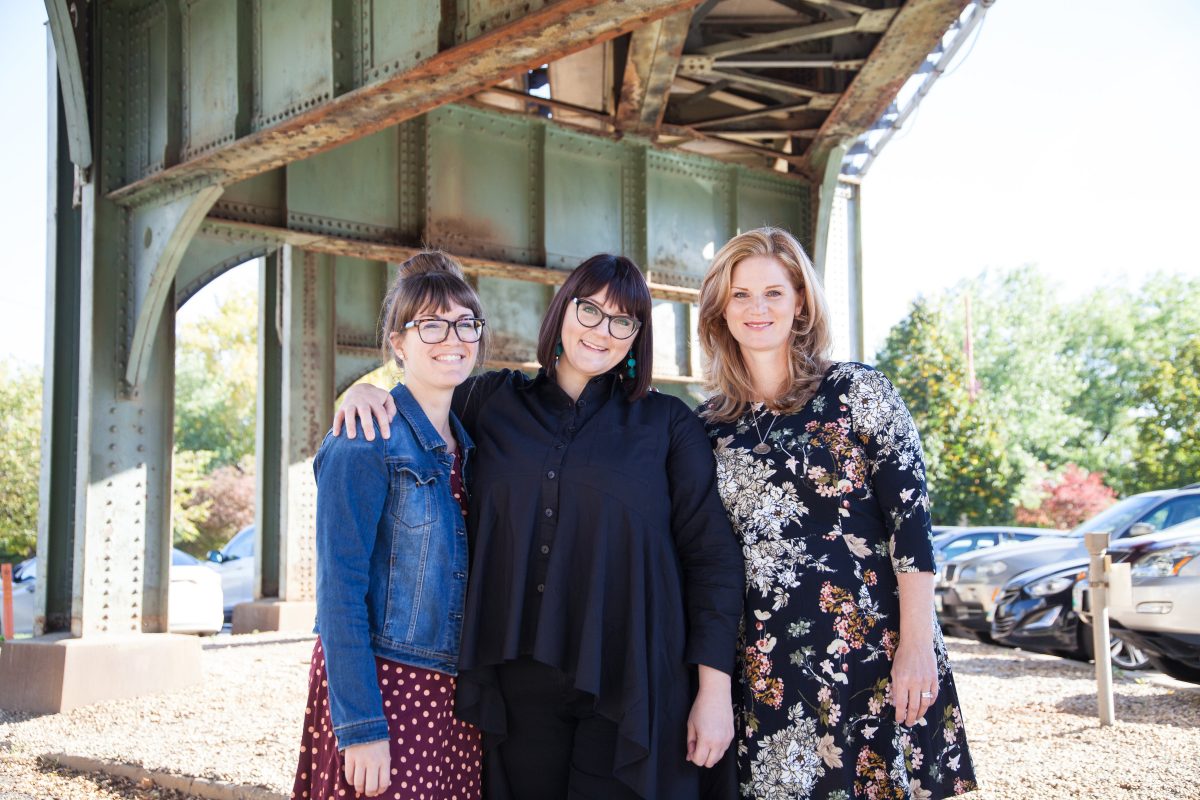 See you on the Flipside
Three UM alumnae are changing the way we see and hear opera
January 24, 2020 —
The space that Little Brown Jug occupies has had many lives throughout the years. Originally a livery stable for the old city hall, it went on to serve as the home of the Red River Motor Coach Lines, a wallpaper store, and a print shop before the brewery finally made its home there. Staying true to its shape-shifting roots, the brewery now occasionally serves as a pop-up opera house.
Walking into the Flipside Opera's "Opera by the Pint" nights immediately dispels the myths that opera is stuffy. Patrons meander to the bar for a beer, find a spot on a bar stool or cozy couch, and are immediately regaled by top-notch opera performances from Winnipeg's best and brightest opera singers. The stage is the pub's floor, and the backdrop is the brewery's stunningly-lit fermentation tanks.
Opera by the Pint is the perfect, casual experience for both seasoned opera lovers and newcomers, and has been made possible by three Desautels Faculty of Music alumnae who are injecting new life into the art form.
The beginning of a new outlet for opera
Flipside Opera is the brain child of Desautels Faculty of Music alumnae Judith Oatway (Post-Baccalaureate Diploma in Performance) and Dawn Bruch-Wiens (Post-Baccalaureate Diploma and Master of Music), who later joined forces with Lisa Rumpel (Master of Music). Their mission is to "challenge the vocal repertoire to be theatrical. Whether it's art song, cabaret, or opera, Flipside productions are fresh, engaging, intimate, audacious, and of the highest quality."
The organization started with a simple desire and a dose of grit.
"We were looking for performance opportunities, and decided to make our own," says Oatway, cofounder and artistic director of Flipside Opera.
"We formed Flipside Opera because we wanted to create opportunities for local singers while programming unique shows," adds Bruch-Wiens, Flipside's cofounder the executive director.
"It was a really exciting prospect to me because it seemed like an opportunity to do artistically satisfying, edgy work with musicians I admire," says Rumpel, who joined Flipside Opera as its associate director in the second year of operation.
Opera Idol
Opera Idol, an American-Idol-esque opera competition thought up by Oatway, was the first Flipside Opera idea to become a reality in 2015.
"Judith and I wanted to create a competition that had no fees, supplied a pianist, and where the age of the participants didn't matter," says Bruch-Wiens.
"We were both coming off of a heavy auditioning period in our lives where it felt like we were only singing arias in auditions. We forgot what applause after an aria sounded like!"
"We wanted a competition that was not stuffy, where participants could have fun, move around the whole facility if they wanted to, and perform for a generous and supportive audience," Bruch-Wiens adds.
Now in its fifth year, the 2020 Opera Idol will be held on February 2nd at 7:00pm, at the Centre Culturel Franco-Manitobain (CCFM), and will feature 10 participants, all of whom happen to be Desautels Faculty of Music students and alumni: Elena Howard Scott, Ana Toumine, Kelsey Ronn, Chris Donlevy, Nathan Sawatzky-Dyck, Deanna Smith, Jennifer Turner, Nikita Silagy Labdon, Christina Thanisch-Smith, and Sawyer Craig.
"I think what's great about it is that we have a range of competitors in different life and career stages who are all coming together to share their love for opera," says Rumpel.
"They are encouraged to go all out and be as vulnerable or outrageous as they want, so that they can feel super free and connected to the story that they're telling," she adds.
The competition is judged based on audience reaction, and the winners of the competition earn themselves a cash prize and starring role in one of Flipside's curated, themed productions.
"It's an opportunity for musicians to invite people who might not want to come to a full-on show to come to hear them sing," says Rumpel.
"Audience votes are a big part of how people win, so the audience is involved in the outcome. Plus, they get to win silent auction prizes, have a drink, learn a bit from our amazing judges about what to listen for in opera, and generally have a fun evening. It's win-win!" she adds.
Curating fun in opera
The quirky, modern, and often hilarious shows that the Opera Idol winners perform in present a side of opera that novices might not expect: one that betrays its "seriousness" with a wry smile and wink, encouraging the audience to laugh along with the spirited performers.
Past seasons include #NOFILTER, which featured songs inspired by the internet, such as "Craigslistlieder" and "Hair Emergency"; Echoes of Spain, with Spanish language songs and songs inspired by Spain; and Bathtubs, Bus Stops and Bridge, in which a romance novel came to life, only to be interrupted by the reader's reality ("Gisela in her Bathtub"). Most recently, Flipside Opera put on the very spooky Halloween production, Opera Fright Night, featuring Gian Carlo Menotti's The Medium and Henry Mollicone's The Face on the Barroom Floor.
Beer + Opera = Magic!
Certainly, Opera by the Pint has been a runaway success for Flipside Opera, and they are thrilled that it is bringing in new fans of opera.
The free event was inspired by the events that Against the Grain Theatre (a vocal theatre company in Toronto) and LiederWolf (an opera company in Montreal) to bring vocal performance into the community at large.
"It's been a big hit, especially among newcomers to opera, and my favourite part of each of the Opera by the Pint nights is finding out how the audience learned about the event," she adds.
Many of the audience members are experiencing opera for the first time, and have found out about it because they follow beer forums that mention the event.
"We've discovered that beer and opera go really well together!" says Bruch-Wiens, who notes that Opera by the Pint creates a fun, accessible, intimate way to experience opera.
"Beer plus opera equals magic!" echoes Oatway.
The 2020 Season of Opera by the Pint premieres on January 29, 2020, as part of Winnipeg's "ShakespeareFest," and will be followed by performances on February 26th and June 17th. All performances begin at 7:30pm at the Little Brown Jug Brewing Company, (336 William Avenue) though regular attendees know to arrive early to claim seating before the venue fills up!
Great teachers make great teachers
It is no surprise that three people who are so passionate about music should themselves be music educators. Oatway is a voice instructor at Canadian Mennonite University (CMU), the program coordinator for CMU's Community School of Music and the Arts (CSMA), and one of CSMA's voice teachers. Bruch-Wiens is a voice instructor at Canadian Mennonite University, and Rumpel is a collaborative pianist for the Desautels Faculty of Music.
In all corners of Winnipeg, they are helping to raise up and train the next generation of stellar musicians, and all count their student experiences in the Desautels Faculty of Music as being formative to their growth as musicians, as well as their work with Flipside.
"My time at U of M was one of the most influential," says Oatway.
"I was able to gain so much knowledge as a young singer in the faculty," she adds, noting that the Desautels voice faculty has been very supportive of Flipside Opera, offering assistance and advice along the way.
"Tracy Dahl has been, hands down, my support and mentor since I arrived back in Winnipeg in 2004," notes Bruch-Wiens of her study with Dahl, a Desautels voice instructor.
"She is an extremely detailed teacher and makes sure that her students work and understand concepts in their own words in lessons," she says.
"She has influenced me both as a singer and as a teacher, really helped me discover my fach and where my voice wanted to live, and I owe my career to her. We are really so lucky to have her in Winnipeg," she adds.
Bruch Wiens also credits voice instructor Mel Braun and collaborative piano professor Laura Loewen with her growth as a musician.
"Mel helped me so much with simplifying the basics of singing and pushing my breathing technique to the next level. I still use some of his technical exercises with my students. Laura Loewen was also a huge influence in how I learn music and how I attack diction. She is so passionate about language, and is learning constantly – she is a true inspiration," Bruch-Wiens says.
Meanwhile, Rumpel says that her favourite part of being a collaborative piano student – and now a member of the faculty – is the opportunity it provides to work with nearly every professor and instructor in masterclasses and lessons.
"Having the chance to hear so many different professors' philosophies, perspectives, and ways of explaining music is extremely valuable and has given me a wealth of knowledge, inspiration, and license to know that there's no one 'right way,' so one can and should be creative even in classical music where it can seem more prescribed at times," she says, citing Laura Loewen and Judy Kehler Siebert as major inspirations and supporters.
"I absolutely would not be doing what I'm doing without my education at the University of Manitoba. I especially appreciate the encouragement and assurance that it's never done, and that you never stop learning. It's okay to not have all the answers today, because you're always just trying to know a little bit more tomorrow," Rumpel adds.
The future of Flipside
As Flipside grows in reputation and programming, the trio want to expand their reach while staying true to the organization's roots.
"It's been quite a journey from where we started to where we are today," says Bruch-Wiens.
"Flipside in 2020 is still about programming unique shows, but we also prioritize community engagement," she adds.
"We want to keep doing intimate, interesting shows that are uniquely programmed," adds Oatway, noting that the group likes to keep Flipside minimalist in order to allow the focus to be on the performers and the stories they're telling.
"I'd like us to keep working with the amazing local artists who bring so much to the table, and to keep pushing the limits of what a song recital or an opera can look like," says Rumpel.
"Our aim is to be as uncensored and unlimited as possible, so that people feel like their reality is being lived onstage," she adds.
Flipside Opera has been crafting new and exciting show ideas, and, with community support, will be able to expand its offerings moving forward. Supporting innovative music organizations like Flipside helps to keep music at the forefront of Winnipeg's rich culture, so come out to get a dose of opera magic!
You can learn more about Flipside Opera by visiting their website HERE. You can also purchase tickets for February 2nd's Opera Idol HERE. Tickets are $25 general admission, or $20 for students.