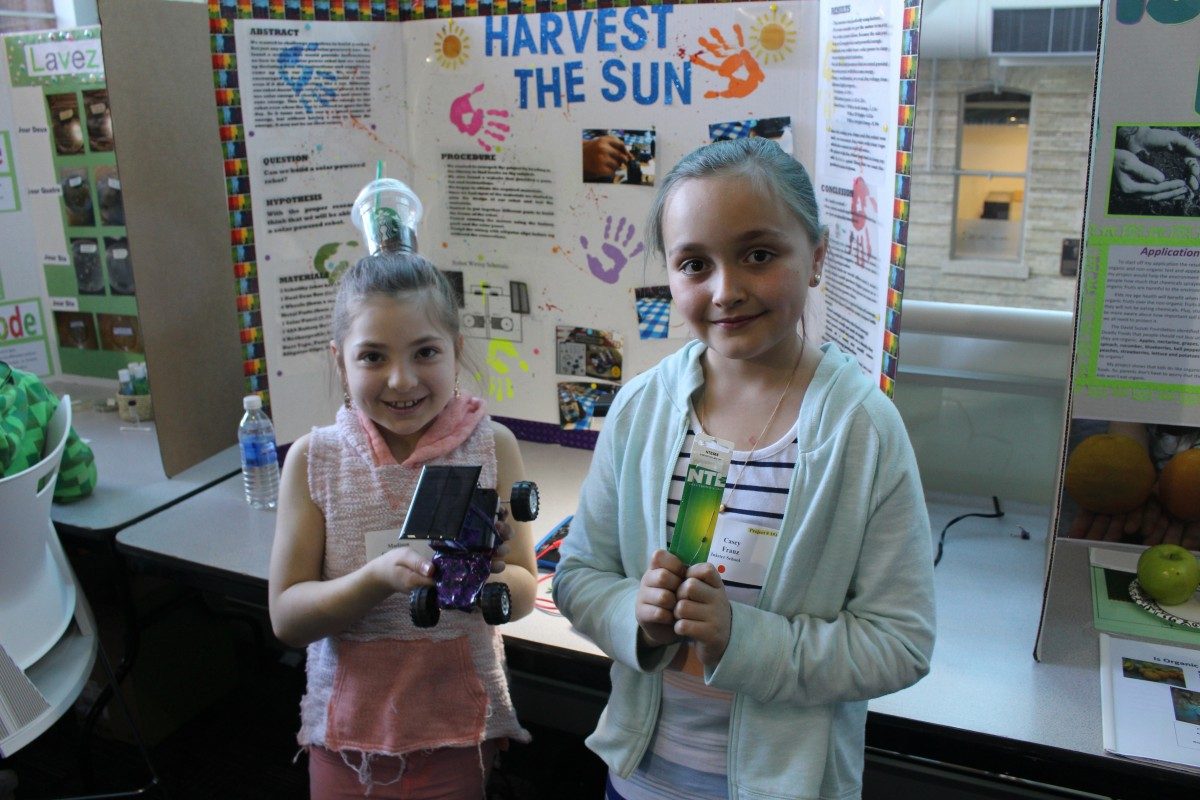 Scientists of the future gather
Rady Faculty hosts the 2017 Winnipeg School Division Science Festival
April 11, 2017 —
What does the scientist of tomorrow look like?
She's Grade 4 student Madison, who's wearing glitter lip-gloss and a clear Starbucks cup over her ballet bun. She and her partner Casey are stoked about solar energy and they'll tell you everything you need to know about how it can power an alternative energy robot car—even if it's cloudy out. And even if you're ready to move on to the next display. Because you're not really ready until you understand how the diode directs the flow of electricity, okay?
Future scientists are guys too, of course. At another table, four boys from Niji Mahkwa School (Bryden, Damian, Kalen and Phoenix) presented a project on microbiology, applying hard science to traditional medicines. Three of them were willing to be photographed. Two of them were willing to talk. (Quietly.) All of them were serious about taking a closer look at how an activity they do every day, smudging, can affect skin-borne microorganisms.
All this to say that if you believed any stereotypes about who's really into science, these students—and more than 500 of their peers—probably cleared that right up for you at the 47th Annual Winnipeg School Division's (WSD) Science Fair. You just need one thing: curiosity about how the world works. Then you find something that really piques your interest and use the scientific method to see if your expectations measure up to reality.  For Madison and Casey, that was robotics.
"We thought it would be easy, just connecting a few wires," said Madison. "But we learned it's actually more complicated." As part of the duo from Inkster School that built a model solar car, she learned that problem-solving was as big a factor as researching plans and sourcing components. What happens when you run into a road-block? "Well, we were originally going to use a different gearbox instead of the one that's on it now, but we realized it wouldn't be strong enough," she pointed out. She and Casey weren't deterred at all—they loved it. "This is our first build because we couldn't join the science fair last year—we were only in Grade 3. It was actually a lot of fun to build and it was cool to learn about robotics and get to see how things work."
Hosted for the sixth year at the Rady Faculty of Health Sciences on April 5, 2017, a total of 308 projects were on display from 35 different WSD schools. Students from Grades 4 – 12 explored everything from the practical, like whether we can recycle greywater with food crops (it's true, we can), to the apocryphal, like picking up pizza off the floor in five seconds or less means bacteria won't have time to hop on (sadly, that one's false.).
"It's always exciting to see what students come up with each year," says Dr. James Gilchrist, one of the event organizers and director of the Biomedical Youth Program (BYP) & the Inner-City Science Centre. "Not only are they really engaging with science, this kind of event also it lets students experience a bit of campus life and see first-hand what we do here."
Five additional Winnipeg School Division (WSD) schools joined the fair this year, including Dufferin, an inner-city elementary school. "Science should be accessible to all students in every part of the city," says Gilchrist. "It's our hope that if students at Dufferin get engaged early, they'll carry that enthusiasm with them into high school and beyond."
Since its inception, BYP has worked in partnership with the WSD to both establish the Inner-City Science Centre and run other biomedical science mentoring programs and workshops. "I believe this growth of interest has come as a direct result of these partnering efforts," says Gilchrist. "It has created great interest and enthusiasm amongst school communities."
It's clear that students are keen to keep up the momentum. This year's event wasn't even over yet and already they were talking about what they're going to do for the 2018 event. "Next year we want to do the science fair again, but we're thinking of building a person-sized robot that can talk," said Casey. "It's going to be a challenge."