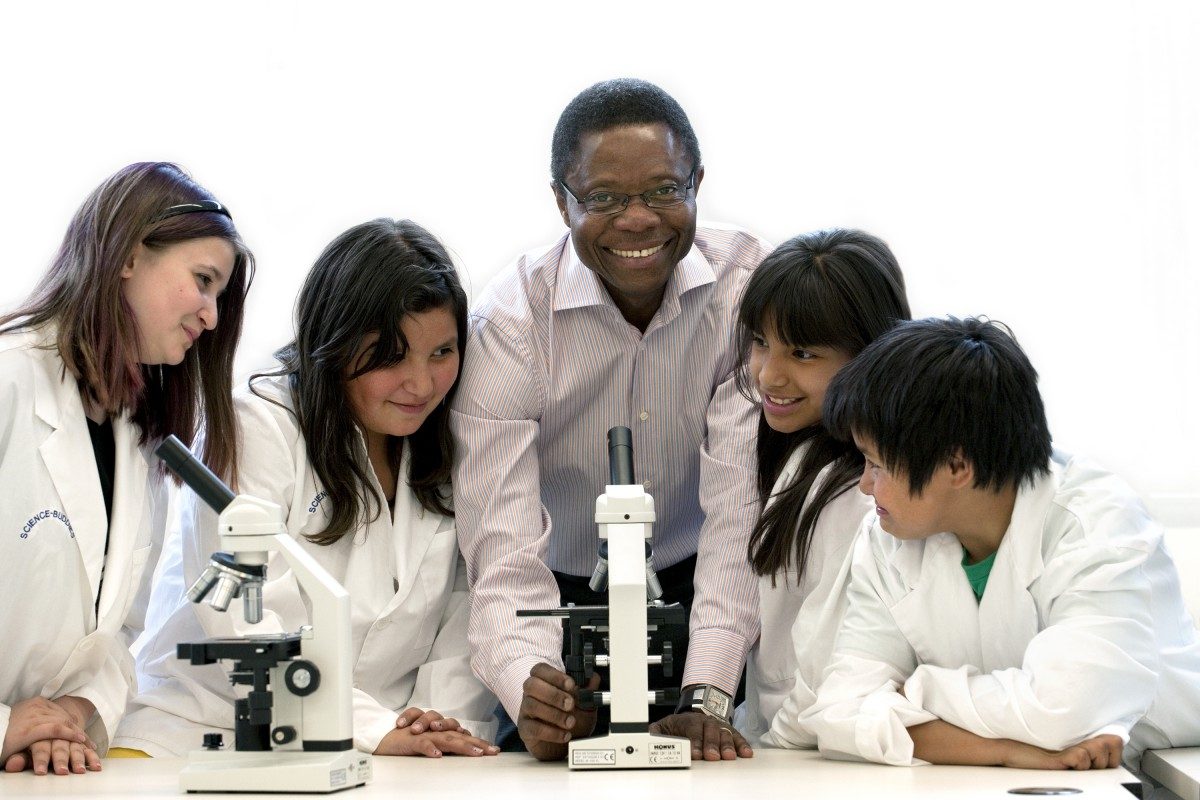 Med prof returns to African roots, launches STEM project
'This is my way of giving back'
February 20, 2019 —
A U of M professor has created a community of academics who are giving back to their home country of Sierra Leone by building a facility to train science teachers.
Dr. Francis Amara, professor of biochemistry and medical genetics at the Max Rady College of Medicine in the U of M's Rady Faculty of Health Sciences, is originally from Kenema, a city in Sierra Leone, West Africa.
He had the idea to create a science, technology, engineering and mathematics (STEM) centre in Kenema in 2012, and has been working toward that goal ever since. The centre is now under construction.
"I decided to help Sierra Leone rebuild its science education by developing the Millennium STEM Centre," Amara says. "This is my way of giving back to the community where I started my academic journey."
Amara earned his PhD in Northern Ireland and did postdoctoral research in Sweden before immigrating to Canada. He is a laboratory scientist who has also completed a U of M master's degree in education. Amara, founder of the Rady Faculty of Health Sciences' Biomedical Youth Program (BYP) and director from 2006-14, has enriched the science literacy of thousands of inner-city and under-represented youth in the health sciences through BYP summer camp, science buddies club, science fair mentors and the Inner-City Science Centre (in partnership with Winnipeg School Division). He also created professional development workshops and seminars for Manitoba science teachers.
Likewise, the STEM centre in Sierra Leone, he says, will educate senior high school students while training teachers. It will prepare teachers to apply evidence-based teaching practices and promote active learning. It will also provide access to STEM instructional materials, supply lab equipment and create international partnerships.
The facilities will be free to use, funded by the Kenema Global Science and Medicine Philanthropy Network – a group of academics, mainly with roots in Sierra Leone, brought together by Amara on Facebook. Many of these supporters donate thousands of dollars of their own money each year.
Some of the first members to join the group were Amara's former elementary school classmates. The school they attended in Kenema has donated the land for the STEM centre.
"This centre will serve to promote teaching and learning in STEM education across the continuum, from primary to middle and secondary school," Amara says. "It will improve the quality of science education. Specifically, it will impact about 500 current and future science teachers within three years."
After the 11-year Sierra Leone Civil War ended in 2002, the country's infrastructure was ruined. "Due to the brutal civil war, academic institutions were completely destroyed and most of the teachers fled the country as refugees," Amara says.
"The country is still struggling to rebuild its educational system and infrastructure. Science and innovation will play a large part in the country's development because of the emphasis on a knowledge-based economy.
"Going back to West Africa as a scientist is something I always wanted to do. The idea is that people go overseas, get trained and come back. But that doesn't work when there is nothing for them to come back to."
Last June, with U of M colleagues Dr. Jean-Eric Ghia, associate professor of immunology and internal medicine, and Dr. Etienne Leygue, professor of biochemistry and medical genetics, Amara delivered a workshop series on microscopy and digital imaging in Kenema. Foldscopes – low-cost paper microscopes designed to increase access to science – were donated to the teacher participants.
This year, Amara will lead a team of bioscience educators, including Ghia and Leygue, on a trip to Sierra Leone to train teachers in biotechnology education, and to formally initiate collaboration with the government ministries of education.
After completion and development of the Millennium STEM Centre, Amara envisions building a medical science institute to offer undergraduate degrees, as well as a medical school, within 15 years. "We want to train the country's physicians and scientists to be able to deal with any disease outbreak," he says.
The professor sees education as one of the keys to helping the country become more self-sufficient. "I'm full of hope for the future," he says. "If we're able to train the teachers to train the next generation of doctors and researchers, they can work toward relying on themselves, rather than on other countries."