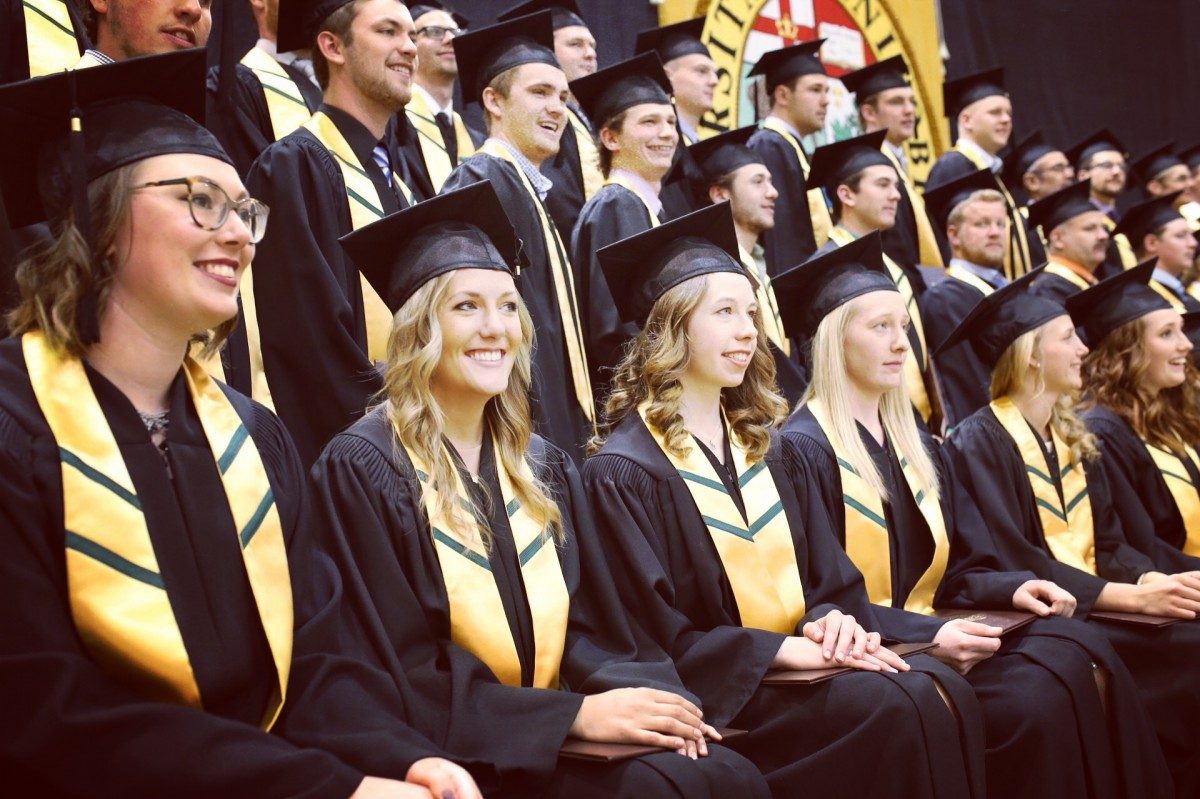 School of Agriculture graduates largest class in over 30 years
May 8, 2017 —
Seventy-five students received their Diplomas in Agriculture at the 2017 convocation of the School of Agriculture held Friday, May 5, at the University of Manitoba. This is the largest graduating class since 1986.
Brian Archibald of Killarney received the Governor General's Bronze Medal, an award given to the graduate with the highest academic standing in the two-year Diploma Program in Agriculture. Brian was also the recipient of the President's Medal, given annually to a student who combines scholarship with outstanding qualities of leadership.
Diplomas with Distinction, awarded to students who obtain a Grade Point Average of 3.75 or better out of a possible 4.5, were presented to Brian Archibald, Simon Cutler (Arborg), Ricardo Enguita (Zaragoza, Spain), Michelle Falk (New Bothwell), Joel Friesen (Mitchell), Celeste Giesbrecht (Miami), Renate Jochum (St. Francois Xavier), Lauryn Keen (Manitou), Ashley Kiansky (Vita), Jennifer Mueller (Arnaud), Blair Reid (Lorette), Dawson Sawatzky (MacGregor), Bailey Sigvaldason (Arborg), and Philip Therrien (La Broquerie).
The Faculty of Agricultural and Food Sciences annually awards Certificates of Merit to those who have made significant contributions to the agri-food industry. This year's recipients include organic researcher and educator Martin Entz and former deputy premier Jim Downey.
The Teacher of the Year Award was presented to Don Flaten in recognition of teaching excellent and contribution to the students' program of study. This award is selected by the graduating class of Diploma students.
Since its inception in 1906, the Diploma in Agriculture program at the School of Agriculture has undergone many changes and challenges to meet the ever-growing needs of Canada's agri-food industry. Students opt for one of four programs: crop management, livestock management, business management or general agriculture, depending on their career aspirations.
See the complete list of awards presented.