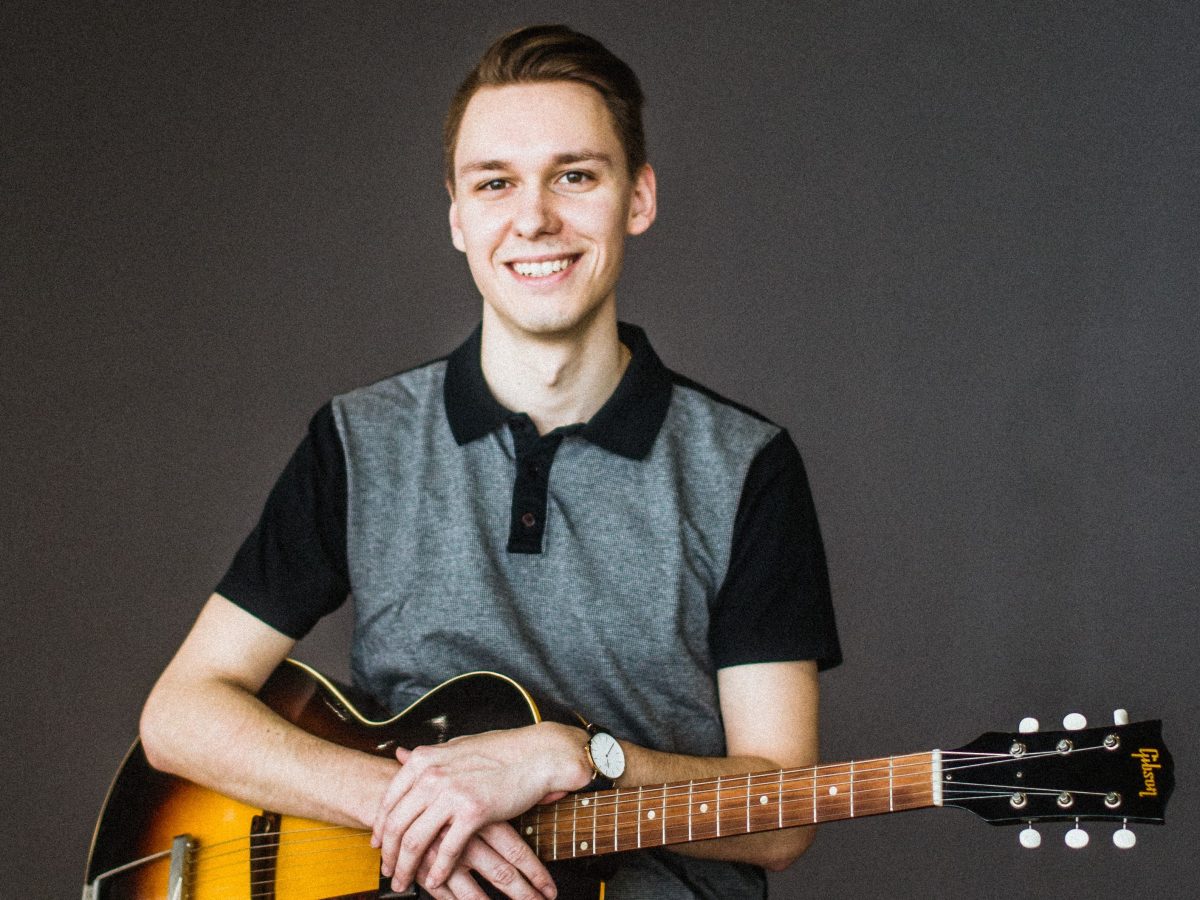 Rylan Knaggs celebrates the evolution of guitar
2020 DFOM graduate Rylan Knaggs' education spans everything from Métis folk music to modern day hits.
May 25, 2020 —
NOTE: We in the Desautels Faculty of Music are incredibly proud of our students. While COVID-19 is sidelining in-person commencement ceremonies around the globe, we want to find alternate ways to celebrate our graduates and give them the recognition due to them. Until we can gather together to properly applaud the years of study and practice that have led to these milestones, please join us in congratulating our 2020 Desautels Faculty of Music graduates.
Today we celebrate Rylan Knaggs!
2020 Desautels graduate Rylan Knaggs (Bachelor of Jazz Studies, Guitar) is known for his fierce improvisational jazz skills and beautiful guitar solos. Originally from Alonsa, Manitoba, Knaggs grew up watching his relative Arnold Asham lead the Asham Stompers at an annual festival dedicated to celebrating Métis performing arts, and those performances inspired him to pick up the guitar.
"It was through this that I was able to connect with a lot of musicians who introduced me to styles such as blues, country, and classic rock," says Knaggs, who began playing guitar at age 11.
"This helped me widen my horizons and put me on the path of perpetual learning, always chasing something new," he adds.
His passion for music led him to attend the Desautels Faculty of Music Open House in October 2015 when he was a senior in high school. Meeting Desautels Faculty of Music jazz guitar instructor Larry Roy "sealed the deal" for Knaggs.
"I didn't have the background in jazz that would have allowed me the confidence to audition," he says.
"Larry took me under his wing, and pointed me in the right direction, helping me through the steps, setting me up with one of his students to teach me, and even giving me a few lessons on his own time," says Knagg, who worked hard through the winter to prepare for his audition. Only four months later, he had a successful audition, and gained placement in the Desautels Faculty of Music.
"Larry really helped me bridge the gap between music as a hobby and music as a career, showing me that it was possible," says Knaggs.
Ensembles
During his time in the faculty, Rylan Knaggs played in small ensembles coached by Jon Gordon, Kyle Zavitz, Karl Kohut, and Derrick Gardner. He played with the South Side Big Band for their 2018 and 2019 season, and ultimately co-founded the country-rock group North 49 with fellow Desautels students.
Scholarships
Knaggs has made the Dean's Honour List since 2017, and received five different scholarships and bursaries: the Marcel A. Desautels scholarship, the Don Wright Entrance Scholarship in Music, the Corus Radio Jazz Major scholarship, the Jazz Investments Bursary, and the Harry Cross Music Bursary.
Proudest moment as a student of the DFOM
"In the ultimate testament to the highly personalized education that this institution offers, I had the opportunity to meet Marcel Desautels at the banquet for scholarship recipients in 2017," he says of his proudest moment as a student.
"Getting to shake the hand of the person responsible for our incredible facility and thank him personally was a surreal experience."
Favourite pieces and learned played in the DFOM
"I have a soft spot for the American Songbook repertoire, and Georgia on My Mind is one I've always loved," says Knaggs.
"I've had the opportunity to perform this tune in a lot of different ways over the last 4 years here, approaching it from virtually every angle, and it's become a key starting point for working out new composition and arrangement techniques."
Faculty Mentors
"I've thoroughly enjoyed my time working with all of the faculty members at this institution; it would take too many pages to express my gratitude to all of them individually," says Knaggs.
"What I will say is that I've always gotten the feeling that our instructors genuinely want their students to succeed, and they go above and beyond every day to ensure that we do. That's not to say that they'll hold your hand and let you off easy though, which is something I appreciate. Instead, the instructors here have a way of making students realize what they are capable of on their own, helping us to maximize our potential through time and effort," he adds.
Knaggs is particularly thankful for his Major Practical Study Instructor.
"I would like to give a shout-out to my Major Practical Study instructor, Larry Roy. I've had the opportunity to work closely with him over the last 4 years, and he has come to understand my individual abilities on my instrument better than anyone else. He's always known the next best step for me, and I wouldn't have made it this far without him."
Says Roy of Knaggs:
"I probably learned as much from Rylan as he learned from me in our four years together. Rylan's transition into university life required some major adjustments, but Rylan was undeterred and worked very hard to reach a high level of musicianship. He proved to himself and to us that hard work and focus will allow us to realize our dreams."
Credit Recital Program
Due to the disruption caused by COVID-19, the Desautels Faculty of Music had to cancel all of its remaining events for the 2019-2020 season. In addition to final ensemble performances, about 40 student credit recitals were cancelled, including those of graduating students, whose final credit recitals serve as a sort of capstone project showcasing what they have learned throughout their studies. Knaggs had big plans for his final credit recital.
"For my graduation recital, my intention was to provide a thorough in-depth overview of the guitar's role in the ensemble throughout the history of jazz. I went back to the roots of the Dixieland style with an arrangement of 'Darktown Strutter's Ball,' which was one of first-recorded jazz standards," he says.
"I also explored the delta blues style with a piece for slide-guitar and vocals before jumping into the swing era with a chord melody arrangement of Duke Ellington's "Satin Doll". I also included a bebop-flavoured original tune and a cheeky mash-up of "It Could Happen to You" and "Fried Bananas" before concluding the set with some more modern arrangements of compositions by Jon Scofield and McCoy Tyner.
Next Steps
While life is uncertain for many during this pandemic, Knaggs has secured his plans for the upcoming year.
"I've just recently accepted my offer of admission into the Faculty of Education to continue with a 2-year after-degree. I'm looking forward to heading into the workforce as a high school band teacher afterward," he says.
We are delighted that he will still be on campus next year! We hope that he will visit us in the DFOM, and impart his knowledge and mentorship to incoming DFOM students. He already has some advice for them.
"Embrace the challenge," Knaggs says.
"It's easy to feel beaten down in your first year, as we're still finding ourselves as people while simultaneously managing a new wave of unfamiliar responsibilities. But, be confident that everything you face is an opportunity to learn and improve, and you'll come out on the other side of this having learned a lot about yourself and what you are capable of when you apply yourself."
Acknowledgements
Knaggs is grateful for those who have supported him throughout his studies. Those he would like to thank include the following:
"My family and friends for all of the love and support through the years, my high school band teachers for giving me the space to express my interests at a young age, my fellow students for creating the incredible environment of camaraderie and elite musicianship, the admin and support staff who keep this place running smoothly day to day, and of course, the faculty for passing on their many years of knowledge and experience."
Congratulations, Rylan! We are incredibly proud of you!