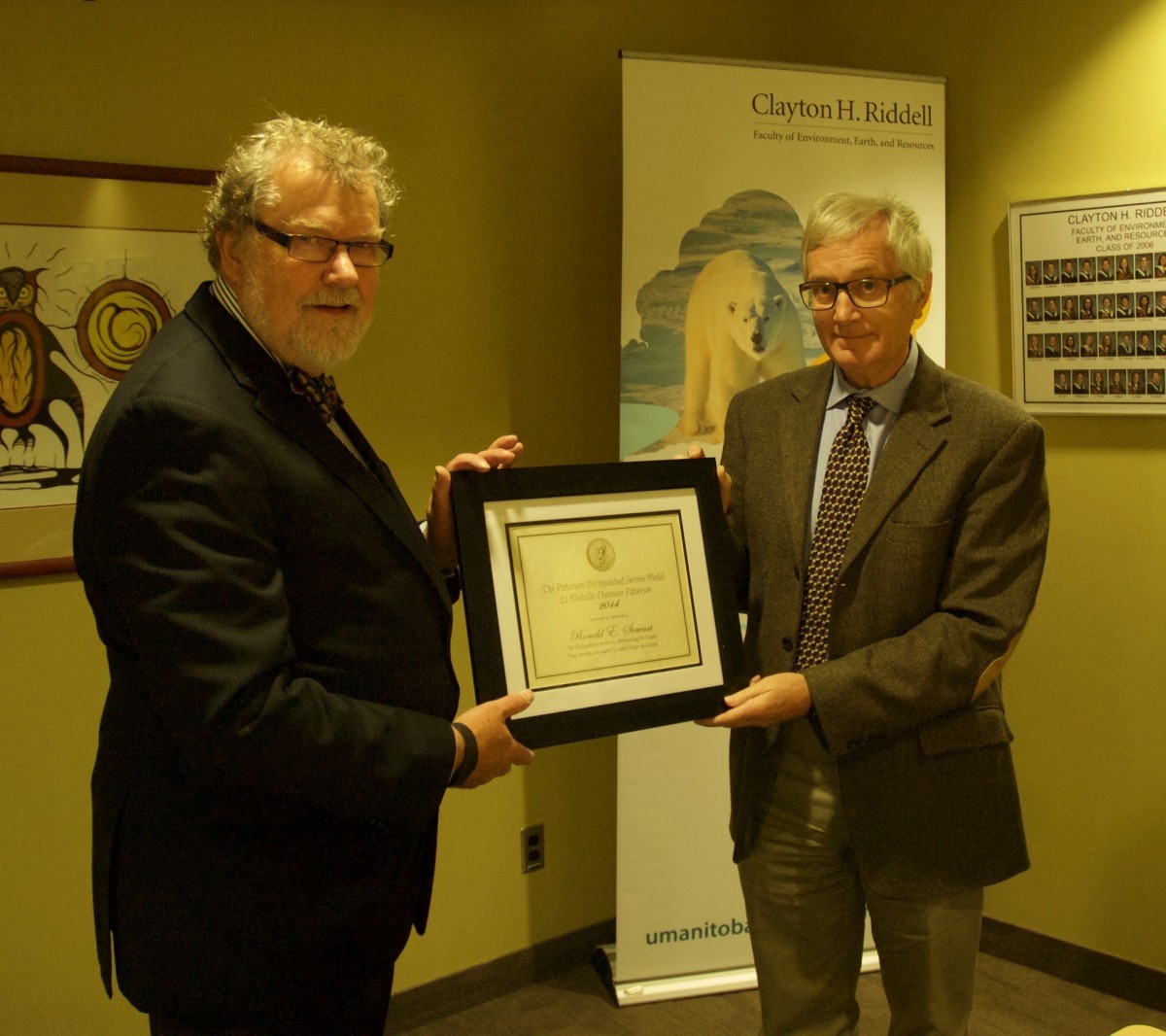 Ron Stewart: Recipient of the John Patterson Medal
January 22, 2016 —
The John Patterson medal was presented to Dr. Ronald Stewart (Department of Environment and Geography) in an event in October well-attended by colleagues, faculty, and students. The award, including a certificate and a medal, was presented by Dr. David Grimes (Assistant Deputy Minister and Head of Environment Canada's Meteorological Service and President of the World Meteorological Organization).
The Patterson Distinguished Service Medal is presented each year for distinguished service to meteorology in Canada. The medal was established in honour of Dr. John Patterson (1872-1956), Controller (Director) of the Meteorological Service of Canada from 1929 to 1946. The list of recipients, since it was rst awarded in 1954, features the nation's most accomplished individuals in the field.
Dr. Stewart, who is both a Fellow of the Royal Society of Canada and a Fellow of the Canadian Meteorological and Oceanographic Society (CMOS), focuses on extreme winter and summer weather, precipitation and regional climate. He has led numerous Canadian and international research activities addressing these issues. Dr. Stewart has served as President of CMOS and led Canada's involvement in the International Union of Geodesy and Geophysics for several years. He was a member of the international Global Energy and Water Exchanges project (GEWEX) Scientific Steering Committee and has led global initiatives on regional climate within the World Climate Research Programme, developing new ways to examine hydrometeorological extremes around the world.
This is an updated article that originally appeared in the Clayton H. Riddell Faculty of Environment, Earth, and Resources Winter 2016 Newsletter.
– See more at: http://umanitoba.ca/faculties/environment/media/Riddell_W2016_NL_web.pdf and Clayton H. Riddell Faculty of Environment, Earth, and Resources Newsletters.