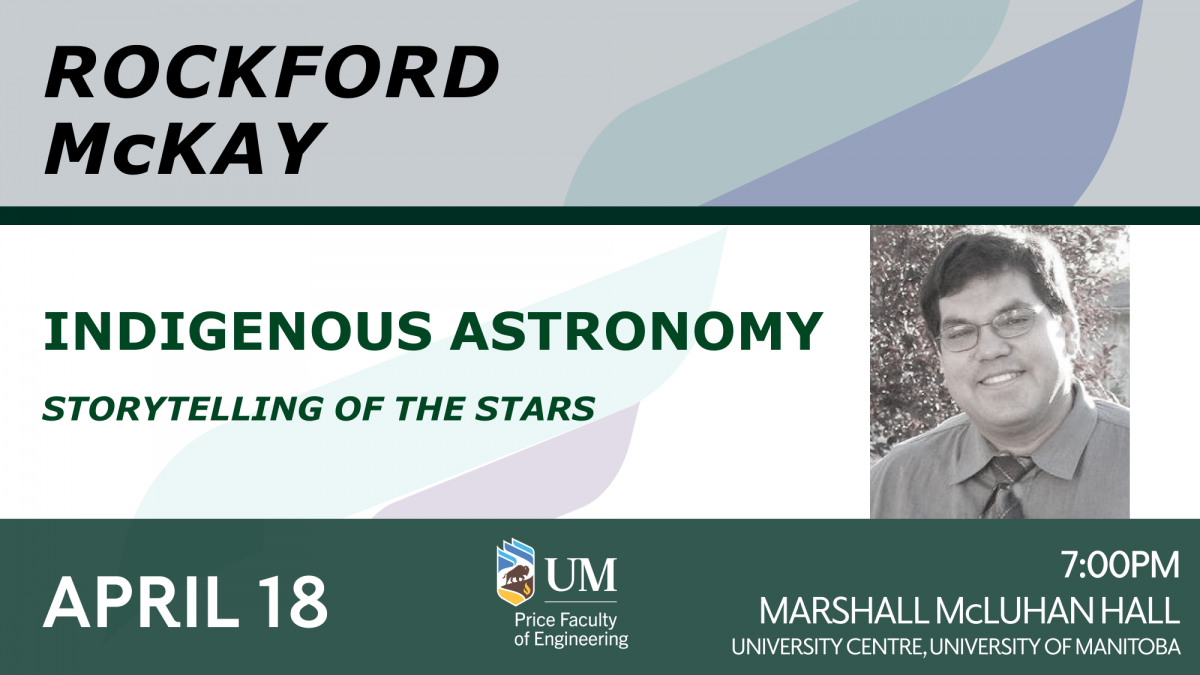 Storytelling of the Stars with Rockford McKay
April 1, 2022 —
In Anishinaabe culture, the storytelling of the stars held many purposes throughout history. The gentle twinkles in the night sky helped to serve as compasses for navigation but also the stories on how to respect and treat one another helped to further instill knowledge.
The Price Faculty of Engineering is pleased to welcome Rockford McKay to UM for a special presentation: Indigenous Astronomy: Storytelling of the Stars. The event is open to students, staff, faculty, our alumni and the broader engineering community. In-person attendance is limited to 100 people, however, you can watch live online on our YouTube Channel.
Event details
Time: 7:00 PM
Date: Monday, April 18, 2022
Location: Marshall McLuhan Hall, University Centre, Fort Garry Campus OR virtually on YouTube
Cost: Free
Light refreshments will be available to those joining us in person. As per University policy, KN95 masks must worn while on campus, except during brief periods of eating or drinking.
About Rockford
Rockford McKay received his B.Sc. and B.Ed. at the University of Manitoba. He has been an educator for 30 years in First Nation Communities in Manitoba and Winnipeg. During this time, he became an author of science textbooks used in Manitoba classes and a School Trustee with St. James – Assiniboia School Division. Today he works at Manitoba First Nations Education Resource Centre (MFNERC) sharing knowledge and experiences with teachers and First Nation students using UAVs to Planetariums.