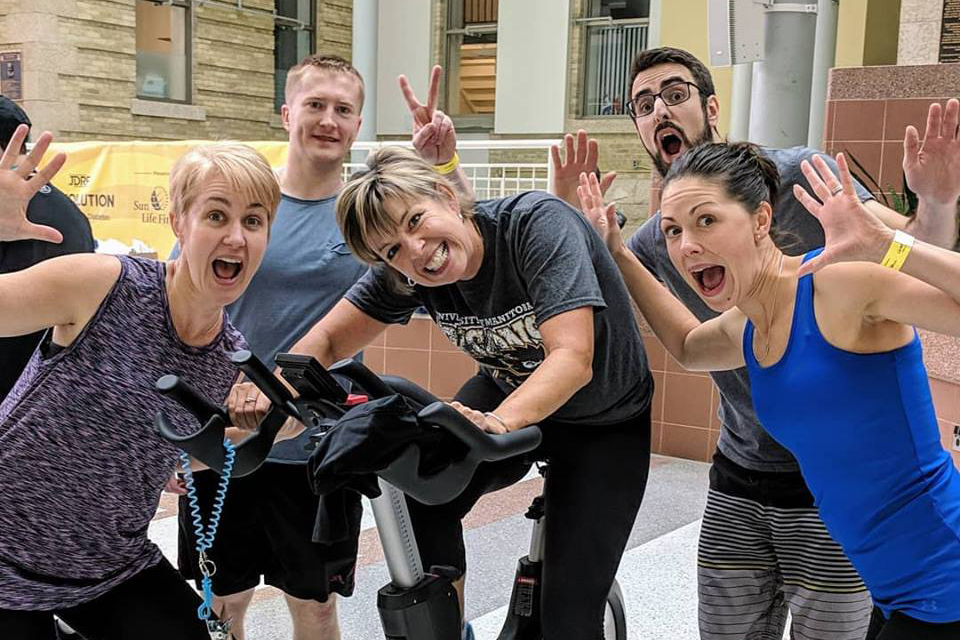 Ride raises funds for diabetes research
November 22, 2018 —
It was a spirited lunch hour in Brodie Atrium at the Bannatyne campus on Nov. 14, as teams of Rady Faculty of Health Sciences and Faculty of Kinesiology and Recreation Management staff and students sweated their way through a high-energy fundraiser for JDRF Canada, an organization that funds type 1 diabetes research.
Held on World Diabetes Day, the 2018 JDRF Revolution Ride to Defeat Diabetes raised almost $1,100.
Seven teams of up to five members took part in the 35-minute relay-style stationary bike race. Team awards were given for most funds raised, furthest distance, most enthusiastic and an "honesty" prize was given to the team that cycled the least distance.
A team of first-year physical therapy students made up of Scott Friesen, Tom Pachal, Brittni Steeves-Gray, Kris Aguiar and Adam Loewen took the prize for enthusiasm after cheering loudly and pumping each other up with chants and chest-slaps.
"While we didn't win the race, we dressed up, tried our hardest, got incredibly sweaty and cheered like crazy," Friesen said. "It was a great team-builder and we enjoyed cheering and chanting for each other. Having multiple programs from within our faculty added a friendly level of competition as well."
Prizes included donations from the faculties, JDRF and the Health Sciences Bookstore.
The event was co-organized by Kerri Chase, supervisor, Joe Doupe Recreation Centre, and Dr. Barbara Shay, head, physical therapy, College of Rehabilitation Sciences. It was the second time the diabetes ride took place.
"A good time was had by all and it was a nice break from routine," says Chase. "We all know someone affected by this disease, so it's nice to contribute."
Chase and Shay say they plan to make it an annual event, as it brought the faculties together for a common goal.
"We'd like to have all colleges and programs in the Rady Faculty participating next year, as this is great for teambuilding and for a great cause," says Shay, who noted students may need a faculty champion to help them organize their involvement.
World Diabetes Day is marked annually on Nov. 14, honouring the birthday of Dr. Frederick G. Banting, the Canadian co-discoverer of insulin.
JDRF national stewardship director Dorothy Ross attended the fundraiser and spoke to the teams about the medical advances that are happening thanks to efforts like this, such as preventive therapy research to keep future generations from getting type 1 diabetes, or stopping the disease process before it damages the pancreas.
For those who missed out, donations are still being accepted at jdrf.akaraisin.com.