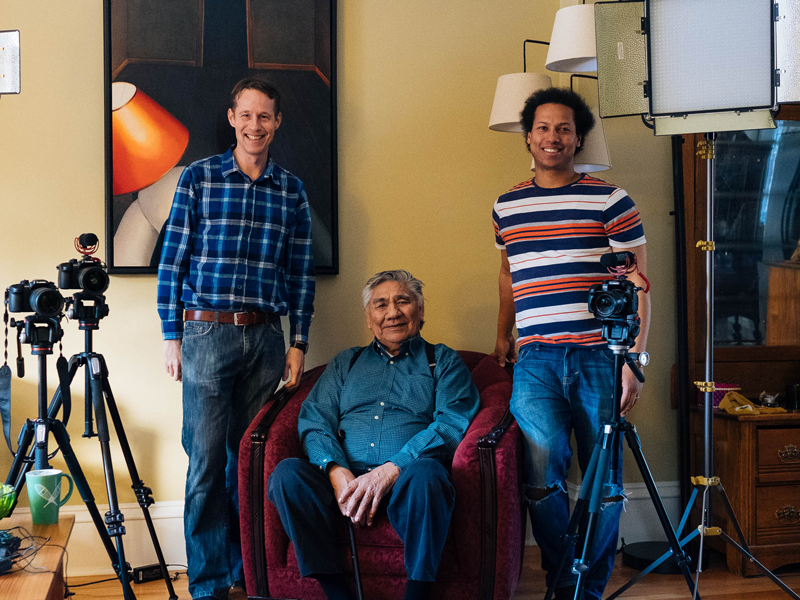 Revealing the power of stories
Reflecting on 10 years as a Canada Research Chair
April 23, 2018 —
A simple story can have the power to bring people together. Warren Cariou experienced this first hand as the Canada Research Chair he held for the past 10 years in Narrative, Community and Indigenous Cultures has allowed him to learn from, work with and become dear friends with some amazing individuals across Canada.
Cariou's research focus was on the interpretation of traditional and contemporary Indigenous stories. Working with Indigenous storytellers and writers, he researched how Indigenous communities are defined and sustained by their stories and through various innovative projects, he helped to preserve neglected Indigenous stories of the past and bring them to the attention of a new generation of Canadians.
Cariou is a Professor in English, Theatre, Film & Media, the Director of the Centre for Creative Writing and Oral Culture (CCWOC) and a writer, editor, filmmaker and photographer. The resources of the Chair provided the opportunity to make connections with storytellers and Elders from Cree, Métis, Lakota, Kaina and Anishinaabe communities. And, it has led to the gathering of scholars, an influence on the publishing of Indigenous works, multiple workshops and publications, and one very significant and influential relationship in Cariou's life.
As part of the research program, Cariou began a series of colloquia focused on the principles of editing texts by Indigenous writers, called the First Voices, First Texts research group. He tells us that, "The team of editors and writers that I gathered has gone on to make a significant difference in the way that Indigenous texts are edited and marketed in North America." This core group was also one inspiration for the creation of the Indigenous Literary Studies Association, of which Cariou was the inaugural President. The editorial principles developed by this group became important for many publishers who are committed to indigenizing the publishing process. Most directly, they were the foundation of the First Voices, First Texts book series (University of Manitoba Press), of which Cariou is General Editor. This series publishes critical editions of "lost classics" of Indigenous literature that have been unjustly neglected or have been previously published in inaccurate or inappropriate forms. To date, there are four volumes and plans for several more volumes in the future.
In addition, Cariou has been involved as a consultant and faculty member of the Indigenous Editors' Circle, a series of workshops geared toward giving editors the necessary tools to work sensitively with Indigenous authors. Cariou explains that, "Editors from across Canada and the U.S. have taken part in these workshops, and I am confident that significant policy changes at publishing houses have arisen as a result of this work".
Since its inception in 2008, the CCWOC has focused on developing artistic practice–especially storytelling and creative writing–as well as scholarly research on oral cultures. This mandate is very complementary to Cariou's CRC work and he was able to provide examples of where they have intersected. Over the years, the CCWOC has hosted several storytellers-in-residence, and some have been Indigenous. "I had the opportunity to learn from the amazing Lakota/Kiowa Apache storyteller Dovie Thomason for an entire term in winter 2016," he says. From this experience, Cariou published one scholarly article about Thomason, and is now working on a longer study of her work. He adds, "Without the CCWOC residency I would not have had the opportunity to learn from this brilliant and gifted artist".
The CCWOC was also a crucial part of Cariou's collaboration with Niigaanwewidam Sinclair, Associate Professor, Native Studies on an anthology, Manitowapow: Aboriginal Stories from the Land of Water. "CCWOC staff and students helped us in the gargantuan task of collecting, collating and editing all of the Indigenous writing we could find within the boundaries of what is now called Manitoba. The team discovered many previously forgotten stories by writers from our home territory that can now be preserved and shared," said Cariou. The book went on to be the bestselling book by a Manitoba publisher in 2013, and won theOn the Same Page award.
Upon reflection, Cariou mentions that there is one relationship that stands above all others. "Perhaps the most important work I have done during the CRC has been my ongoing collaboration with Omushkego Cree Elder Louis Bird, who is renowned as one of the great storytellers in his community," says Cariou. They have been documenting and studying the Omushkego storytelling traditions and environmental philosophies. Cariou is in the process of consolidating this large volume of work and plans to share it with Bird's community so that the Omushkego people can maintain control over the legacy of their Elders and their traditions. "It has been a huge privilege to learn about Omushkego culture and practises on the land from Louis Bird, and to record many of his conversations and storytelling sessions. During my decade of work with Mr. Bird I was very happy to see that many of my students and colleagues also developed strong connections with him. For me, research that is focused on Indigenous cultures is primarily about fostering and building relationships. I am so happy that the CRC position enabled me to develop this rich and fascinating relationship, and I look forward to continuing this work for as long as possible."
Bird and Cariou taught a Cree Stories course together at U of M in 2010 and in 2017, the University awarded Bird an honorary doctorate. Cariou was thrilled, "This was a wonderful validation of his work, and I know that he appreciated the gesture greatly. He now likes to tease me by reminding me that he is a doctor too."
Cariou will stay on as Director at the CCWOC for the next three years and is committed to continuing his work with Elder Louis Bird. He plans to expand his bitumen photography practice "Petrography" – another unique medium used to share stories – which he started after visiting the Indigenous community of Fort McKay during his research. He looks forward to working with the CCWOC's next writer-in-residence, of who he would give no hints, and is working to find inventive ways to bring together Indigenous spoken word artists with Elders, to see what kinds of amazing new stories they can develop together.
Want to learn more about Arts research? Sign up for SCISCO, the Faculty of Arts research enewsletter.