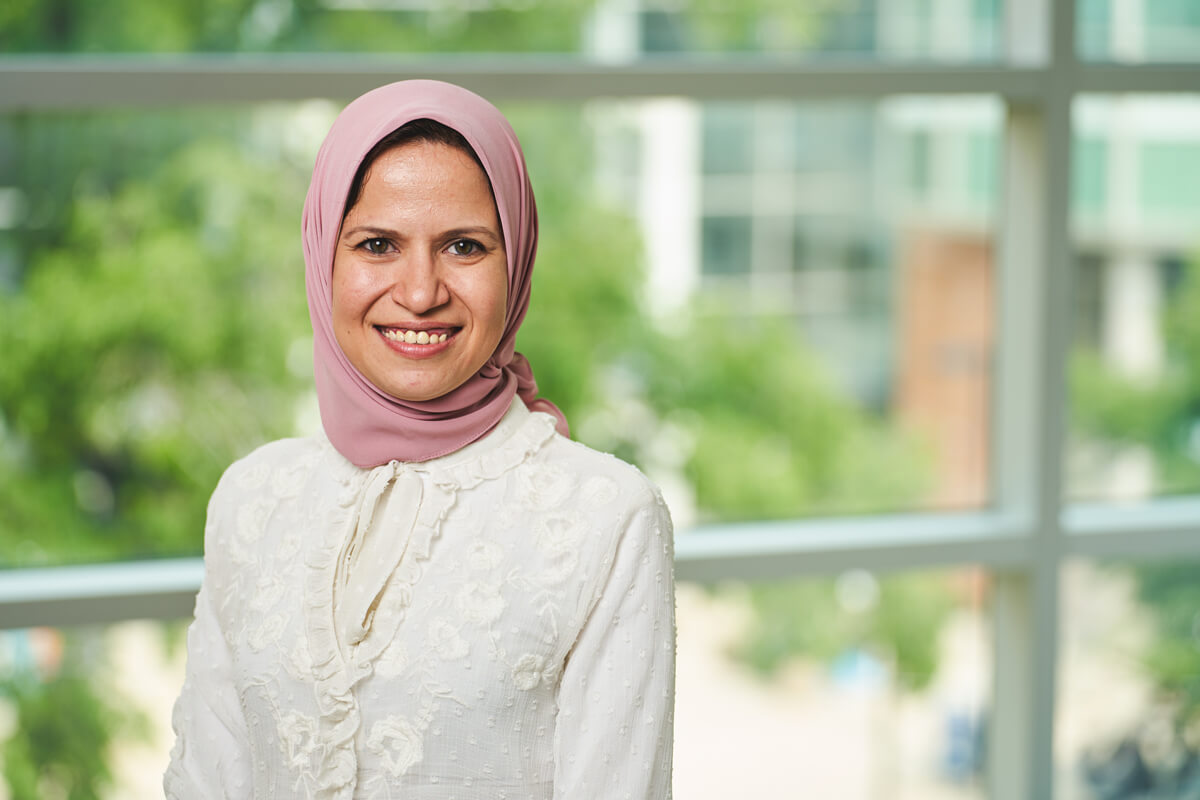 Revealing the effect of lockdowns on pandemic pregnancies
Laila Aboulatta named as Vanier Scholar for her community health research at UM
August 29, 2023 —
After years of pharmacy practice in Egypt and research in Japan, Laila Aboulatta has gained unique insight into the health challenges faced by underrepresented populations – and how the COVID-19 pandemic exacerbated them.
Aboulatta is one of four UM PhD students who have been awarded the Vanier Canada Graduate Scholarship for 2023. Vanier Scholars are considered Canada's top graduate students and receive a scholarship of $150,000 over three years towards their research.
UM Today caught up with Laila Aboulatta to learn more about her and her research.
WHAT ARE YOU WORKING ON IN THE RADY FACULTY OF HEALTH SCIENCES?
The COVID-19 pandemic has brought exceptional challenges to global health and there is an increasing concern that the pandemic lockdown might have negatively affected health services and patient outcomes, including mother and infant health. In many instances, the decreased access to health services created sub-optimal mother and infant care. Pregnant people are consistently excluded from clinical research studies and this project will shed light on this underrepresented population.
The purpose of my research is to gain insight into the adequacy of health care delivery during the challenging times of the pandemic. We use real-world data of linked mother-infant records to thoroughly examine the healthcare received by pregnant people during this unprecedented time. We also aim to examine adverse perinatal outcomes, focusing on the major pregnancy and newborn outcomes. Medication use has been disrupted during the pandemic, so we aim to investigate the trends in the use of different medication classes among pregnant people.
WHY DID YOU CHOOSE UM TO PURSUE YOUR RESEARCH?
The pharmacoepidemiology at UM is a highly motivating research environment which is perfect to make significant contributions to the health of pregnant people. Also, the well-established administrative health database in Manitoba provides an ideal platform to conduct studies to improve healthcare practices and health outcomes. Pursuing my PhD at the UM and actively engaging with international scientific societies has been an eye-opening experience that broadened my perspective and exposed me to the fantastic opportunities that arise by networking with researchers in different academic settings.
WHERE DO YOU SEE YOURSELF IN FIVE TO 10 YEARS?
As a woman belonging to a visible minority, I envision myself as a pharmacoepidemiology leader and an active scholar at a Canadian university. I hope to establish my own lab and a multinational network that serves as a platform for assisting young pharmacoepidemiologist and researchers in improving health care settings and prescribing practices among women. As a pharmacist, my goal is to support rigorous clinical research that directly and meaningfully benefits the diverse communities.
WHAT DOES IT MEAN TO YOU TO BE THE RECIPIENT OF THE VANIER SCHOLARSHIP?
I am honored and humbled to have been selected as a recipient of the Vanier scholarship. It is a tremendous opportunity that has become a reality. Receiving the Vanier scholarship will strengthen my skills to conduct high-quality research to address healthcare challenges and effectively communicate my findings with scientific communities, stakeholders and healthcare professionals. Being a Vanier scholar is a personal achievement and a testament to the encouragement and support I received from family and mentors who believed in me throughout my endeavours.