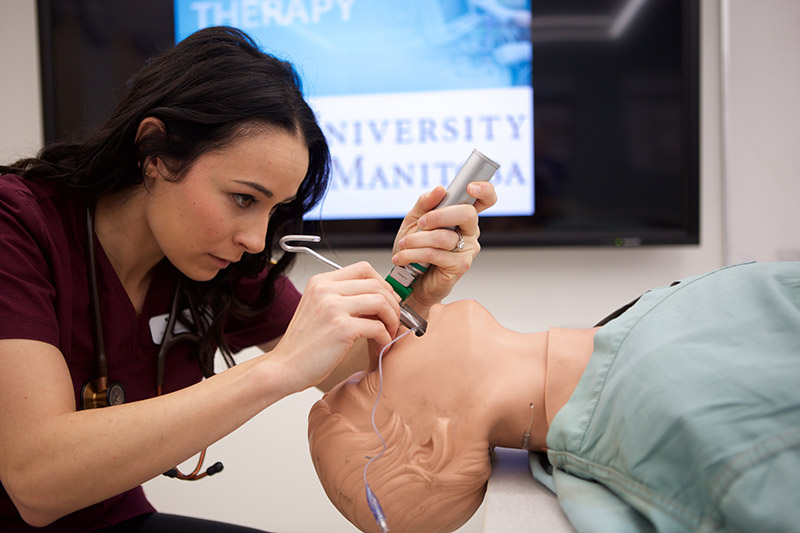 Respiratory therapy students join workforce early
July 5, 2021 —
Students in the final year of the respiratory therapy program at the College of Rehabilitation Sciences, Rady Faculty of Health Sciences met their licensing requirements and officially completed the program four weeks early this year in order to assist with the need created by the COVID-19 pandemic.
All 13 students in the bachelor's degree program this year are eligible for graduation and were hired early, mostly in Winnipeg where demand has been high for several months.
"We were approached by the Winnipeg Regional Health Authority, Shared Health and Health Sciences Centre (HSC) about the shortage of respiratory therapists and the urgency in Winnipeg specifically," said Denise Mackey, head of the respiratory therapy department.
"On average, the students were 90 per cent completed the hours they needed, so we collaborated with the Manitoba Association of Registered Respiratory Therapists and came to an agreement so they could graduate early."
Many students already had jobs lined up. Georgia Lindsay Richtscheid was hired at HSC Children's Hospital in December.
"It was very clear to us in our clinical care rotations how much help was needed," she said.
She noted the pediatric intensive care unit (PICU), where she currently works, has many adult patients admitted because the COVID numbers are so high.
"There's an overflow of patients right now, so I'm kind of getting a split of pediatric and adult care," she said.
Lacee Nakonechny, originally from Thompson, Man. was hired at the Thompson General Hospital, where she was working her final clinical placement.
"It was my last shift before the weekend. I put on my scrubs and read an email from the college that said I was graduated. I walked in for my 12 hour shift and walked out an RT grad," she said.
While COVID cases haven't been as high in Thompson as they are in Winnipeg, Nakonechny said she has been busy at the hospital, which the last several months of clinical placements amidst a pandemic have prepared her for.
"The learning curve we got to experience throughout this pandemic has truly impacted us, as this experience is not routinely a part of being an RT student," she said.
Haley Nakonechny, a cousin of Lacee's originally from Manitou, Man., took a position at Health Sciences Centre. She noted that students didn't know what to expect going into their final year, as it is usually mostly spent in clinical placements.
"With the pandemic, we didn't know if we'd be allowed to go to clinical. So to go from that to being thrown into the middle of things, it was kind of a whirlwind, but it was also interesting because RT has never quite been in the spotlight like this before," she said.
"We've seen all our preceptors and RT departments bogged down with all the COVID patients this year, and I think we're all just excited to be able to help out in any way that we can."
Mackey said she is confident the graduates will continue to excel as they transition into their professional career.
"These students were able to participate in unique learning experiences due to the pandemic and all have excelled in the clinical environment despite these challenges," she said.
The students will graduate at the UM Fall Convocation.