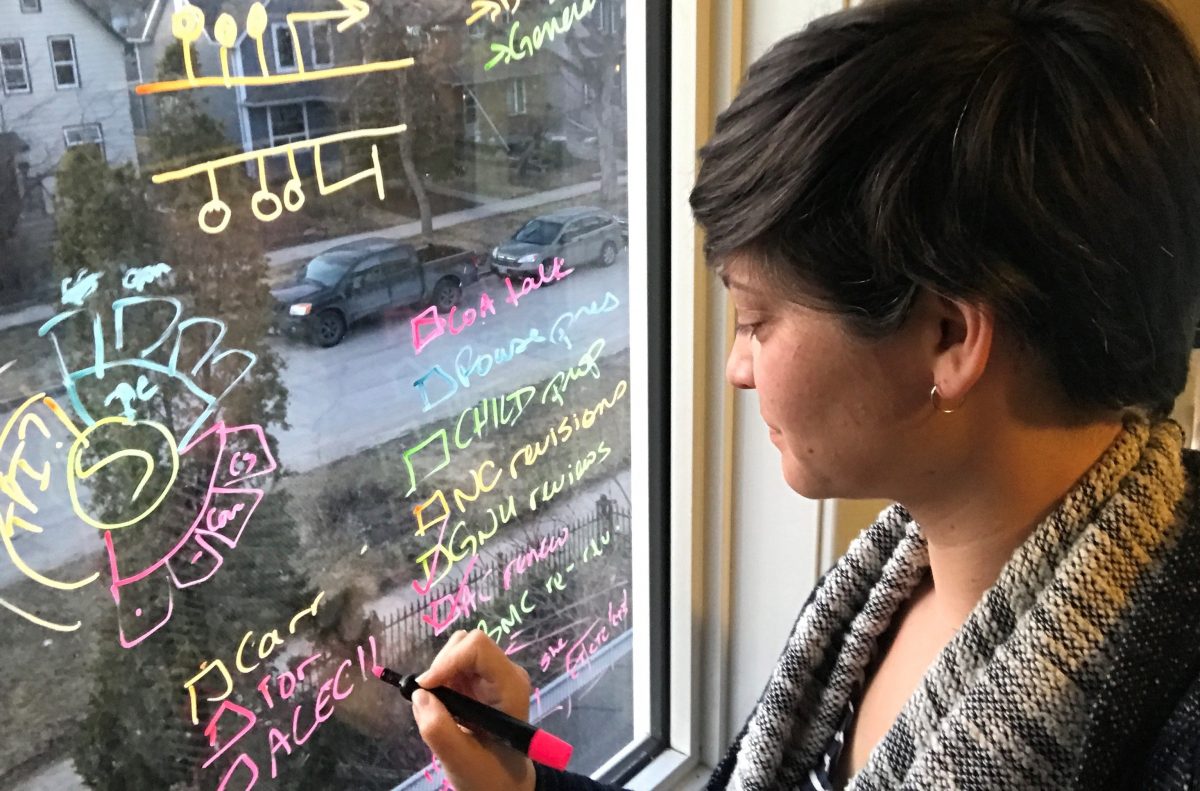 Resilient researchers continue important UM work from home during COVID-19 crisis
April 24, 2020 —
It was 9 p.m. on a Tuesday and Dr. Hagar Labouta sat down at her computer for a meeting. The assistant professor in the College of Pharmacy, Rady Faculty of Health Sciences, was just beginning her office hours.
Since Labouta began working from home because of the COVID-19 pandemic, she spends most of the daytime caring for her two young children. Throughout the day, she is also writing emails and taking part in meetings over Zoom, a videoconferencing service.
However, her focused research time takes place after she puts her children to sleep. Labouta, who is also a research scientist with the Children's Hospital Research Institute of Manitoba (CHRIM), has been scheduling meetings with her team at 9 p.m. and working until 2 a.m.
"It took some time at the beginning to get a rhythm, but it's something we have to accept and we are doing our best to deal with the changes," she said.
Like Labouta, researchers across the Rady Faculty of Health Sciences are adapting to working from home.
For Dr. Meaghan Jones, assistant professor of biochemistry and medical genetics, Max Rady College of Medicine, Rady Faculty of Health Sciences, her research looking at the impact of pre-natal exposure to inhaled particulate matter, like cigarette smoke or air pollution, has been put on hold with the temporary shuttering of her lab. But there is still plenty to do.
"My work really hasn't changed at all," said Jones, who is an investigator with CHRIM. "I'm still writing papers, writing grants and reading literature. I also have a couple of presentations coming up that I'm preparing for."
To keep in touch with her team, Jones is holding weekly individual meetings and three lab meetings each week via Zoom. This is up from one weekly lab meeting because it's a chance for everyone to check-in with each other, she said. It is also a chance to have a bit of fun. They are holding cooking contests where the team members each prepare the same recipe for lunch and they judge the dishes based on presentation.
While Jones has adjusted to working from home, one thing she misses about her Bannatyne campus office is her huge whiteboard. To adapt, she is using a large window in her home office to write on.
"I don't know what the people who walk by my house think – a bunch of weird drawings and stuff on it – but it works," she said.
Dr. Christina West, associate professor in the College of Nursing, Rady Faculty of Health Sciences, has had to put the data collection of her main project on hold. Her research uses expressive arts activities and digital storytelling to help children and families express their experiences of going through pediatric hematopoietic stem cell transplant. This qualitative research requires her team to spend time with children and their parents in the hospital, which they currently can't do.
However, West has data that has already been collected to analyze, so she is focusing on that part of her research. She is also working on several systematic reviews, research papers and the creation of a new research website where family members, clinicians and administrator partners will be able to interact with her team in a private area of the website.
"It's a very difficult situation for everybody," said West, who is an investigator with CHRIM. "I think we have to think about how we care for ourselves in the midst of continuing on with our work so that we're emotionally well enough to do that work, and to support others."
To do that, West is building yoga and mindfulness practices into her day. She maintains a work routine and non-work routine, and has a space in her home dedicated to her work life.
For Labouta, an expert in using nanoparticles for drug delivery, her work relies on conducting experiments in her lab so her research is on hold. However, she has shifted her focus to work on COVID-19-related research with scientists at the University of Manitoba, in the United States and in Germany. One project she is working on is with a group from Georgia Tech on simulation experiments that hopefully can help with the creation of a new therapeutic strategy for COVID-19.
"Not everyone is a virologist, but all scientists have something they can contribute," Labouta said. "What we really need right now from the scientific community is that everyone should contribute their own expertise. I see it as a cross-disciplinary initiative and collaboration in order to find a solution for this crisis."