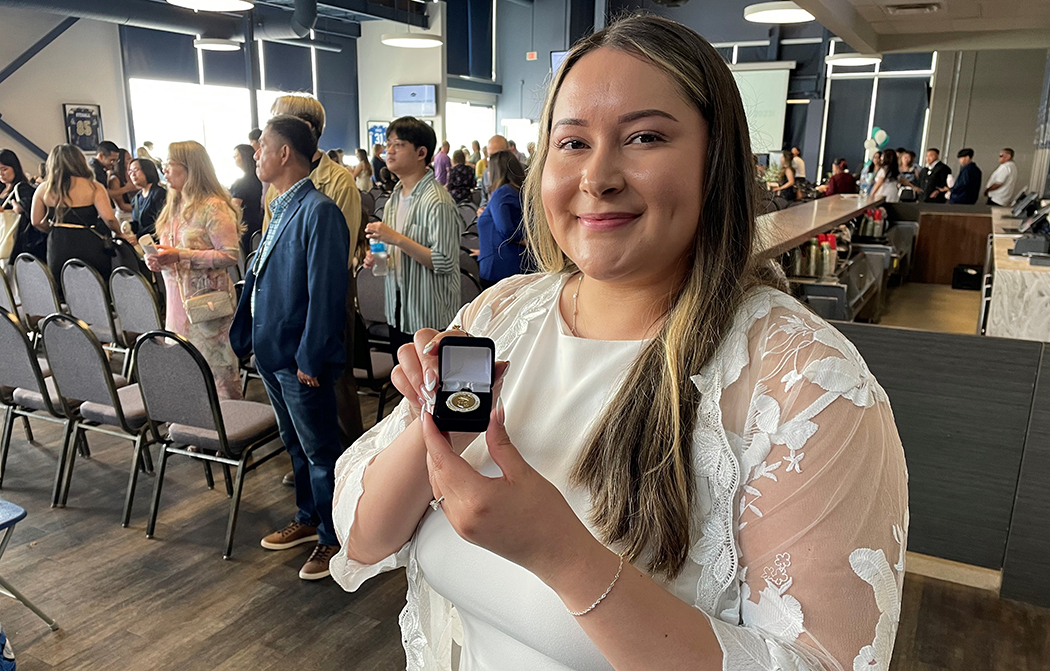 Resilient nurses graduate, join profession
June 8, 2023 —
When Dr. Peter Nickerson, vice-provost (health sciences) and dean of the Rady Faculty of Health Sciences, addressed the College of Nursing's Spring Class of 2023, he noted they were a unique group who began their journey at a historic time.
"When you started here at the bachelor of nursing program in January 2020, you were only two months away from the challenges of the COVID-19 pandemic. But just like our faculty and researchers, you rose to those challenges," Nickerson told the 111 new nurses.
"The resilience you demonstrated has been nothing short of phenomenal."
Nickerson was among the speakers at a pinning ceremony hosted by the Nursing Students' Association and College of Nursing on June 7 at the Pinnacle Club at IG Field.
The event was emceed by Dr. Netha Dyck, dean of the College of Nursing, and included greetings from the Province of Manitoba's Hon. Audrey Gordon, Minister of Health, Joyce Kristjansson, executive director of the Association of Registered Nurses of Manitoba, Vivian Umeohabike, senior stick of the Nursing Students' Association and Danielle Yaffe, four-time recipient of the NSA's teaching excellence award.
Knowledge Keeper Brenda Longclaws offered an opening prayer, and an honour song was performed by Dr. Lisa Monkman.
At the ceremony, the new graduands received their nursing pin and recited the UM Bachelor of Nursing Pledge, which was inspired by the 1893 Florence Nightingale Pledge and has been adapted by the university.
Lynette Trinidad, one of two valedictorians, said she and her classmates only got to see each other in-person for limited times in the program, mostly at skills labs. But they were also all back together for their final term in the winter.
"We started and ended the program together," she said. "We definitely experienced some hardships together and that is our bond."
Many of the graduating class worked on the frontlines in COVID vaccine clinics, including Gillian Laninga, who is excited to start working as an operating room nurse in the coming weeks.
"I feel like a completely different person from when I started the program," she said.
"Working at a mass immunization clinic is something I never would have expected to be a part of, but that experience of trying to immunize as many people as possible and caring for people with COVID while working as a student nurse and health care aide really shaped who I am as I enter the profession."
Winter Traverse, from Pinaymootang First Nation, was one of three students who entered the bachelor's program through Mahkwa omushki kiim: Pathway to Indigenous Nursing Education (PINE), which offers academic, personal and cultural supports for First Nations, Métis and Inuit students entering nursing.
"The supportive environment of the PINE program really helped me with any challenges. If I had a difficult day, they were always there to walk me through these issues," she said.
Traverse said she remembers the moment she first wanted to go into nursing. While pursuing a bachelor of science degree and looking at a career in psychology, occupational therapy or medicine, she worked as a summer student at a health centre in Pinaymootang.
"The nurses were very nurturing and inspired me to go into nursing. I actually got to listen to the heartbeat of a baby in the mother's womb," she said.
Traverse said she plans to work as a community care nurse in Indigenous communities. "I want to give back. Indigenous health is my passion."
Following the pinning ceremony, the students officially graduated that afternoon, along with students from several other UM programs at Convocation.
Winnipeg-born gynecologist, author and podcaster Jen Gunter received an honorary Doctor of Laws degree at the ceremony for her contributions to the field of gynecology and her lifelong advocacy for accessibility and women's health.
Gunter grew up in River Heights and is an alumna of the Max Rady College of Medicine. She has authored two best-selling books, The Vagina Bible and Menopause Manifesto, and has written for The New York Times, Glamour, The New Republic and many other publications. She has a blog called The Vajenda and has become known as "Twitter's Resident OB/GYN."
Gunter spoke about her career, the quality of education she received at UM and holding her own alongside those educated at Ivy League schools.
"When I was at a big university in the States and had been working there for a while, I had a colleague who went on and on and on about the importance of an Ivy League education, and how one couldn't get anywhere in life without an Ivy League education. I said, 'Wow…I went to the University of Manitoba and you and I have the same job,'" she said to a round of applause.
"I didn't encounter one person who I felt had a better education than I did."