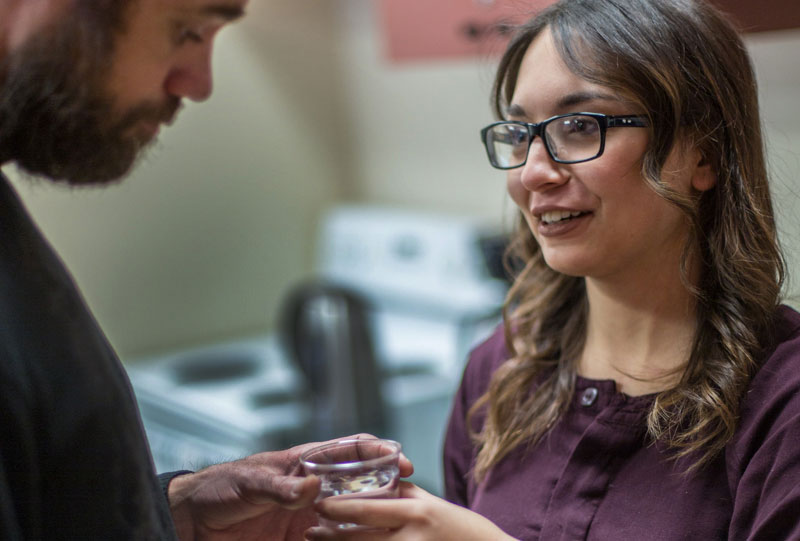 Researcher Profile: Beverley Temple
Caring for Caregivers: Improving Training and Safety for Support Workers
February 22, 2017 —
Most of us want to be as independent as possible and to experience life to the fullest that we're able. It's no different for people with intellectual disabilities, but a support worker might need to be there to help along the way.
Tasks that caregivers take on are wide-ranging, from providing assistance in the bathroom to offering support when clients join in on recreational activities. They're trained to understand the unique needs of people with disabilities and to manage a wide variety of personal interactions. But the fact is, every situation is different. There might be times when a client is frustrated and
acts out physically—that's when even the most experienced worker can get hurt.
"All kinds of scenarios can take place," says Dr. Beverley Temple, pointing out that there are many reasons someone might display challenging behaviour. For example, "an individual may get upset—they may be in pain or struggling with a problem. So they lash out."
In addition to her roles as associate dean, Research and associate professor at the College of Nursing, Temple is also a researcher at the St. Amant Research Centre.
She says that at St. Amant alone, there may be as many as 200 incidents a year in which a caregiver is injured, ranging from situations in which workers are pushed down or struck to more serious cases where there are broken bones or skin breaks from biting.
She's careful to point out that most interactions between clients and their support worker are without incident, but the fact remains that safety is an important concern. "It's a difficult role," she admits. "Imagine if you've been hurt, thinking about facing that every time you go to work."
The ultimate goal of Temple's current project is to develop plans at St. Amant for better use of preventative training and supervisor response. Through her research, she's exploring knowledge translation, the way in which support workers take the training they receive and apply it to the situations they encounter on the job. She says it's important to note that when something does go wrong, it's necessary not just to reflect on how the situation could have been managed differently, but to validate the staff member's experience and ensure they get the support they need to heal and move forward.
"The administration at St. Amant and at the Worker's Compensation Board has been really supportive about this research," says Temple, adding that her current work follows on an earlier initiative to track and examine injury reports, a study requested by St. Amant's human resources and risk management departments. "I think that the applications of this research project are much broader than to just our particular group of support staff and managers at St. Amant," she points out. "The training modules we're creating could be immensely beneficial for staff working in hospitals and emergency departments, school systems, and other institutions and organizations that provide support to a variety of people."
Ultimately, Temple says, the modules will be made available publicly for any organization that needs them.
"Most people who do this kind of work don't make a lot of money. They do it out of passion—they're supporting the most vulnerable members of our society," says Temple. "It's critical to remember that if we don't support the support workers, the people who are vulnerable can't be supported well either."
---
Beverley Temple, RN, PhD
Associate Dean, Research and Associate Professor, College of Nursing;
Researcher, St. Amant Research Centre
Featured Research: A knowledge translation intervention with supervisors:
can we reduce injury by improving knowledge translation strategies for direct
support workers of people with intellectual disability who display challenging behaviour?
Click to view more Research in Nursing profiles.