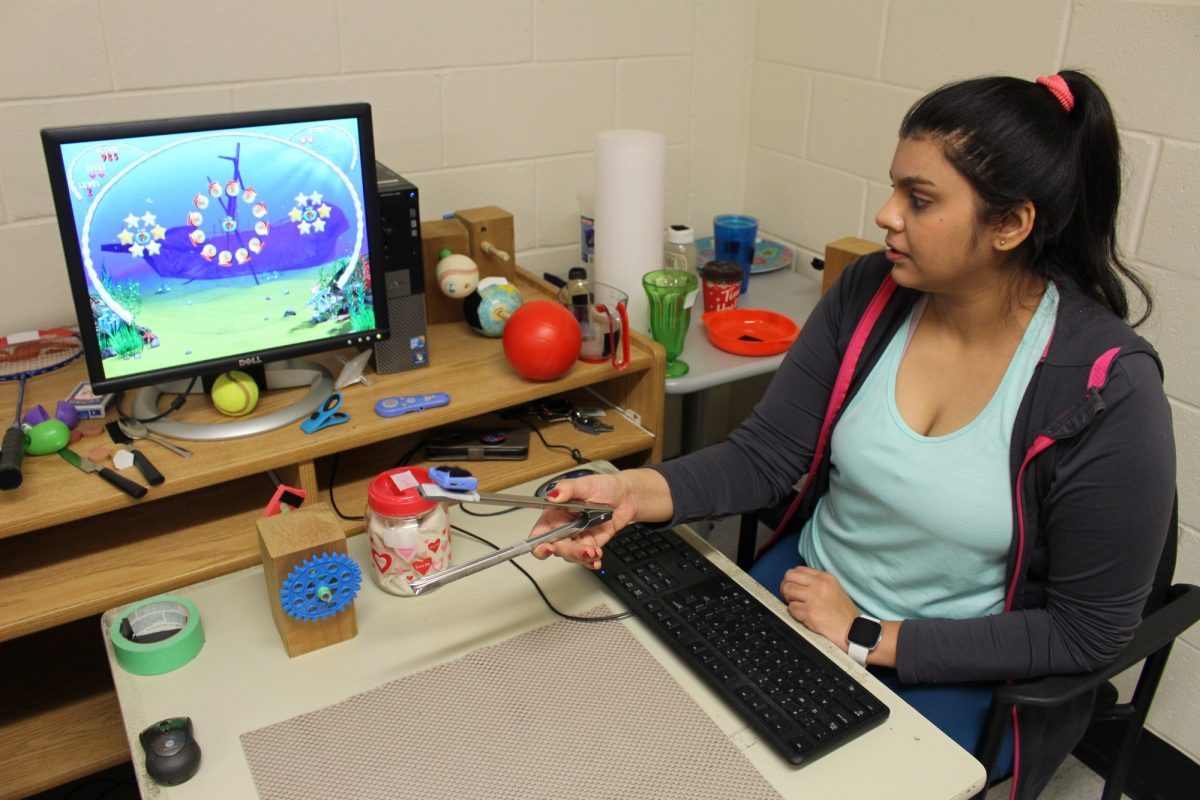 Researcher collaborates on developing game-based rehab platform
January 20, 2023 —
Dr. Anuprita Kanitkar came to UM to earn her master's and PhD in physical therapy after completing undergraduate studies at India's Rajiv Gandhi University of Health Sciences.
She is now conducting postdoctoral research in neurorehabilitation at UM's College of Rehabilitation Sciences, studying how computer games can be used to treat patients with neurological injuries.
How did you know you wanted to be a researcher?
My parents are researchers, so I grew up watching them doing different studies. I think my parents have always had a big impact on me. Seeing the excitement that comes from doing research was very inspiring.
After you get the results and do the data analysis and all the math, you've created something that's your own. It's like your own baby.
What originally attracted you to physiotherapy?
I have always been interested in health-related fields. I wanted to build lasting relationships with clients, not just see them one time. Because I work in neuro-physiotherapy, once someone is your client, they're your client for a lifetime.
What are you working on right now?
I'm working in the lab led by Dr. Tony Szturm, professor of physical therapy. We're developing a computer game-based rehab platform. It helps clients improve their arm or hand function after neurological injuries from stroke or spinal cord injury.
We use a wireless motion sensor that attaches to a utensil, like a pair of tongs or a fork. That turns the utensil into a computer mouse, so when the client is controlling the game, they're actually doing therapeutic exercises and building their motor skills.
Dr. Szturm is really focused on creating treatment plans that are cost-effective and can readily go home with the client. Because this approach to rehabilitation is computer-based, a client can be in a remote area and still be easily monitored. With these treatment plans, I'm still able to monitor children that were part of my study back in India.
We wanted the protocols to be fun and engaging, so the games are mostly arcade games that involve hitting targets or matching objects. Every movement the player makes is recorded, so we can quantify in numbers what their movements look like.
So, if they're shooting a target, we can figure out what their response time was. If they missed, how much did they miss by? What is the variation of their movements in general?
What has been most rewarding during your postdoctoral fellowship?
As a part of my fellowship, I'm working with a non-profit organization in Winnipeg called First Steps Wellness Centre. Its clients include people who have had a spinal cord injury or stroke. The most inspiring thing is the people that I meet there, and how much they have improved in their day-to-day life through their therapy.
There's one computer game in particular, called Aquaball, that inspires a friendly rivalry at First Steps. People are able to build off one another's energy.
It's amazing, the positive change that you see in their activities of day-to-day life and how much more they're able to do. Sometimes it's something seemingly small, like they're combing their own hair, which they weren't able to do six weeks ago. But for me as a therapist, it's monumental to see that change.
What are your plans when you're done with your postdoc?
I'm hoping to stay in academia. I absolutely enjoy teaching so much and was so inspired to be in the classroom.