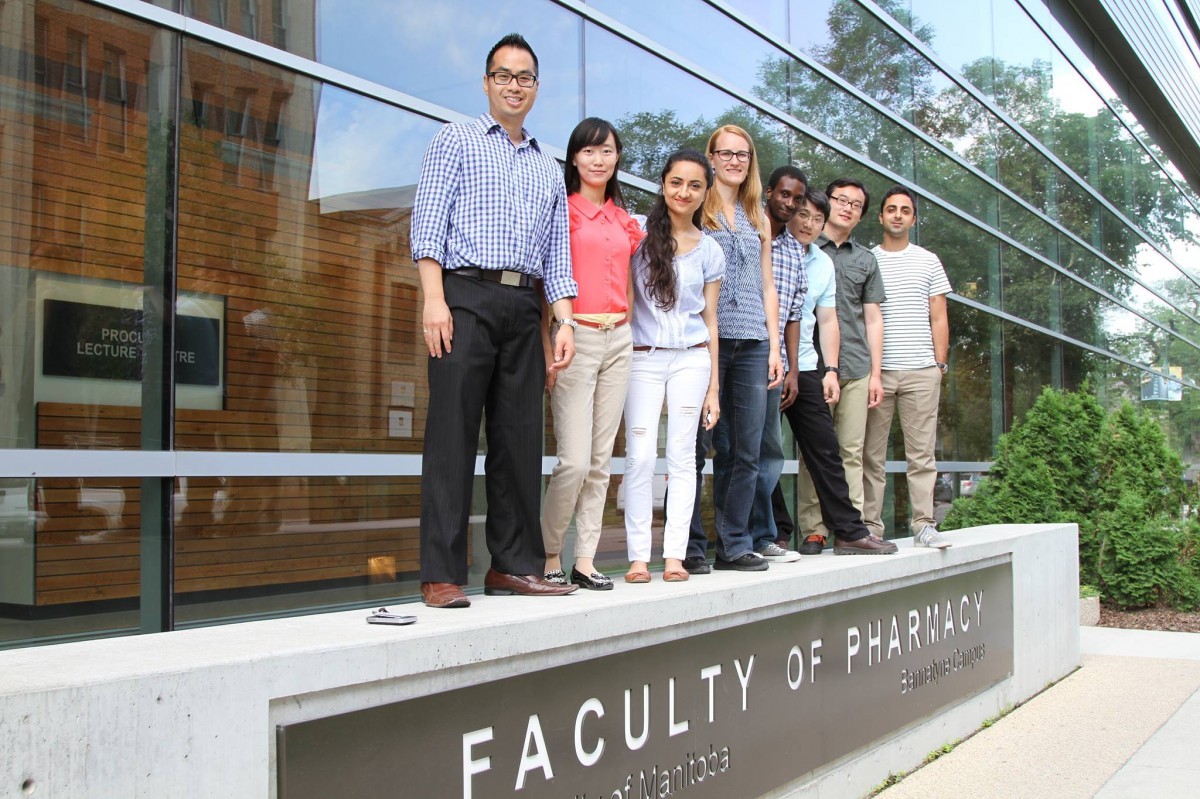 Research group is developing new strategies to prevent HIV
December 3, 2014 —
Emmanuel Ho, an assistant professor in the in the College of Pharmacy, Faculty of Health Sciences, has put together a collaborative team of researchers and graduate students focused on drug delivery and biomaterials. Much of their research is focused on the treatment and prevention of HIV/AIDs.
The "Ho Research Group" includes: Dr. Jijin Gu (post-doctoral fellow); Sidi Yang (PhD student); Yufei (Andy) Chen (PhD Candidate); and Masters students Miral Fumakia and Yannick Traore.
Some of the key research being conducted is the development of new nanomedicines and medical devices that protect against the sexual transmission of HIV. In the absence of an effective HIV vaccine, development of microbicides (products that are applied vaginally or rectally for the prevention of sexually transmitted infections) is an excellent alternative method of protection.
According to Yang, over half of those infected with the virus is women, and some regions are much more skewed. She adds: "AIDs is the leading cause of death among women of reproductive age in the world."
The Ho Research Group's work to develop different prevention tools will give women the ability to protect themselves from infection. "The intravaginal ring, a medical device containing nanomedicines to prevent infection, will give women the choice and the option for protection where some other prevention means are not possible based on social and cultural pressures," Yang explains.
The group collaborated with Dr. Keith Fowke, a leading medical microbiology and infectious disease researcher in the College of Medicine, to develop the novel intravaginal ring; it's a medical device that can provide controlled sustained release of an immunomodulatory drug, called hydroxychloroquine, over a 14-day period. The ring, which is intended to lower the immune activation of T-cells as a strategy for preventing HIV infection, will soon be evaluated in a non-human primate model of vaginal HIV infection.
Additionally, in 2013, the team developed the first nanomedicine vaginal gel that can specifically target delivery of anti-HIV drugs to immune cells.
Last month Ho, who holds cross-appointments in the College of Medicine (immunology) and the Faculty of Engineering (Biomedical Engineering), presented at the inaugural TEDxUManitoba. His talk, titled: Nano-medicine: The Way of the Future? was well received by the 100 lucky participants chosen to be in the audience (from a pool of over 400 applicants).
Another interesting aspect to the research group is its strong online presence. Their website shares the latest on awards, honours and funding.
"We're very proud of this … Andy is the group's social media and web designer and works very hard at updating all our information," says Ho. "[Our] website, Twitter profile, and Facebook group helps attract top students and celebrate the hard work we do. It also promotes the University of Manitoba on a world stage of AIDs and drug delivery research; just this month we have seen a 60 per cent increase in page views across our platforms."