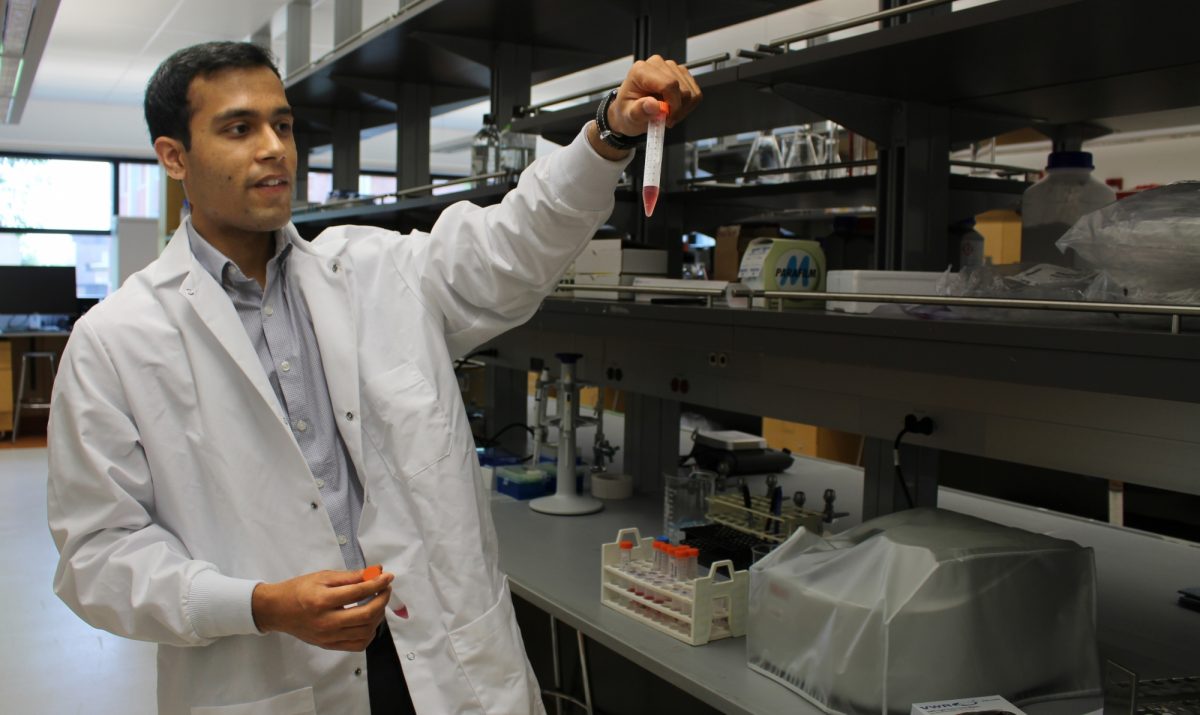 Research experience worth its weight in gold
September 19, 2019 —
For Tushar Upreti, being a summer research student in the College of Pharmacy was a golden opportunity.
"I love science," said the third-year student with an infectious smile. "I could have spent my summer on a beach somewhere, but that would get boring really fast."
As part of summer research program, Upreti and 17 other undergraduate pharmacy students took the opportunity to soak up plenty of information and data, partnering with College of Pharmacy faculty members on a wide area of studies.
Working under Dr. Hagar Labouta, Upreti explored how to create gold nanoparticles. "They are so small that you can't see them with the eye – not even with a regular microscope," he explained, gesturing to the electron microscope he works with. "A nanometer versus a metre is equivalent of a marble compared to the diameter of the earth."
Instead of synthesizing new particles or new drugs, Labouta's team is exploring the properties of existing substances at the smallest level. "They have different properties when they reach that size," he said. "Then we have a whole new drug we can work with."
"He is a fast learner and has lots of enthusiasm about science," said Labouta, who is a proponent of early research experiences for students like Upreti. "This way they learn to think in a scientific way and critically analyze the scientific knowledge they hear about in their classes. They learn science by doing science."
She credits this approach with preparing students for greater success in their future workplaces no matter which path they choose, as they're developing the ability to make decisions based on evidence and problem-solving.
Upreti hasn't decided on a career yet, but he knows he wants to dive even deeper into research. He's been doing in bench-work since the beginning of his undergraduate degree with plans to pursue graduate studies.
"What I love about pharmacy is the flexibility," he said. Pharmacists engaged in clinical work can still pursue research, or even build a full-time career in academia. "There's a lot of different ways to help people."