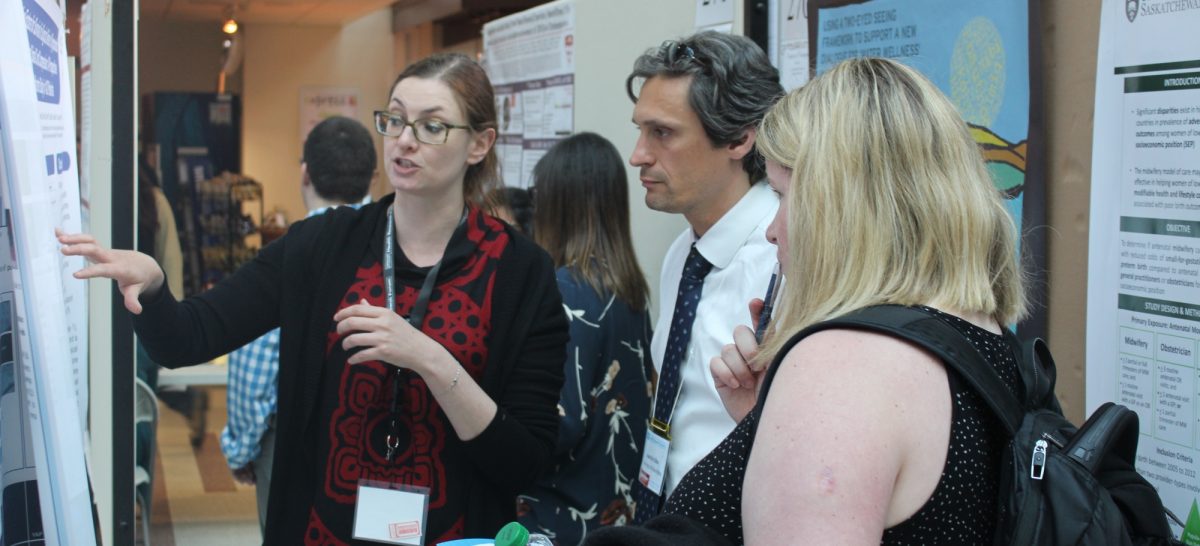 'Paying it Forward': Grad students benefit from experts at Research Days
June 6, 2019 —
Nearly 300 of Canada's brightest graduate students and postdocs will come together at the University of Manitoba Bannatyne Campus June 10 -14, 2019 for the 32nd annual Canadian Student Health Research Forum (CSHRF).
The forum, hosted by the Max Rady College of Medicine, Rady Faculty of Health Sciences, is Canada's premier event for graduate student researchers in the health sciences. The CSHRF provides a venue for health research trainees from across Canada to present their work, network, and be recognized for their contributions. The forum also features presentations on innovative research, lectures by internationally-renowned experts from the Gairdner Foundation, and recognition of outstanding student scientific accomplishments.
This year, 150 graduate students are entered in the Manitoba Student Research Poster Competition on June 10, and another 140 graduate students are participating in the CIHR Poster Presentation on June 12. The top 10 winners of the Manitoba poster competition will receive travel awards of $1000 each to present at scientific conferences.
A new major award for infectious disease research sponsored by Emergent BioSolutions will make its debut at this year's awards ceremony.
Other features include the Canadian Institutes of Health Research (CIHR) career development workshop, city tours, social events and the Gairdner Symposium featuring some of the world's leading scientists.
"Engaging graduate students from across the health sciences creates a pipeline to the future of research in this country," said Dr. Brian Postl, Dean, Rady Faculty of Health Sciences & Vice-Provost (Health Sciences). "We are grateful we can contribute to their exposures through poster presentations, a CIHR Career Development Workshop and numerous networking opportunities."
In partnership with the Gairdner Foundation, the University of Manitoba will host an all-Gairdner Symposium offering exceptional opportunities for mentorship from these internationally-recognized scientists.
Participants from 22 universities within Canada, and several international graduate students from China's Shantou University and the Army Medical University in Chongqing, will be in attendance this year.
"Connecting Canada's brightest research students with the Gairdner Foundation/Lindau Nobel laureates allows them to share their knowledge, expertise, and passion. Students will get a chance to receive invaluable mentorship from world renowned scientists, showcase their work to a national audience and be recognized for their achievements," said Dr. Ed Kroeger, Chair, CSHRF, Max Rady College of Medicine. "Our partnership with Gairdner is deepening and they're really paying it forward to the next generation of Canada's top research trainees."
The Gairdner Symposium takes place on June 13 in the Frederic Gaspard Theatre from 9:00 a.m. to 4:30 p.m. and features the following speakers:
Ed Boyden, PhD, FRS
Massachusetts Institute of Technology "Tools for Analyzing and Controlling Complex Biological Systems"
Lewis Kay, PhD, FRS
Hospital for Sick Children & University of Toronto "The Important Role of Dynamics in the Function and Misfunction of Molecular Machines"
Antoine Hakim, O.C., MD, PhD, FRCPC
Ottawa Hospital Research Institute "Bringing Science to Society: The Recent Story of Stroke Care in Canada"
Richard Hynes, PhD, FRS
Massachusetts Institute of Technology "Extracellular Matrix Vulnerabilities in Cancer"
Nada Jabado, MD, PhD
McGill University, "The Peter Pan Syndrome: Stalled Development in Pediatric Brain Tumours"
Everybody is welcome to attend the Gairdner Symposium and lunch on Thursday.